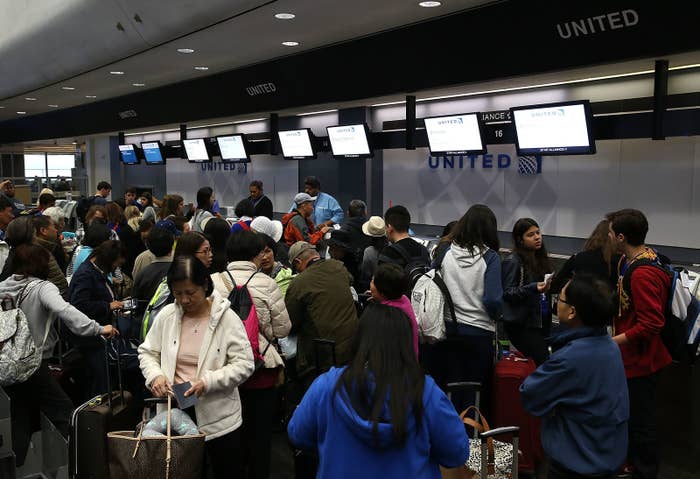 United is rolling out a new tier of economy ticket: Misery Class. Or, as they call it, "Basic Economy."
This new, cheapest tier of tickets will have "some important, additional restrictions compared to our standard economy fares," the airline says. You can't pick your seat, and if you're traveling as a pair or group, being seated together is "not guaranteed." You'll always be in the last group to board — but boarding early to claim crucial overhead locker space doesn't matter as much, because you also can't bring a carry-on suitcase.
Yep, no rolling carry-ons. All that's allowed for travelers flying the new Misery Class is a "shoulder bag, backpack, laptop bag or other small item," unless you're a United MileagePlus Premier member, in which case basic human dignity will prevail.
People buying basic economy tickets will also have a reduced opportunity to earn miles. And no ticket changes will be allowed within 24 hours of flying.
"Customers have told us that they want more choice and Basic Economy delivers just that," United's chief commercial officer Julia Haywood said, inexplicably. "By offering low fares while also offering the experience of traveling on our outstanding network, with a variety of onboard amenities and great customer service, we are giving our customers an additional travel option from what United offers today."

One airline blog says the United's new tier was "the worst" compared to its rivals. It puts United much closer to the ultra-discount airlines it is increasingly competing with, like Spirit. The new Basic Economy class will be available next year.
Basic Economy doesn't replace United's current economy or Economy Plus tiers, the company said, although it is "evaluating a new premium economy experience for domestic and international markets."
American Airlines said last month that it would roll out a cheaper economy fare next year, while Delta has already introduced its own "Basic Economy," which includes no seat assignment, automatically puts you in the final boarding zone, and removes you from eligibility for upgrades.
The details on United's Economy Basic