Crimea Crisis Roils Global Markets
Russian stocks are down 11% as its central bank jacks up interest rates to keep money from flowing out.
Russian stocks fell 11% Monday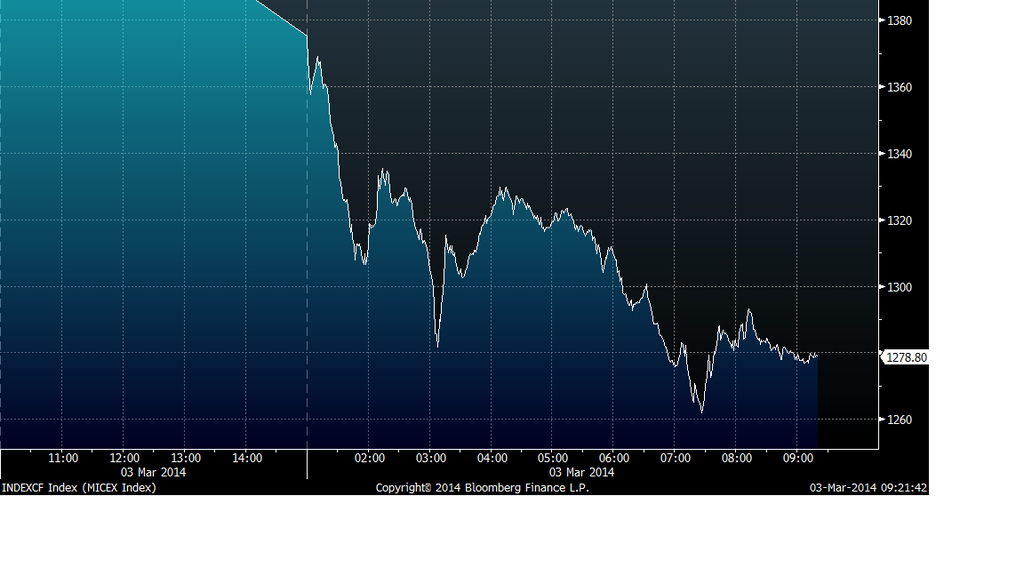 With Russian troops occupying Crimea and no apparent end to a standoff that's racheted tensions between Russia, the EU, and NATO to a near post-Cold War high, stock markets from Moscow to New York are selling off.
The MICEX, an index of Russia equities, fell 10% in today's trading, the biggest one-day drop since 2008. The Russian central bank jacked up the interest rate it controls to 7% from 5.5%. The bank said in a statement that the rate move was to prevent "risks for inflation and financial stability arising from the recent increase in financial market volatility."
The last time Russia's central bank pushed up interest rates so much was two months before it defaulted on its debts in 1998, touching off a global financial crisis. The central bank's moves may have saved Russia's currency, the ruble, from a further slide today — it's down a little over 1% against the dollar. Traders told several outlets that Russia's central bank also spent $10 billion of its foreign currency reserves to keep the ruble from falling, an effort that appears to be succeeding.
Citi analysts said in a note this morning that "developments in Ukraine could further rattle nervous markets and signal a spike in the geopolitical risk premium."
Russia's market slide also managed to effect some companies that would appear to benefit from another common effect of geopolitical tension: higher oil prices. The Brent crude oil price, a benchmark oil price, is up $2.36 to $111.42 and yet Russia's state-controlled oil company, Rosneft, still fell 7% today.
Troubles in Russia, and especially in Ukraine, which has the pipelines that much of Europe's Russian natural gas is piped through, tend to be felt further west. The DAX, an index of German stocks, was down 3.44%, while the FTSE 100, a British stock index, was down 1.49%, and the French CAC-40 was down 2.66%.
"Russia is a major energy exporter to the European market," the Citi analysts said. "Interruption of these supplies, either as a result of armed conflict in the Ukraine, or as a result of decision by Russia to halt exports to Europe, could cause severe disruption in the main EU importing countries." Gazprom, the state-owned natural gas company that controls much of the gas pipelines that flow into Ukraine and Western Europe had a worse day than other Russian stocks, falling 14%.
Some 76% of Russian natural gas exports go to Western Europe, meaning that any trade embargo or disruption would likely hit both countries very hard, as energy costs in European countries would spike while Russia would lose its largest export market for the energy resources that its economy relies on. "A trade embargo would be a serious negative-sum event," the Citi analysts said.
U.S. markets opened down today, and the S&P 500 closed down .74%, rattling a market that hit a new high on Friday. While the effects of tension in Ukraine are likely to be most felt in Russia, Ukraine, and Europe, "some market pullback could occur," Citi chief U.S. strategist Tobias Levkovich said in a note this morning, adding, "though a more severe correction looks improbable unless hostilities step up meaningfully."
Update: This piece has been updated with more recent market data.