Corporate Jets Are Just Like The U.S. Economy: It's All Good For The Rich
But the small- and mid-sized jets are getting squeezed.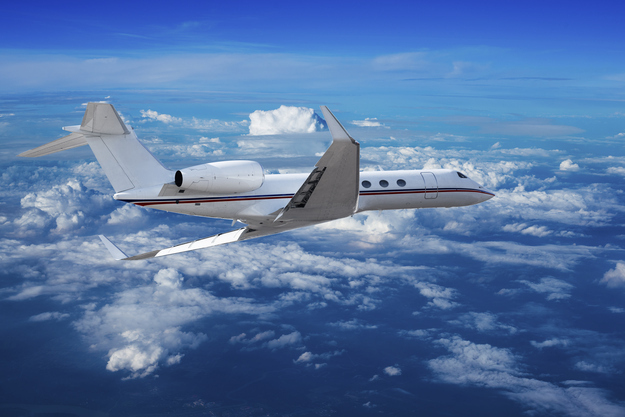 The U.S. economy — mired in low growth, high unemployment, and foreclosed homes now picked over by private investors looking to rent them out — looks like it's in the sixth year of a "lost decade." And so is the private jet industry.
While the overall business jet industry is one of the last to recover from the financial crisis, it's the so-called "large cabin" jets, a group of Citi analysts said in a note this week, that are essentially immune from the economic cycle. These are the second largest class of business jet, and offer near-airliner range.
"The large cabin market continues to do very well as there will always be a section of the world economy that is relatively immune from financial crises or optical issues associated with owning a private jet," the analysts say.
This portion of the market, however, probably doesn't include many American business executives who have suffered the exact type of "optical issues" that have given private corporate air travel such a bad name, whether it's J.C. Penney's executives commuting from Palo Alto to Plano as the company was hemorrhaging cash, the exacting flight arrangements of Abercrombie and Fitch CEO Mike Jeffries, or auto company CEOs flying private to Washington to beg for a government bailout.
In an earlier note, three Citi analysts declared a "lost decade" for business jets following the financial crisis because the "exuberance of the 2000s created a significant overhang in new demand." And while the embarrassment-free sheiks and Chinese billionaires who don't have to deal with the "optical issues" of American CEOs are powering the high end market, it's the small and medium size jets that Citi expects to be flat through "the rest of the decade" thanks to the huge excess inventory. That same buildup and collapse helped bring on the 2012 bankruptcy of one the major private jet companies, Hawker Beechcraft.
Business jet deliveries have fallen 39% since their 2008 peak
So what to do with this buildup of smaller and medium-sized jets? The same thing you do with a build up of homes, rent them out!
According to a client interview Citi research analysts did with former private aircraft executive Bob Seidel, there's something of a glut of business jets (bizjets in corporate lingo). The current fleet is "under-utilized" and "current owners are making their jets increasingly available for charter." So, Seidel told Citi, the cost of fractional ownership isn't a barrier for anyone to "experience a bizjet," it's the ability of current owners to create an Airbnb-esque system for renting out their planes.
So-called "fractional ownership," where a group of individuals purchase flight hours on a private jet depending on their initial investment, has been around since the 1980s thanks to the Berkshire Hathaway owned NetJets.
The other thing small and medium-sized jet owners can do is refurbish and resell their planes. The Citi researchers point to Nextant, a private company that buys unused plane — including lots of Hawker 400s, which NetJets describes as an "entry-level jet" — and suits them up with new engines and instruments and resells them. Citi says that Nextant has a "potentially rising business model" that can "compete for new jet demand."
So don't say the lower end of the private jet industry is dead. It's undead.