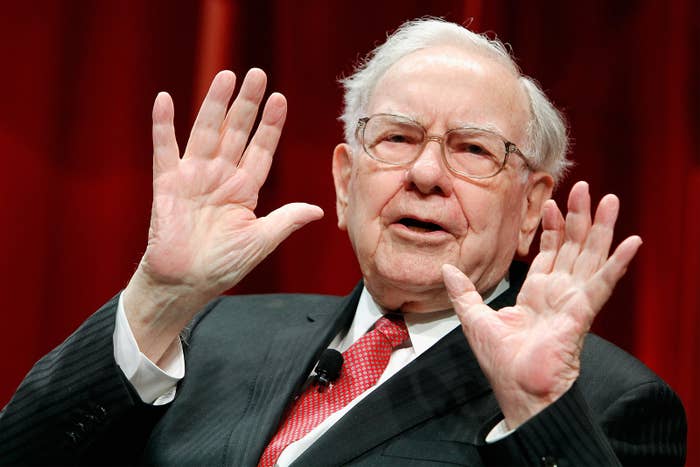 Warren Buffett has long dismissed the US airline industry as a terrible investment, citing cutthroat competition, never-ending price wars and low profits. But after a decade where nine major US airlines merged into four — with the rising fees and reduced competition you'd expect after such frenzied consolidation — Buffett's investment company seems to have changed its mind.
"The worst sort of business is one that grows rapidly, requires significant capital to engender the growth, and then earns little or no money. Think airlines," Buffett wrote in his annual letter in 2007. "Here a durable competitive advantage has proven elusive ever since the days of the Wright Brothers. Indeed, if a farsighted capitalist had been present at Kitty Hawk, he would have done his successors a huge favor by shooting Orville down."
Things have changed. Here's how a US Airways executive visualized it, in a presentation later cited by the Justice Department in its opposition to the merger of US Airways and American Airlines (the merger ended up being approved).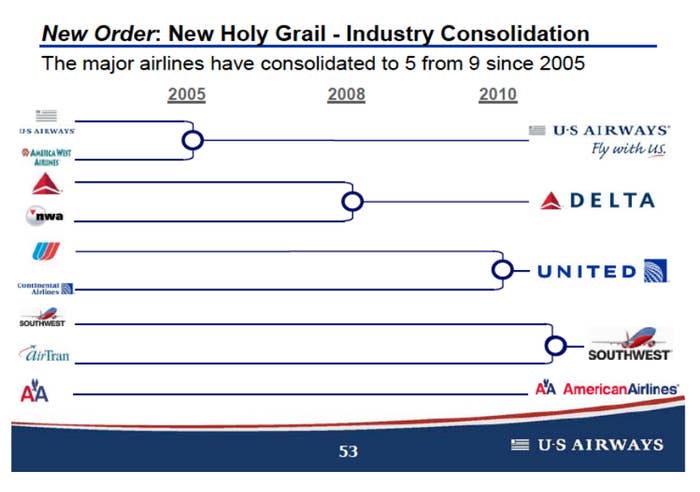 Finding the Holy Grail was enough to get Buffett's company to make big bets on the industry he has long shunned, according to recent regulatory filings. It now owns $800 million worth of American Airlines stock, $250 million of Delta stock, and $240 million worth of United Continental shares. Buffett told CNBC that his company has also purchased a stake in Southwest Airlines, which will be disclosed in its next round of filings.
Putting money into all of the sector's big players suggests the investment is a bet on the profitability of the industry as a whole, rather than the competitive advantage of one particular airline. Research has found that common ownership of airline shares — in this case by large institutional investors like BlackRock — has been associated with higher ticket prices and less competition.

Berkshire Hathaway, the investment company Buffett runs, has its money spread across a wide range of businesses including railroads, heavy industry, food, and insurance. The company is among the largest shareholders of a number of blue chip companies like Wal-Mart, Coca Cola, and IBM.

The decision to invest in airlines may not have been made by Buffett himself — a pair of his underlings at Berkshire can make their own decisions on what put money into. When Berkshire put about $1 billion into Apple, Buffett — a high-profile skeptic of investing in technology stocks — made it clear he was not involved in the decision.
Buffett last bet on a major airline came in 1989, when he sunk $358 million into USAir. In his 1996 annual letter he said his analysis of the company's future profitability was "both superficial and wrong," and that he had been "beguiled by the company's long history of profitable operations," which were being undone by the deregulation of the domestic airline industry. Buffett ultimately wrote down his investment to $90 million, although through some financial maneuvers, he was ultimately able to make money on the deal.
"The airline industry's demand for capital ever since that first flight has been insatiable," Buffett wrote in 2007. "Investors have poured money into a bottomless pit, attracted by growth when they should have been repelled by it."