Marc Faber, the well-known investment newsletter publisher who frequently appears in financial media, said "thank God white people populated America, and not the blacks" in a recent newsletter.
Following backlash on social media, a CNBC spokesperson told BuzzFeed News that it had no business relationship with Faber and, "we do not intend to book him in the future." Faber had appeared on all three major business news networks, but was most well known for his frequent appearances on CNBC.
"Faber has not appeared on the network often, and will not be on in the future," a Fox Business Network spokesperson said.
"He hasn't been on our air since June 2016 and we don't intend to book him in the future," Bloomberg TV spokesperson Ty Trippet told BuzzFeed News.
People took to Twitter on Tuesday calling on CNBC to keep Faber off its shows.
Faber's comments came in a 15-page publication dated Oct. 3 in a discussion about universal basic income. He described Confederate generals memorialized in statues as "honourable people whose only crime was to defend what all societies had done for more than 5,000 years: keep a part of the population enslaved."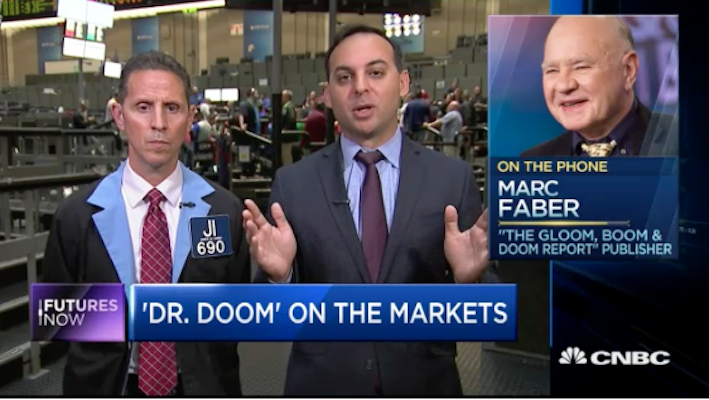 Faber then gave his tribute to white political power in America:
And thank God white people populated America, and not the blacks. Otherwise, the US would look like Zimbabwe, which it might look like one day anyway, but at least America enjoyed 200 years in the economic and political sun under a white majority."

He concluded by stating he is "not a racist, but":
I am not a racist, but the reality — no matter how politically incorrect — needs to be spelled out as well.
Faber, who was born in Switzerland and is based in Hong Kong, publishes the Gloom, Boom & Doom Report, an investment newsletter with more than 22,000 followers on Twitter. The subscribers are "usually institutional investors, corporations or high net worth individuals," his website says. A subscriber told BuzzFeed News the report costs $850 a year.

The Canadian asset manager Sprott announced that Faber had stepped down from its board of directors. "The recent comments by Dr. Faber are deeply disappointing and are completely contradictory with the views of Sprott and its employees," Sprott's chief executive Peter Grosskopf said in a statement. "We pride ourselves on being a diverse organization and comments and behavior of this sort will neither be condoned nor tolerated."
Faber regularly predicts financial market crashes and has appeared a dozen times on CNBC this year. In January, he told CNBC that volatility would go up "massively," though the VIX, an index that tracks the volatility of the stock market, is down more than 26% this year. Still, Faber predicted a major stock market decline on the business news channel last month, saying: "You don't see, and I don't see. And, nobody sees. That's why people keep buying stocks. And yet, something will happen one day."
When asked for a comment from BuzzFeed News, Faber said, "If stating some historical facts makes me a racist, then I suppose that I am a racist. For years, Japanese were condemned because they denied the Nanking massacre." He also attached a USA Today story about the Biloxi School District taking To Kill a Mockingbird off curriculums.
UPDATE
This story has been updated with Marc Faber's resignation from the board of directors of Sprott and the cost of his newsletter, as well as a statement from Bloomberg TV.