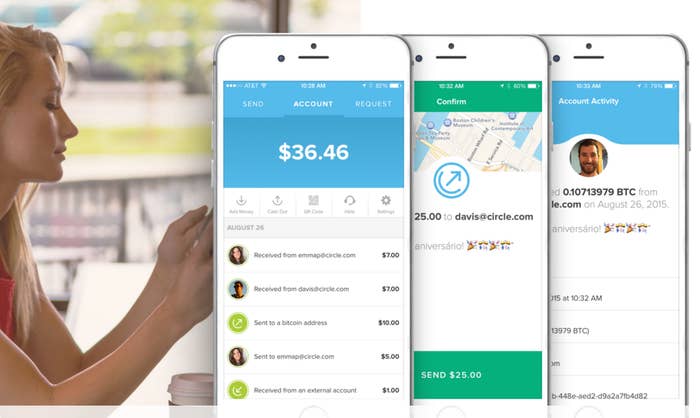 After Circle publicly launched, it was hailed as the company that would bring the mysterious digital currency Bitcoin to the masses. With $76 million in venture capital and a CEO from the Yahoo-acquired streaming video service Brightcove, the company looked set to capitalize on public interest Bitcoin — not to mention the media frenzy over it. Circle's initial service was transferring bitcoin from person to person and then converting it to cash that could be held in normal bank accounts.
But last week, when BuzzFeed News spent almost an hour talking to Circle founder Jeremy Allaire about what the company is up to these days, it took real effort to get the word "bitcoin" out of him. He spent much more time talking about the company's currency trading operation.
Circle is now rolling out what it promises to be instantaneous and very cheap currency transfers from the UK to the US, dollar-to-pound conversions, and soon, transfers into euros. It's also launching its Venmo-style money transfer service in the U.K. All of that is on top of the global bitcoin transfer service it already runs.
The cross-border money transfers, Allaire says, will happen in real time between pounds and dollars. There won't be a transfer fee, but Circle will make money from a small "spread" between exchange rates and the rates it offers to users. Behind the scenes, a team led by a former Goldman Sachs trader will be buying and selling currencies to ensure there's enough in reserves to instantly credit and debit Circle's customers.
Circle's cheap, app-based money transfers might remind some of Transferwise, the UK money transfer startup that has raised oodles of venture capital with its own promises of very cheap cross-border exchange. To transfer from dollars to pounds, Transferwise charges $3 for the first $300, another 1% for everything up to $5,000 and .7% above that.
Allaire said Circle's charges, levied via the currency rates, would cost customers less than the Transferwise fees. And beyond that, he said Circle doesn't see money transfers as a real business at all.
"We don't think charging for payments is a business model, we don't think it will exist in five or ten years," Allaire said. "It would be like charging for sending an international email." What Circle is trying to do, he said, is "build a global model for this where value can be transmitted to anyone with a smartphone or internet device anywhere in the world irrespective of what currency they use."
The real business, Allaire says, is lending. People in the category of "I don't have money right now, but I'd like to have money right now," he says, are a "fertile area" — although to be fair, lending has been a "fertile area" for literally thousands of years.
"We made a decision two years ago that the vision we had was to create a new global consumer internet bank" Allaire said. Circle first launched in October, 2013.
So does that mean getting regulated by the likes of the Consumer Financial Protection Bureau, the Office of the Comptroller of the Currency, the Federal Deposit Insurance Corporation, and state banking regulators?
"We will get whatever charter or license we need to conduct business we want too conduct," Allaire said (Circle already has a former regulator on its board, the CFPB's first director Raj Date).
This all sounds very much like an old-school banking business with nice apps, rather than the bitcoin-based future of alternative money that Circle was once said to represent.
Allaire even criticized the development of bitcoin for essentially stalling out in the last few years, and since falling into a nasty civil war. He had kind words for the newly launched Bitcoin competitor Ethereum, but said it wasn't quite ready for primetime.
And he predicted that instead of bitcoin emerging as a singular digital currency, there will be a range of private, public, and government-run blockchains that companies and organizations will work on top of. Blockchains — the backbones of bitcoin-style digital currencies — are databases that track transactions, and are maintained jointly by everyone using them.
"How do we make money work like the internet works? Bitcoin and blockchain are key means to that end," Allaire said.