Can Rehabilitating Prisoners Repair Wall Street's Broken Reputation?
Six years after the financial crisis, the American public still doesn't trust the big banks. One plan: financial products that bankroll social services.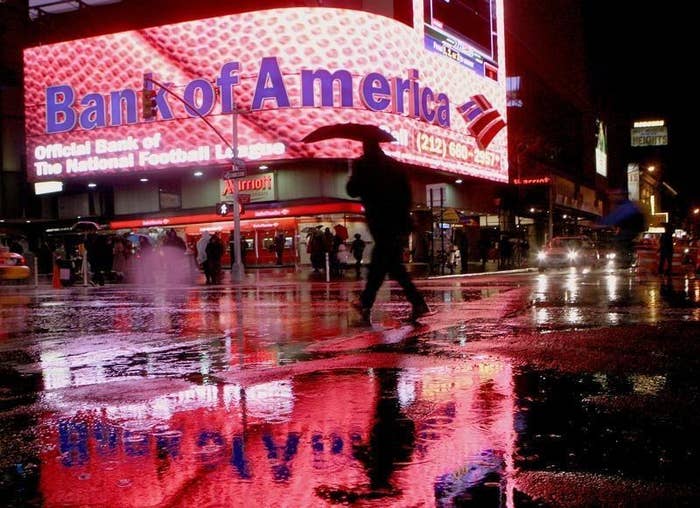 Bank of America spends a lot of money trying to be good — and wants you to know about it. The Charlotte-based megabank, the second largest by assets behind JPMorgan Chase, donated $267 million to charity in 2013. Over the next 10 years it plans to donate $2 billion, and last year its employees spent 2 million paid work hours on volunteer projects.
It's also spending big dollars atoning for past sins. This August, the bank reached a $16.65 billion settlement with the Justice Department, several states, and other regulators over its behavior before the financial crisis. It's a sum far larger than similar settlements reached by its megabank peers Citigroup or JPMorgan.
And that wasn't the only deal reached in 2013 involving the bank and the justice system. It also agreed to help fund a nonprofit that helps former prisoners get job training and, eventually, full-time jobs so they don't go back to jail. The bank raised $13.5 million for the charity, and wants it to be the first of many deals that can get investors to fund social projects lured by the promise of a healthy return if the projects succeed.
As the bank gradually clears away the lingering mess from the financial crisis, it is also mounting a charm offensive to convince its clients and the public that too-big-to-fail institutions like itself can also be positive actors in society. It's a task complicated by the toxic reputation of Wall Street that still prevails in much of American life, but made somewhat easier by the giant sums of money available to be spent making it succeed.
The stakes are high: More than six years after the financial crisis, the banking industry is still viewed with, at best, suspicion by the public. The Edelman Trust Barometer, a study put out by the public relations firm Edelman, ranked the banking and financial services industry the least trusted among 14 industries, based on a survey of more than 33,000 respondents from around the world.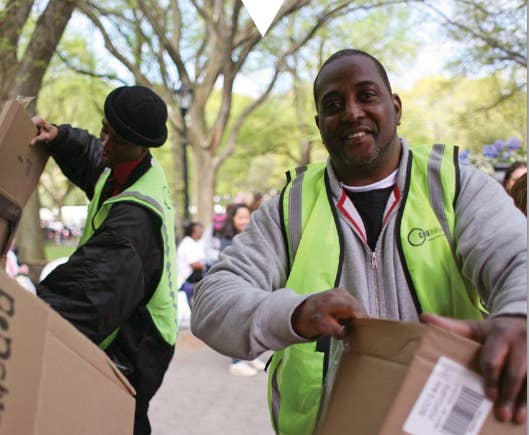 The charm offensive in response to this reputational crisis has trickled through to Bank of America's wealth and investment management business, which manages $2 trillion worth of assets and client balances. There, a team led by wealth management executive Liam O'Neil turns ideas for new investment options into finished products that an army of financial advisers can sell to its 2.1 million clients, each of whom have minimum of $250,000 in investable assets.
Two summers ago, Andy Sieg, another executive in the wealth management unit, came to O'Neil with a different type of investment product — not a structured note linked to the performance of the S&P 500 or U.S. government debt, but instead a "social impact partnership," a new way of funding nonprofits that was dreamed up by the group Social Finance in the United Kingdom in 2010.
This time around, the idea was to sell a product with returns linked to the results of a nonprofit's work. In this case, it was the New York City-based Center for Employment Opportunities, which was working to get 2,000 former prisoners in New York City and Rochester, New York, into jobs and out of trouble. If the center successfully hits all of its goals, investors in the product could get a return of up to 12.5% provided by New York state and the U.S. Department of Labor. If it hits none of the goals, investors won't get any money back, save for a 10% guarantee on the principal provided by the Rockefeller Foundation. Seig has said the "probable" return on the investment would be in the high single digits.
The deal, should it work for investors, won't make much money for Bank of America. And even if social impact partnerships grow well beyond the few upcoming deals already planned, they will remain a tiny part of the bank's investment advisory and brokerage business, which generated $17.8 billion of revenue in 2013. "Everything that's ever been done was done the first time in a small way," O'Neil said.
But that doesn't mean Bank of America isn't eagerly promoting it. "It's very consistent with our corporate values," O'Neil said. "No one ever talks about the corporate values; they talk about what Eric Holder just got us to pay because of some stuff that happened 10 years ago."
Changing the conversation about the bank is a clear reason why Bank of America is doing these kind of deals, and already there are signs it is succeeding in convincing some in the community.
"I have nothing but wonderful things to say about Bank of America," said Lara Metcalf, the managing director of Social Finance, which helped arrange the Bank of America deal with the Center for Employment Opportunities. "While there is lots of talk about social impact investing, there are not lots of investment banks willing to dedicate time, energy, due diligence, and their marketing prowess to support the creation of these types of specific investments."
Over the long run, should the model of the social impact bond succeed and go mainstream, the impact on charitable causes could be enormous. Wall Street could "unlock private capital and investor capital for social services that heretofore has been unavailable," said Kibby Joseph, an associate director at The Rockefeller Foundation, at a recent forum in New York. "Philanthropy is funding $300 to $350 billion of nonprofit a year," he said. "When you look at how big the private wealth investment market is — trillions of dollars — even a couple of percentage points of those assets is really meaningful and would quickly outstrip the philanthropic world's investment."
For the bank, that kind of talk is a welcome change from discussion of its myriad legal problems. In August, after reaching its giant settlement, Attorney General Eric Holder said that the bank had "acknowledged that, in the years leading up to the financial crisis that devastated our economy in 2008, it, Merrill Lynch, and Countrywide sold billions of dollars of RMBS [residential mortgage-backed security] backed by toxic loans whose quality, and level of risk, they knowingly misrepresented to investors and the U.S. government."
Overall, the bank has paid out almost $80 billion in settlements with private investors, shareholders, regulators, and law enforcement stemming from its actions before and during the financial crisis. In context, the $13.5 million the bank has raised for the Center for Employment Opportunities is a drop in the bucket.
But the scale of the money involved is dwarfed by the enthusiasm of its executives to tout it and similar deals they are working on for veterans' employment. "It will be one of [Sieg's] biggest legacies at the firm; we're declaring at this point that this is an area we'll be a leader in," O'Neil said.
But like selling any other type of financial product, Bank of America has competition. Goldman Sachs has done three social impact partnerships — in Utah, New York, and Massachussets. The first, in New York, committed $9.6 million to prevent recidivism among incarcerated children at Rikers Island, and had $7.2 million guaranteed from Bloomberg Philanthropies, while its second deal was structured as a loan from Goldman through a fund, the Social Impact Fund, with some investors participating.
Goldman can commit funding to projects faster, because it is using money it has already raised, or coming from its own balance sheet. But Bank of America hopes to turn social impact bonds into another investment product available to its 2.1 million Merrill Lynch clients, who, while affluent, are not necessarily the mega-wealthy individual clients that Goldman Sachs attracts.
"If Goldman and Merrill are competing on winning the right to do a deal, Goldman says I got $10 million in my pocket right now," Liam said. "Merrill says, we're going to go out to our huge investor base and we're going to show them the value of what you're doing."
For more standardized, retail-structured products sold by Bank of America, the minimum investment can be as low $1,000. "I can see a time, with some standardization, and some miles on the odometers, where we could get down to that level," O'Neil said.
The partnerships have won praise from diverse quarters, from the Federal Reserve Bank of San Francisco (it said the bonds "may have the potential to help governments address some of our nation's most obstinate problems") to Gawker writer Hamilton Nolan, whose coverage of finance tends toward profane condemnation. Nolan said the bonds are "worth a shot" and evidence that "The system (possibly) works!"
It will take more than the occasional social impact bond for Wall Street to repair its image, but at Bank of America, it's a start — and helps internally as well, giving bankers a rare chance to hold their heads a little higher.
"It's a really good way to recruit young talented people and it's a really good way to have the people we have successfully recruited feel good about working there," O'Neil said. "How often do you get to be part of something that's transformational? It's energizing, and frankly, it improves morale."