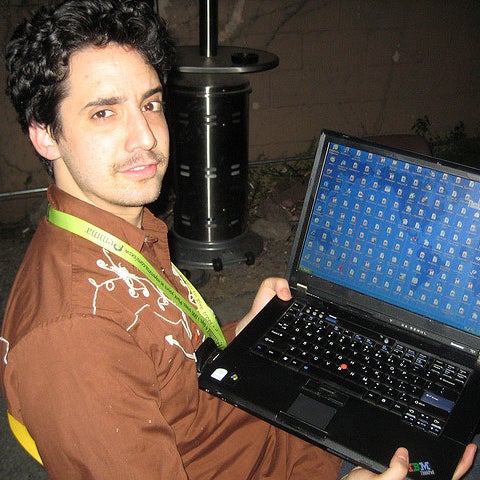 Joe Weisenthal in March, 2008, and on the set of the Charlie Rose Show on November 17, 2014
When Bloomberg Digital was looking for an internet-friendly face to connect its financial data and news system to the online masses, its editor Josh Topolsky had one name in mind. And he got him.
Joe Weisenthal, formerly the executive editor of Business Insider, "literally might have been the first name I mentioned," Topolsky said. "Putting Joe at the mouth of the river of the flood of news is an exciting and crazy prospect."
Weisenthal started his new job last Monday. To a company best known for its sober editorial style and monochrome data terminals, he brings an altogether different voice: Over-the-top, all-caps headlines, hyperactive tweeting, and outspoken opinions about who is on the right and wrong side of contentious economic debates.
That combination was integral to Business Insider's evolution from a scrappy, aggregation-friendly startup to one of the web's best-known sources of business news. But it's a distinctly different style to the work currently being done by Bloomberg's 2,400-person news operation, which largely follows The Bloomberg Way, a strict and documented formula for writing the news.
More than 320,000 subscribers pay around $2,000 a month to access Bloomberg's near-endless pool of financial data and news via its terminals. That's where the majority of the company's estimated $8 billion in revenue comes from, and few see the new online efforts by Bloomberg Digital — part of the consumer-facing Bloomberg Media division — as likely to make a dent in that.
"Bloomberg is pretty well-saturated for markets coverage and adding a new markets-focused product really makes me wonder who the target audience is going to be for this," said Chris Roush, a business journalism professor at the University of North Carolina who runs the website Talking Biz News. "There's definitely some tension between the core Bloomberg News operations and Bloomberg Media," he said. "I think a lot of people on the Bloomberg News side don't understand what's going on at Bloomberg Media and feel a little slighted."
Weisenthal will run Bloomberg Markets, new financial markets website, and have his own TV show. The new projects come as part of a plan by Bloomberg Media boss Justin Smith to build a suite of web properties with a readership far beyond the typical terminal subscriber.
Smith was hired to lead Bloomberg Media in mid-2013, after successfully turning The Atlantic, a genteel and loss-making periodical founded in 1857, into a profitable family of digital media sites. At Bloomberg, he said in a March memo, he aims to create "a portfolio of new digital assets that better align our content offerings to global business audience segments."
The first of these projects to launch was Bloomberg Politics, a site headed by star reporters Mark Halperin and John Heilemann, which publishes stories by its own staffers as well from the core Bloomberg News operation. It also runs a 30-minute daily TV show.
Bloomberg Politics, Topolsky said, is "an example of us reaching out and seeing a bigger picture, that's vital to our audience." But some question whether the company's financial markets coverage needs a new presentation layer to reach its target market.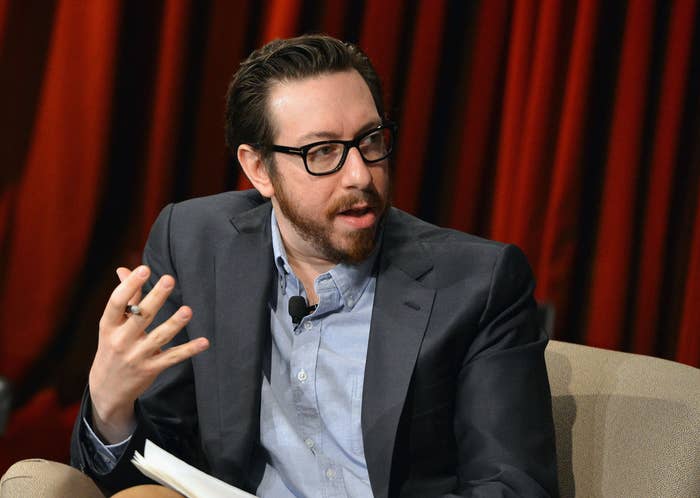 Current and former staffers wonder, in particular, whether the new sites, led by star reporters, columnists, and social media personalities, will water down the editorial voice Bloomberg News has spent decades perfecting. The vast majority of Bloomberg News stories are written in compliance with The Bloomberg Way, a printed guide to covering the news given to new employees. "Bloomberg News stories have a structure as immutable as the rules that govern sonnets and symphonies," founding editor Matthew Winkler says in the book.
The guide gives strict guidelines for structure, phrasing (Matthew Winkler famously hates the word "but"), and the details that must be included in a story. One is that every Bloomberg article should include "the five easy pieces": markets, economy, government, politics, and companies. ("No story is complete without these five elements," Winkler writes.)
The Bloomberg Way also insists on ample documentation and sourcing for any assertions or heavy-handed characterizations. "A story is incomplete and untrustworthy when it includes unsupported assertions," Winkler writes. "The best reporters assemble the details, anecdotes, and comments and then let the readers decide who's right, wrong, guilty or innocent." It's a long way from Business Insider at its chattiest and most hyperbolic.
"If you tried to make Weisenthal follow The Bloomberg Way to the letter, it would destroy what makes him effective as a writer," one former employee said.
"There may be some grumblers," Topolksy said when asked about tension within Bloomberg. "What I've found [is that] people are excited about what media is doing. They want their stories to have a bigger audience, they're excited about wanting to tell different kinds of stories."
Weisenthal's site will be one way to bring the work of Bloomberg reporters to online audiences they typically do not reach.
"When I scan the depths of what Bloomberg News is reporting, there are all kinds of stories that could potentially be the biggest story in the world if some people focus on framing there and making them a big deal," Topolsky said. "If you look at what Bloomberg News is capable of, we're in Gaza, we're in supply chains in Korea, we're covering Ebola ferociously and deals and banks. One reason we came here is that we have this massive foundation of journalism and journalists that hasn't been expressed on the web."
"Joe is perfectly complimentary about markets, stuff that is many ways hard to approach and hard to understand," Topolsky said.
Getting Bloomberg stories in front of the kind of mammoth web audience that Business Insider reaches (35 million U.S. readers in October, according to Comscore) could build support for Weisenthal's site among news staff, who haven't always had web-friendly newsroom leadership. "In my experience, the web was a total afterthought, to the point that we never as reporters knew who web editors were for our section," said a former Bloomberg News staffer.
Massive online distribution and readability is not the first — or even second or third — priority in the newsroom, says the former employee. Instead, editors and writers first prioritize speed, then avoiding errors (stories are tagged with corrections and each writer's corrections are logged for other Bloomberg staffers to look up) and then getting stories tagged as "influential" and "best." These tags, applied internally, are often for market-moving stories or stories that "check those boxes of what Winkler likes," the former staffer said.
In the citation for one recent "influential" story on Greece, it noted exclusive comments from the Greek foreign minister and that it beat a similar Reuters article by 14 seconds.
Another was a story on a change in Serbian central bank rates that noted that it "beat competition by 7 seconds" and caused a 0.1% move in the value of the Serbian dinar against the euro. But the influential citations can also mention social media — a chart noting the size of Apple compared to the Russian stock market, for example, was recently commended for its high number of shares online.
A new guard of Bloomberg Media executives are pushing the news operation toward wider audiences. That shift matches some of the changes taking place at Reuters, a competing newswire and data service, which has also been pushing reporters to add more narrative to their stories, use more anecdotes, and avoid lengthy articles when possible. Reuters won a Pulitzer Prize this year for its coverage of the persecution of Myanmar's Muslim minority.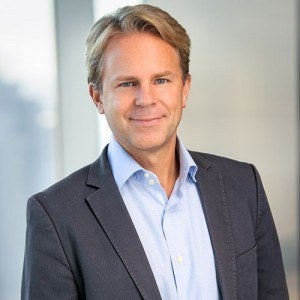 Justin Smith, the CEO of the Bloomberg Media Group and Josh Tyrangiel, senior executive editor for consumer products and the editor of Bloomberg Businessweek.
A person familiar with the company said copy produced by Bloomberg reporters has started to get more palatable to outside readers and has included more analysis at the behest of Smith, who uses content from Bloomberg to fill his web properties, and Laurie Hays, who joined Bloomberg from the Wall Street Journal in 2008 and is one of four senior executive editors that reports to Winkler. The other three are Josh Tyrangiel, who edits Bloomberg Businessweek and is in charge of consumer products like TV and Digital; the head of breaking news, Chris Collins; and the head of terminal news, Marty Schenker.
With this structure, alongside the development of media properties outside of the core news operation, some believe the influence of Winkler — a close friend of Michael Bloomberg who co-authored his biography — has diminished. "Editorial is still ostensibly run by Matt Winkler; technically he's in charge of all content," the person familiar with the company said, but "in actuality, in day-to-day practice, that's not really true."
Topolsky said he reports through Tyrangiel to Winkler, and the Columbia Journalism Review reported that when Smith presented his strategy for Bloomberg Media, the audience included Doctoroff, Winkler, and Tom Secunda, who runs the terminal business and owns a chunk of the company.
But bringing in Weisenthal might be the farthest departure from Winkler's straitlaced approach to reporting, and is even more notable for being right in Bloomberg's core competency of financial and economic news. During his tenure at Business Insider, the site developed a reputation for hyperbole and exaggeration, particularly in its screaming headlines.
Weisenthal exhaustively covered the possibility of minting a $1 trillion coin to avoid the statutory debt limit, including writing a post titled "Why The Fight Over The $1 Trillion Coin Is The Most Important Fiscal Policy Debate You'll Ever See In Your Life." On June 29 this year, he wrote a story headlined "Why The Next Four Days Could Be Huge For The Future Of America."
Weisenthal says Business Insider's reputation for hyperbole is "a bit off" and instead describes his method instead as "taking something a lot of people don't care about — monetary policy, economic data points — and making the case that this is really big deal and you have to pay attention to it."
But Bloomberg's core users, the terminal subscribers, already do care. And they are by all accounts well-served by the device and the style that it delivers the news in, even if it may read strangely to outsiders.
So where does Bloomberg Media fit into the business vision of Bloomberg LP, soon to be led again by its founder Michael Bloomberg?
"I think that Mike sees a huge value in a media business — it's an area he's personally invested in," Topolsky said. He described being in meetings with Bloomberg where he had to present the design for Bloomberg Politics. "It's a fairly radical design compared to what's been done on Bloomberg websites historically. He totally got it, he was interested, he wanted to know if it was responsive and if it worked on mobile."
"Bloomberg News and Matt Winkler have built an amazing thing in 25 years," Michael Bloomberg said at a conference last week. "What is different is that a lot of people get their news in 140 characters." The result, he said, is struggles in the kind of consumer businesses his company is expanding into. "Circulation of magazines has gone down dramatically, websites have come and gone, it's changing. How you're making money in the news business is a real conundrum."
One way to do that is sell terminals ("a $22,000 paywall," as Michael Bloomberg described them), and the relationship between that business and an expanding suite of web properties is, at best, ambiguous.
"With Bloomberg, the terminals are more famous than the media company," said Jay Rosen, the New York University professor and media critic. "So what is the media company for? That's what I don't get."
Weisenthal, however, is full of excitement. He sits surrounded by empty desks that will be filled up by a team that is yet to be hired, and the more he learns about vast powers of the Bloomberg terminal, the more in awe he becomes. "It's mind-blowing what you can do on there," he said. "You can chart past hurricanes to see which oil rigs would have been affected... It's thrilling to think that I've only scratched the surface."
The comment about Bloomberg's presence in Gaza and Korean supply chains was by Josh Topolsky. An earlier version incorrectly attributed it.