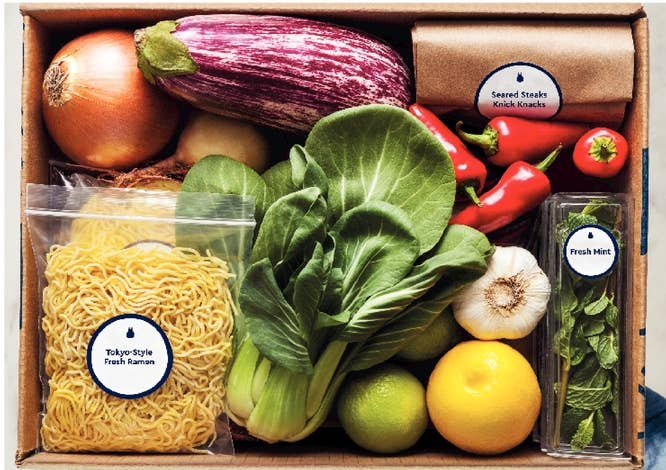 For a trendy startup, an initial public offering is supposed to be a neat, prepackaged experience: By following a simple set of instructions, you end up with a beautiful product that looks like something cooked up by a professional.
But the recipe hasn't worked for Blue Apron. The end result just doesn't look like the one in the picture.
The meal-kit delivery service is scheduled to start trading on the New York Stock Exchange on Thursday, but it will do so at a valuation much lower than it had expected. The lower valuation means less cash for the company and its staff, and an embarrassing verdict that major Wall Street investors don't think the company is anywhere near as valuable as its bankers and private investors do.

The company ended up pricing its shares at $10 each on Wednesday evening, setting it up to raise at least $300 million from the sale. When it first floated a possible price for its shares on June 19, it said it expected to go public at a price between $15 and $17, implying a valuation of just over $3 billion.

Even at the lower end, that $10-per-share valuation means a huge payday for early investors. As the Wall Street Journal's Rolfe Winkler noted, some venture firms bought into the company at less than 10 cents per share.
As companies go through the IPO process and meet with investors, valuations typically increase, building momentum into the first day of trading. The reverse is much less common.
Like many startups looking to go public, Blue Apron is still losing money, although its revenues have increased from $78 million in 2014 to $795 million in 2016. The company actually managed to turn a small profit in the first three months of 2016, but lost $52 million in the first quarter of this year.

That rapid revenue growth was paid for with a lot of marketing. Spending on marketing — things like ads and special offers — rose from $14 million to $144 million from 2014 to 2016.
Marketing costs are unlikely to calm down anytime soon, because Blue Apron is competing with everything from grocery stores to online delivery services, takeout restaurants, and rival meal-kit companies like HelloFresh, Purple Carrot, and Sun Basket.
To stand out, Blue Apron has had to resort to generous offers for customers, including 50% off, $40 off, and 4 free meals. It turns out that there really is such thing as a free lunch — at least when a Silicon Valley startup is going public.
And since the company announced its IPO plans, Amazon has announced its $13 billion acquisition of Whole Foods. While the two companies are not exactly in the same business, Amazon's grocery megadeal sent a chill down the spine of everyone from traditional grocers to apparel retailers and food startups.
Blue Apron investors must now face the prospect of one of the tech industry's biggest and most formidable competitors trying to remake the food industry.
And beyond competition, the recent record of consumer-focused tech IPOs is not exactly inspiring. Twitter and Etsy have fallen 31% and 5% from their IPO prices, respectively, while Snapchat is barely above water. All three have struggled to turn profits and produce the kind of breakneck growth Wall Street has been trained to expect from tech success stories like Facebook and Google.