Biggest U.S. Banks Hit By More Strict Regulations
"This final rule may be the most significant step we have taken to reduce the systemic risk posed by these large, complex banking organizations," said FDIC chair Martin Gruenberg. The eight largest U.S. banks will have to find $68 billion in new capital to meet new rules on how much banks can borrow.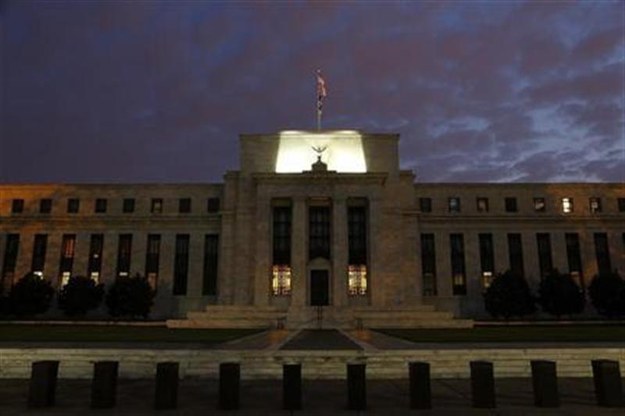 Banking regulators will adopt new rules that will force the eight largest U.S. banks to fund more of their assets using capital, as opposed to debt. Capital can absorb losses and provide a buffer that will prevent bankruptcy in case bank assets lose value.
The rules, which were first proposed last summer and are set to be adopted Tuesday by the Federal Deposit Insurance Corporation and the Office of the Comptroller of the Currency, would make Bank of America, BNY Mellon, Citigroup, Goldman Sachs, Morgan Stanley, State Street, and Wells Fargo have 5% of their total assets in capital. This is known as a supplemental leverage ratio, and it works alongside other regulations adopted internationally that are designed to make banks fund fewer of their assets with debt.
These new regulations are designed to make banks more durable in response to a possible banking-system wide downturn in the value of their assets, like loans and securities. The more capital banks hold, the larger losses would have to be before the banks faced a similar failure like the financial crisis of 2008, during which the banks required hundreds of billions of direct investment by the government to stay afloat.
"The leverage ratio serves as a critical backstop to the risk-based capital requirements — particularly for the most systemic banking firms — and moderates some of the pro-cyclicality in the risk-based capital regime," said Daniel Tarullo, the Federal Reserve governor in charge of regulation, in a statement.
Today's rule, which would also require a 6% leverage ratio for the banking subsidiaries of these eight banks, is largely similar to a proposal floated last summer. Another rule proposed Tuesday likely to be adopted by regulators would make the leverage ratio even stricter for the largest banks. It would change how assets are defined, in accordance with international regulators, and would increase the denominator in the leverage calculation by 8% and force banks to raise even more capital.
While banks have been preparing to comply with the rules, this new version, which is open for comment by the public, would weigh more heavily on the largest banks. "This would place the US-domiciled Universal banks at a competitive disadvantage versus international peers," said Nomura analyst Steven Chubak in a note from February discussing the rules.
The Federal Reserve estimated that for all eight banks to meet the new rules, they would have to raise $68 billion in new capital, a $46 billion increase from their estimate at the time the original version of the rule was drafted. The rules would go into effect in the beginning of 2018.
Chubak estimated that if the banks wanted a 0.5 percentage point buffer over the minimum, the five megabanks most involved in trading and investment banking — JPMorgan Chase, Goldman Sachs, Morgan Stanley, Bank of America, and Citigroup — would have to raise some $72 billion in new capital, through a combination of selling more stock and retaining earnings, with JPMorgan having to raise $32 billion and Citi only $300 million. Chubak also estimated that Morgan Stanley would have the most room to make up, with an estimated leverage ratio under the proposed Basel rules of 4%.
When the first draft of the rules were released, some banks assured investors and regulators that they were either in compliance or were about to be. Goldman Sachs was a major exception — in a July earnings call with analysts, Goldman Chief Financial Officer Harvey Schwartz was asked by eight different analysts where the bank stood with respect to the new rules: He said they were "comfortable" each time he was asked.
Tarullo said in a statement that the new rule was "an important part of the Board's package of enhanced prudential standards for the most systematic U.S. banking firms — a package that is designed to materially reduce the probability of failure of these firms and to materially reduce the damage that would be done to our financial system if one of these firms were to fail."
Goldman Sachs, JPMorgan, and Morgan Stanley were all down between 0.5 and 1.6% in afternoon trading.
"This is a rule of significant consequence," said FDIC Chairman Gruenberg. "In my view, this final rule may be the most significant step we have taken to reduce the systemic risk posed by these large, complex banking organizations."