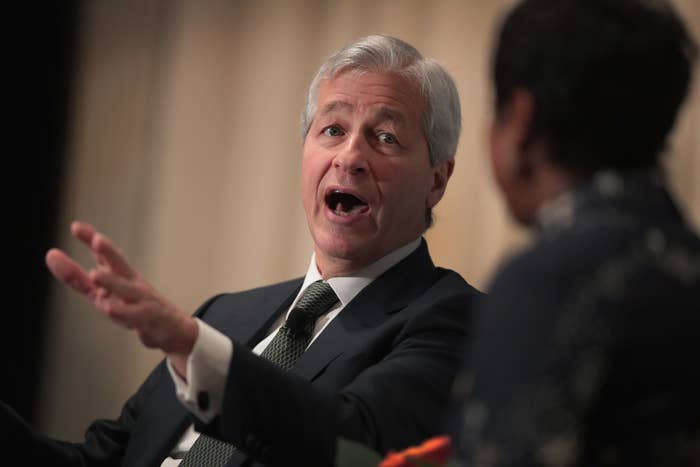 At a conference hosted by Goldman Sachs on Tuesday, senior executives at some of America's largest and most powerful banks lined up to praise the Republican tax plan for slashing the relatively high corporate tax rates that many banks now pay.
Two polls released today showed only 29% approval for the Republican tax plan, and majority disapproval — yet executives of big banks had very different perspectives.
"It's good for corporate America. It's good for us," Brian Moynihan, CEO of Bank of America, said. "We are a taxpayer of high order, so we'll get a benefit because we're paying a lot of taxes today." In its most recent quarter, Bank of America had $5.6 billion worth of profits and $21.8 billion in revenue while paying a 29% effective tax rate. The tax plans that have passed the House and Senate both lower the corporate tax rate to 20%.

JPMorgan Chase Chief Financial Officer Marianne Lake said that on balance, the plan would be good for the company, even if it loses some deductions and tax benefits it currently enjoys. "Net-net, it would be a benefit, all things being equal, to our tax rate," Lake said.

In its most recent quarter, JPMorgan had $25.3 billion in revenue and $6.7 billion in profits.

JPMorgan's CEO Jamie Dimon has been one of the tax bill's biggest supporters from the business world, using his perch as chair of the Washington business group the Business Roundtable to support a major tax overhaul. The group's CEO Economic Outlook Index, a quarterly aggregation of CEO forecasts of sales, investment, and hiring, hit its highest level in over five years, thanks in part to plans for changes in the tax code.
"This business confidence rests on the pro-growth economic agenda of policymakers," Dimon said in a statement today. "To continue this momentum, it is critical that we enact pro-growth tax reform that will level the playing field for US business to be globally competitive."
The smaller advisory-focused investment bank Evercore also predicted a boon from the Republican tax plans. "Lower tax rates are a good thing for us because we're a high taxpayer," Evercore CEO Ralph Schlosstein said at Tuesday's conference. "A lower tax rate actually is a pretty big thing for us."
Schlosstein estimated that the reduction in the tax rate translates to about $35 million worth of extra profits per year. In its most recent quarter, Evercore had $46 million in profits and $407 million worth of revenue.
But the bank executives insisted the plan wouldn't be just good for their businesses — it would also be good for America as a whole.
The tax bill, Lake said, would be "good for the economy, good for new job creation and wage growth, and all good things will come from that. So we're very, very hopeful and optimistic, and the work that it's taken to get to where we are is extraordinary on the part of the government and so the administration."