A delicious Cuban lunch for four: $53.14
Your attempts to split the bill getting blocked because of U.S. sanctions on Cuba: priceless.
Like any company that manages money transfers, Venmo needs to walk a careful line in avoiding processing payments that might breach sanctions on countries like Cuba, Syria and Iran. Sometimes, walking that line means blocking a $12 payment for a Cuban sandwich.
Members of the BuzzFeed Business team learned this the hard way after lunch on Tuesday: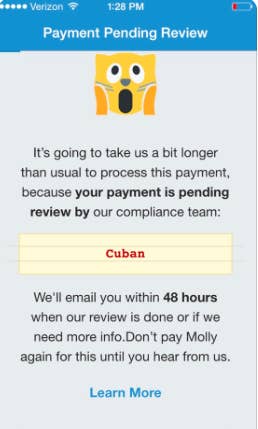 Two of us got messages from Venmo after trying to complete a payment request that was described just as "Cuban."
"It's going to take us a bit longer than usual to process this payment, because your note is pending review by our compliance team. We will email you within 48 hours when our review is done or if we need more info," the messages said.
Followup emails from Venmo customer service said the company was responsible for enforcing U.S. sanctions laws. The emails asked for a "detailed explanation of what you intended to pay for and the establishment, individual(s) or location you referred to in your note, as applicable," giving a 15 day deadline to explain the payment.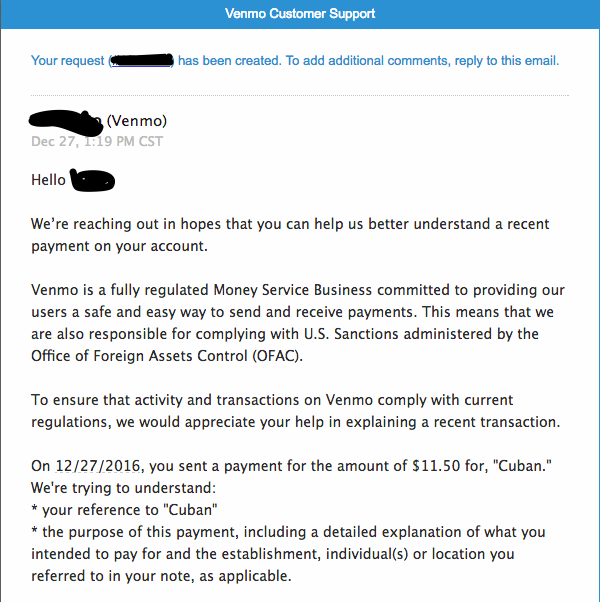 Tweets from elsewhere suggest this happens pretty regularly when people split the bill for Cuban food or drinks — or when planning trips to Cuba, or when someone "drunkenly wrote Cuba instead of Cubs and Venmo thought I was funneling money to a dictator."

Even viewings of Dirty Dancing: Havana Nights can cross the line.
Other sanctioned countries, like Syria, get similar treatment when they're mentioned in Venmo payments. This can affect people raising money for humanitarian organizations and relief — one Venmo user told BuzzFeed News in February that they had gotten a note from the company asking to explain a transaction that he had described as "for Syria."
A PayPal spokesperson said: "PayPal takes its regulatory and compliance obligations seriously, including U.S. economic and trade sanctions administered by the U.S. Department of Treasury's Office of Foreign Assets Control."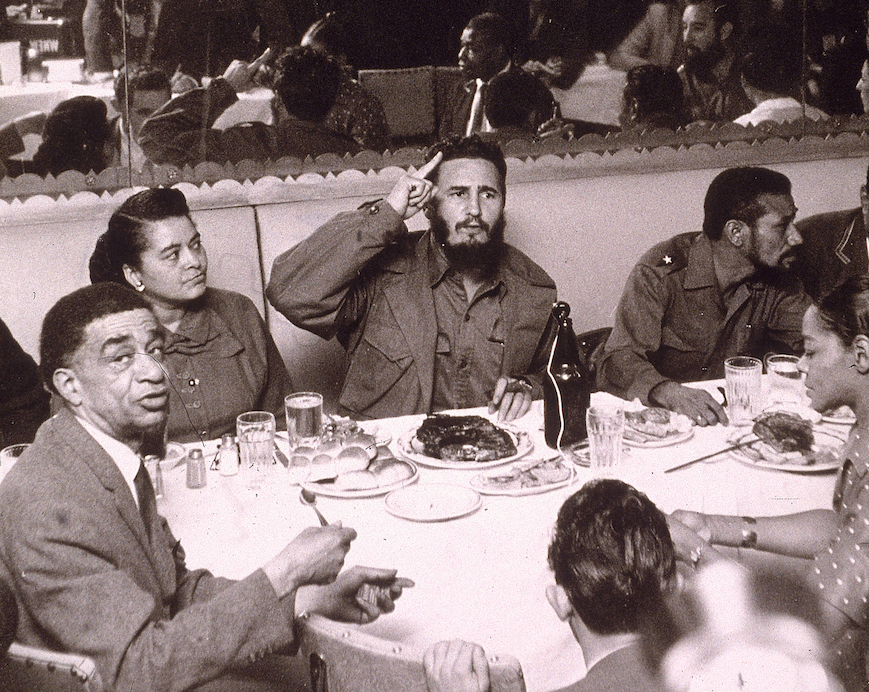 Companies that transfer money are required by law to proactively fish out potentially illegal payments, and searching user-supplied descriptions is an easy way to catch the lowest-hanging fruit. In 2015, PayPal, which owns Venmo, had to pay almost $8 million to settle allegations that it enabled potential sanctions violations via money transfers to Cuba, Iran and Sudan.
In the case of one Turkish man who had been tagged by US authorities for alleged connections to the Pakistani nuclear scientist A.Q. Khan, PayPal transferred more than $7,000 before he was kicked off the service, the Wall Street Journal reported.

A Venmo blog post from March explained that "Venmo, like all U.S. persons, including other U.S. financial institutions, is required to screen activity and flag any payments that may violate U.S. trade sanctions and/or involve certain foreign countries...on the Specially Designated Nationals (SDN) list maintained by the Department of Treasury's Office of Foreign Assets Control."
The blog post explained that payments can be restricted if one of the parties involved mentions "a restricted good or entity" in their payment. That means words like "Cuban" still raise red flags, despite sanctions on Cuba being loosened in recent years.
"Most transactions between the
United States
, or persons subject to U.S. jurisdiction, and Cuba continue to be prohibited, and OFAC continues to enforce the prohibitions of the Cuban Assets Control Regulations (CACR)," a Venmo spokesperson told BuzzFeed News.
Until economic relations between the U.S. and Cuba are truly libre, maybe just say "office lunch" on Venmo.

The sandwiches were great, by the way.
UPDATE
This post has been updated with further information from a Venmo spokesperson about US policies regarding payments to Cuba.