Barclays Seeks Dismissal Of New York "Dark Pool" Lawsuit, Says It Shows No "Actual Harm"
Barclays says the New York Attorney General's suit against Barclays for how it marketed and ran its off-exchange stock trading venue "fails to identify any fraud" and ignores that Barclays customers are "highly sophisticated traders and asset managers responsible for investing millions or billions of dollars of assets."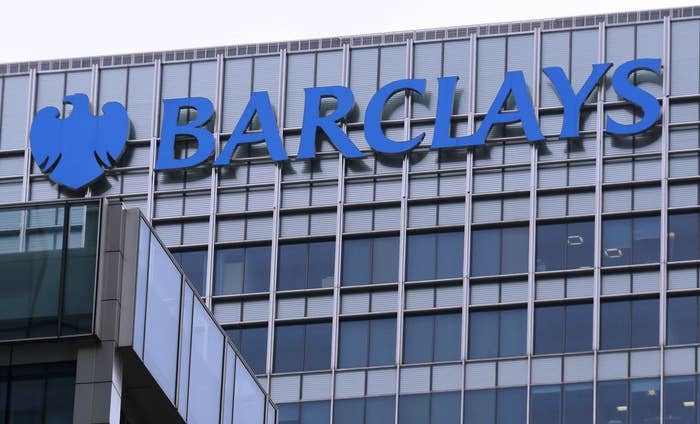 After weeks of losing business to its competitors in the lucrative world of stock trading for asset managers, hedge funds, and trading firms, the British bank Barclays has filed to dismiss a suit filed by New York Attorney General Eric Schneiderman accusing it of misleading customers who traded stocks on its "dark pool," Barclays LX.
The bank said in documents filed Thursday that Schneiderman's suit, which allege the bank misled its customers about how much trading was done by high-speed traders, should be dismissed because it failed to "identify any fraud — establishing no material misstatements, no identified victims, and no actual harm."
Barclays said that its customers, who are "highly sophisticated traders and asset managers responsible for investing millions or billions of dollars of assets," are able to trade across multiple platforms, use lots of data from many different brokerages and exchanges, and don't rely on the "glossy marketing brochures or quotes from magazine articles" that Schneiderman cited.
In his suit filed last month, Schneiderman claimed that Barclays had "falsely represented that it routed client orders for securities to trading venues" and instead favored its own dark pool and that its marketing materials used to pitch its dark pool to investors were "falsified" because they did show how active high-speed traders were in the pool.
The original complaint said that Barclays "secretly gave high frequency trading firms information and other advantages over other clients trading in the dark pool," which allowed those traders to "to maximize the effectiveness of their aggressive trading strategies in the dark pool" at the expense of other investors.
Barclays said that the complaint is "based on clear and substantial factual errors" but that it is unable to fully demonstrate the inaccuracies. The bank said that should the case move on, it will "introduce evidence demonstrating how far off base these allegations are."
In the motion for dismissal, Barclays said that Schneiderman had used selective quotes from the marketing documents and emails cited in the complaint. The bank also said that the original complaint had not established that Barclays' "highly sophisticated" clients had ever seen the marketing information or used them to make trading decisions.
Schneiderman's suit used New York's Martin Act, which gives the Attorney General of New York wide berth to bring civil cases against financial institutions for misrepresentations. It was famously used by one of Schneiderman's predecessors, Eliot Spitzer, to go after Wall Street.
But Barclays claimed that the Martin Act didn't apply to the operation of Barclays's dark pool because it was already covered by the Securities and Exchange Commission. "The NYAG's claims are an attempt to impose new regulations that are in addition to, and potentially contradict or supplant, the SEC's judgments about the regulations to impose on this important mechanism to the U.S. economy," the bank said.
The suit comes at a time when the structure for trading stocks in the U.S., and the rise of high-speed traders and trades that happen away from exchanges like the New York Stock Exchange or Nasdaq, have come under increased scrutiny from regulators like the Securities and Exchange Commission and law enforcement officials.
"The complaint filed last month by Attorney General Schneiderman clearly details the allegations that Barclays engaged in a persistent pattern of fraud and deceit, lying to its investors in order to grow its own dark pool," Schneiderman spokesman Damien LaVera said in a statement, "We are confident that a judge will reject this motion and allow us to prove these disturbing allegations in Court."
Barclays's business has already suffered following the suit. In the week after Schneiderman filed the complaint, Barclays's dark pool fell from the second most active to fifth, with a decline in volume of 37%. The next week, amid a general decline in volume around the July 4th holiday, Barclays's slipped to 12th place.
This piece has been updated with a statement from Schneiderman's communications director.