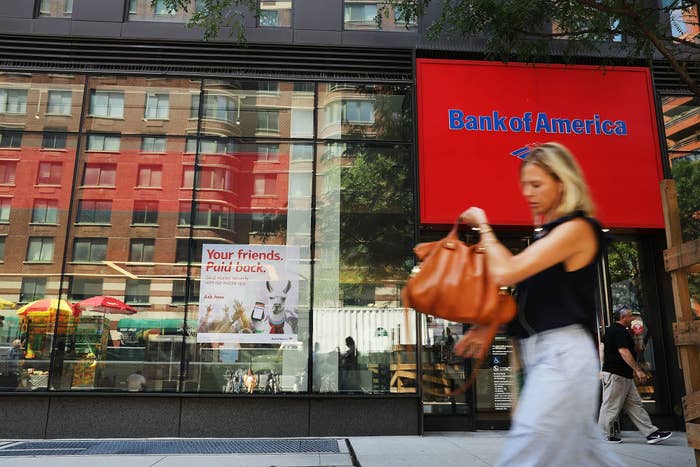 Banks are harvesting money from loans while the rates paid out to their depositors remain stubbornly low, boosting profits in the industry.
At JPMorgan Chase, much of a $1.2 billion increase in revenue in the second quarter came "predominantly in net interest income, up approximately $900 million, reflecting continued loan growth and the impact of higher rates," the bank's chief financial officer Marianne Lake said on a call on Friday. In the past year, JPMorgan has earned some $26.5 billion worth of profits, more than any bank ever, according to figures compiled by Bloomberg.
Banks typically raise rates on loans soon after the Federal Reserve boosts its rate. They lag in paying out a hike in interest rates to their depositors, according to Novantas, a bank consulting firm.
To put it in perspective, the rates banks are charging on a 30-year fixed rate mortgage jumped from 4.09% in December 2015 to their peak of 4.34% this past March (they are now at 4.15%), according to data collected by Bankrate. Credit card rates jumped from 14.96% to 16%.
Meanwhile, savers are still collecting measly interest. The average yield on six-month, one-year, and five-year certificates of deposit had gone up merely 0.06, 0.09, and 0.07 percentage points respectively in the same time period.
The Federal Reserve started raising the interest rate it controls, the federal funds rate, in December 2015 after keeping it close to zero for seven years to help stimulate the economy. Since then, the Fed has hiked rates three more times, so the federal funds rate sits between 1% and 1.25%. The Fed has predicted that it will raise rates once more this year.
When the Fed raises its rate, the increase ricochets throughout the banking industry, bringing up rates on all sorts of loans, and, eventually, on deposits. In the short term, the sizable jump in loan rates, especially for products like credit cards, and the barely perceptible movement in deposit rates has meant more money for banks.
That's because customers have been slow to chase higher deposit yields at other banks, and have been content just leaving their money where it collects almost imperceptible interest.
Paul Donofrio, the chief financial officer of Bank of America, explained the conundrum on a call with analysts this week by arguing that customers were more or less happy just keeping their money safe and accessing all the other services that come with a bank account, like mobile banking and ATMs.

Bank of America's deposits rose 9%. At JPMorgan Chase, consumer deposits increased 10%, and retention of deposits stayed at "historically high levels," said Lake.
Banks will likely continue to see profits rise as the federal fund rate rises. Synovus, a banking company with branches across the South, said in an investor presentation this week that a 0.25 percentage point change in short-term interest rates would lead to a 1.3% increase in its interest, or lending, income. In its most recent quarter, the bank's interest income was up $30 million from a year ago.