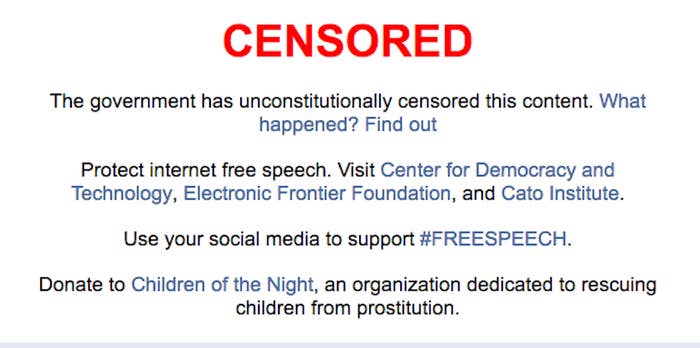 The online classifieds site Backpage.com has shuttered its infamous adult section, which had become the country's most popular marketplace for sex workers. In its place, the company has left a note saying "the government has unconstitutionally censored this content."
The takedown happened in advance of a planned Senate hearing Tuesday morning that will discuss a new Senate report accusing the company of knowingly facilitating child prostitution. A Backpage spokesperson did not say what specifically the Senate committee had done to force the shutdown.
The Senate report contains "evidence that Backpage has been far more complicit in online sex trafficking than anyone previously knew," said Senators Claire McCaskill and Rob Portman, the ranking member and chair of the Senate's Permanent Subcommittee on Investigations, in a statement.
"Backpage's response wasn't to deny what we said. It was to shut down their site. That's not 'censorship'—it's validation of our findings."
Backpage does not deny that child sex workers have been advertised on its site, but the company says it works to combat such activity and actively weeds out ads for children.

Federal law gives broad protections to operators of websites that allow users to post their own content, and in the past, Backpage has successfully cited such law to avoid being held criminally responsible for ads posted on its site.
The Senate report quotes the National Center for Missing and Exploited Children as saying almost three-quarters of the reports it gets for suspected child trafficking "involve Backpage."
The yearslong investigation has been the subject of intense legal wrangling. Backpage has resisted the Senate's subpoenas, which attempted to reveal how the company's publishing and moderation operations work. The resistance made it all the way to the Supreme Court, which eventually ruled that Backpage had to comply with the orders.
The Senate report claims that even Backpage's supposed efforts to prevent solicitation for child sex workers were in reality part of an effort to allow the ads and accept payment for them. When users submitted an ad with the word "teen," the report says, it would be rejected, with an error message saying "teen" was not allowed. But the site would then let them redraft the same ad, avoiding the banned word. A similar process would happen when users submitted an ad listing a sex worker aged under 18, the report says.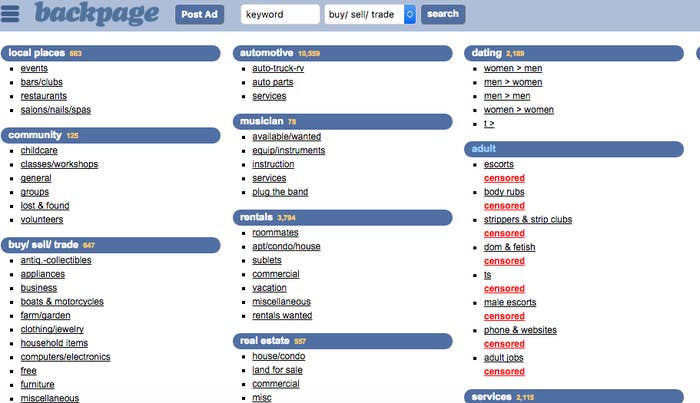 For Backpage, the report is just another attack on the company's firmly established rights under both the First Amendment and the Communications Decency Act, which shields operators of online platforms from prosecution for content posted by users. It's a position that has won consistent, if begrudging, respect and agreement from judges across the country.

Many state attorneys general, including California's newly elected Senator Kamala Harris, have asked Congress to amend the law to make it easier to go after the company, citing its existing legal shield.
"This will not end the fight for online freedom of speech," the company said in a statement. "Backpage.com will continue to pursue its efforts in court to vindicate its First Amendment rights and those of other online platforms for third party expression."
The company has plenty of allies among technology and civil liberties advocates like the Electronic Freedom Foundation, which frequently files briefs in court in support of Backpage. Federal judge Richard Posner vividly smacked down the Cook County sheriff, who successfully pressured payment networks like Visa and American Express to cut off Backpage, calling the effort "lawless coercion."
Sex workers who use the site have also long opposed law enforcement and political efforts to shut it down.
Getting rid of Backpage's adult section is "removing a unique, low-cost and low-barrier way for some of the most marginalized individuals in the adult industry who otherwise might have relied on a third-party or riskier street-based sex work to earn a living," the Sex Workers Outreach Project, an advocacy group for sex workers, said in a statement.

Backpage made $135 million in revenue in 2014, the report says, with a pre-tax profit margin of 82%. The company had 180 employees as of June 2015.