As Google Prepared To Exit China, State Department Pushed For Expo Sponsorship
Months before the company announced it would shutter its Chinese search site, U.S. government officials encouraged it to participate in the Expo 2010 fair in Shanghai.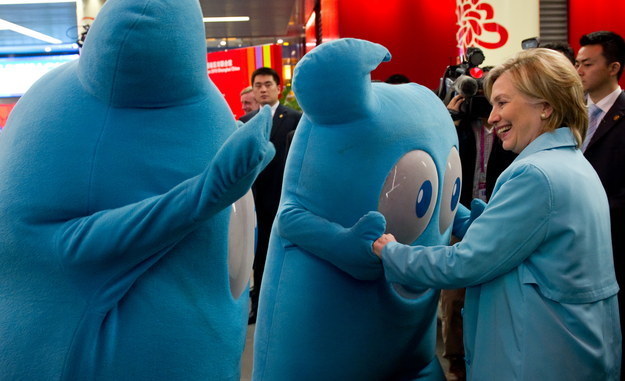 Days before Google announced it was preparing to shutter much of its Chinese business due to ongoing cyber attacks, Hillary Clinton and her State Department staff were pitching the company on becoming a corporate co-sponsor of the U.S. pavilion at the upcoming Expo 2010 in Shanghai.
"I noticed on your schedule that you are meeting with a number of tech CEO's this evening," Kris Balderston, a State Department staffer, wrote to Clinton in January, 2010. "Google should be an obvious co-sponsor of the USA Pavilion and they have consistently pushed us off."
"Although they bring up [intellectual property] issues as a reason not to participate, the Chinese frequently note they do a lot of business in China," wrote Balderston, a former Clinton Senate aide who followed her to the State Department to work on global partnerships.
It appears Clinton attempted, unsuccessfully, to sell the idea of sponsoring the Shanghai pavilion to Google. "I don't think I made any progress," she said in an email to Balderston three days later. "What will it mean if we can't raise the remaining $? Where can can we try?"
The conversation was one of many made public by the latest tranche of Clinton emails released by the State Department.
Five days after Balderston initially wrote to Clinton, Google published a blog post detailing what it said was "a highly sophisticated and targeted attack on our corporate infrastructure originating from China that resulted in the theft of intellectual property from Google."
The company said that it had evidence "to suggest that a primary goal of the attackers was accessing the Gmail accounts of Chinese human rights activists." In response to the attacks, Google said it was reconsidering its Chinese operations, and that "this may well mean having to shut down Google.cn, and potentially our offices in China."
A few months later, in March 2010, the company said it would essentially withdraw from the Chinese search market, redirecting its Chinese users to its uncensored Hong Kong website. Google first launched a Chinese version in 2006 and as part of the launch, it agreed to censor search results on the local site.
Google did not respond to a request for comment, and the State Department declined to comment on the emails.
In an exchange following his initial message, Balderston wrote that "Google has been weird about this whole deal" regarding sponsoring the U.S. pavilion in China.
Fundraising continued unabated, and the more than $60 million needed for the pavilion was raised with no direct federal government money. Balderston had led the government-backed effort since early 2009 according to Jonathan Allen and Amie Parnes book HRC, with the State Department keen on an American presence at the Expo. Not building a pavilion, the authors wrote, would be seen by China as "a little less insulting than a boycott of the Olympics but not much."
Eventually the pavilion was able to land heavyweight corporate sponsors like Chevron, General Electric, Disney, Johnson & Johnson, Dow Chemical, and PepsiCo.
While the U.S. World Expo presence was seen as a victory for the Clinton team's ability to raise money from and coordinate with large companies, the exhibit had its critics. Popular Science called the exhibit a "disgrace," noting that in the videos played in the pavilion, after Clinton, President Obama, and some academics talk, "every sound byte is delivered by corporate PR reps, many in logo'd polos, all representing the pavilion's major sponsors." The Los Angeles Times said the pavilion "says little about what makes America, and Americans, special."
Clinton was more upbeat in her remarks opening the pavilion. "There's a famous American movie called Field of Dreams. And in it, the hero, played by Kevin Costner, builds a baseball field at his remote farm," she said after thanking the many corporate sponsors. "During his project which so many people criticize, he keeps hearing 'If you build it, they will come.'"
Balderston's first email to Clinton, sent five days before Google would announce that it believed the Chinese government was trying to access the email accounts of human rights advocates:

Balderston's email three days later, accusing Google of being "wierd [sic] about this whole deal":