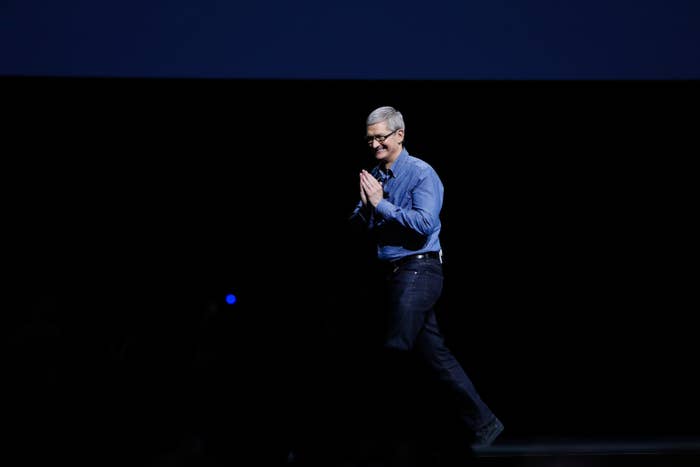 Three months ago, Apple said that its quarterly revenue had fallen on an annual basis for the first since 2003. And now it's done it for the second time.
The company's $42.4 billion in revenues were still gargantuan. But it was less than the $49.6 billion the company brought in during the same period last year. On the bright side, it was slightly higher than the $42.1 billion revenue figure expected by analysts polled by Bloomberg.
As always, the business was driven by how many iPhones were sold. The phones make up about two thirds of Apple's revenue, and the the company sold 40.4 million of them for the quarter, down from 47.5 million last year. Analysts expected 40 million.
Even with sales falling, Apple is still wildly profitable: it made a $7.8 billion profit in the three-month period, down from $10.7 billion from a year ago.
While this is poor performance for Apple, the nearly $8 billion in profits this quarter is more than twice what Facebook made in 2015. The $42.4 billion in revenue is more than double the revenue of Google's parent company Alphabet in its last quarter.
The second-straight quarterly sales and profit decline didn't come as a surprise to Apple shareholders and analysts — the company had forecasted revenues between $41 and $43 billion for the quarter. And the shrinkage will likely continue: Apple projected that it will have between $45.5 billion and $47.5 billion in revenues in the next quarter, well short of the $51.5 billion it posted in the fourth quarter of last year.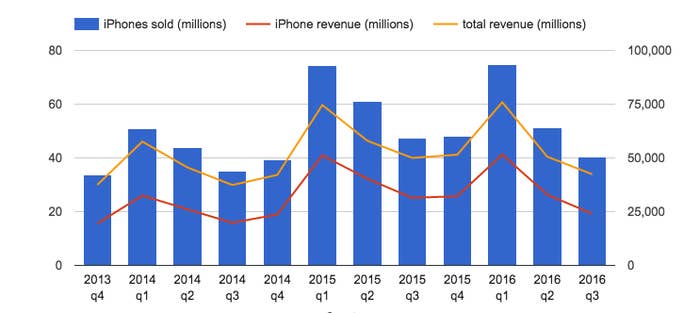 Thanks to slowing iPhone sales, Apple shares are down 8% so far in 2016, and have fallen by more than a fifth in the last 12 months. Apple stock rose over 4% in after-hours trading following Tuesday's earnings report — while Wall Street was expecting a decline, it was not as bad as predicted.
One reason for the lagging sales: The average price of iPhones sold in the quarter was $595, down from $660 in the same period last year. Some analysts expected the average price to move down, thanks sales of the newer, cheaper iPhone SE watering down the pricing of the more expensive 6s. Apple chief executive officer Tim Cook said in a statement that it had a "successful launch" of the SE. Cook also said that the portion of SE sales that go to new Apple customers is higher than for previous launches, which could mean more people that will buy more expensive sales in the future.

Apple has shown that it can most dramatically grow its business when it rolls out new, substantially more advanced iPhones that iPhone owners and Android users buy in droves. Katy Huberty, an analyst at Morgan Stanley, asked Cook how many users will continue to upgrade in light of reports that the next generation of iPhones will have only "modest technology upgrade." Cook said that he "didn't want to talk about phones that aren't announced," he did point to its large base of users and a rate of Android switchers to iPhones that is "the highest ever."
The company does not break out sales of the Apple Watch, but third party researchers have said sales dropped substantially — IDC said that sales fell 55% in the last year. Apple's reported sales of "other products," the category which includes the Apple Watch as well as Apple TV and Beats headphones, was $2.2 billion, down from $2.6 billion a year ago.
"We are pleased to report third quarter results that reflect stronger customer demand and business performance than we anticipated at the start of the quarter," Cook said in a statement.