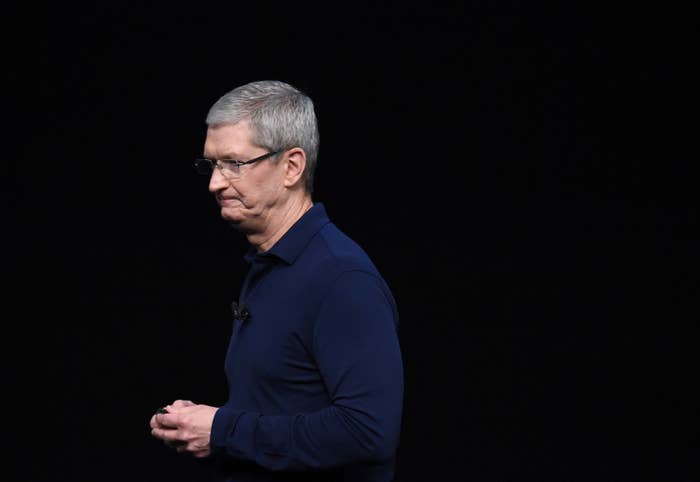 Apple's iPhone sales fell again in the company's most recent quarter, marking the third consecutive period of quarterly decline for the company's most important product. The company's sales of iPads and Macs also both fell.
Those sales have fallen before, but there was also a first in Tuesday's earnings statement: Apple's annual revenue fell for the first time since 2001.
Apple sold 45.5 million iPhones in the three months from July to September, down 5% from a year earlier. The current period included about two weeks of sales of the iPhone 7, which may have been boosted by the disaster surrounding the recall of Samsung's explosion-prone Galaxy Note 7.
Apple shares are up about 12% this year, while the broader Nasdaq Composite Index, which includes many technology companies, is up just over 5%. In after-hours trading, the company's stock fell slightly following the release of the results.
With iPhone sales falling, Apple steered investors toward the growing money it makes from services like iCloud, which users subscribe to and pay monthly fees for. Wall Street tends to value these kind of recurring revenue streams, and Apple said its services unit pulled in $6.3 billion in revenue for the quarter, up 24% from a year ago.

Hardware sales fell across the board: iPads were down 6%, Mac computers were down 14% and the company's "other products" — a group that includes the Apple Watch and Beats headphones — fell 22%.
Regardless of falling iPhone sales, Apple remains insanely profitable — it made $9 billion in the last three months — about $100 million in profits every day — which was slightly more Wall Street analysts expected. But even this was still short of the $11 billion it earned in the same period last year.
The company said revenue would start picking up again in the final three months of 2016 — the holiday shopping season is always an Apple sales bonanza. It forecast revenue of $76 to $78 billion, which even at the low end would be above the $75.9 billion in pulled in last year.
"We're thrilled with the customer response to iPhone 7, iPhone 7 Plus and Apple Watch Series 2, as well as the incredible momentum of our Services business, where revenue grew 24 percent to set another all-time record," Apple chief executive Tim Cook said in a statement.