Apple Warns Revenues Could Decline For First Time In More Than A Decade
The company made an $18 billion profit in the final three months of 2015, but warned business could slow down in the coming quarter.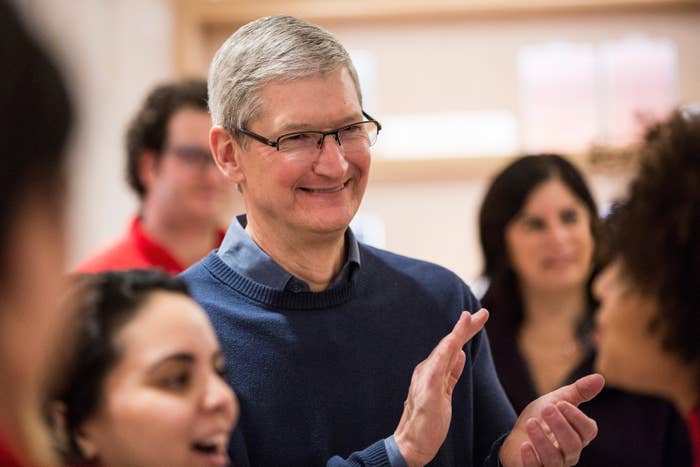 Apple reported an $18 billion profit for the final three months of 2015, beating analysts' expectations, but warned its revenues could decline in the coming quarter — a drop that would be the first such quarterly year-on-year decline in 13 years.
The company's shares have fallen 11.5% in the last year going into Tuesday's earnings report, with several of Apple's suppliers warning of soft demand for new iPhones. Apple's stock has fallen further than the tech-heavy Nasdaq, which is down 4% in the same period, and the S&P 500, which has fallen 7%.

Apple's results were hammered by a more expensive dollar — which makes its sales overseas less valuable — and economic turmoil, especially in large emerging markets like Brazil and Russia. Apple Chief Executive Tim Cook said that had currency values stayed the same over the year, Apple's revenue would be about $5 billion higher than it actually was. Facebook had $4.5 billion in revenue its most recent quarter.

"Our results are particularly impressive given the challenging global macroeconomic environment," Cook said in a call with analysts. "We're seeing extreme conditions unlike anything we have experienced before just about everywhere we look. $100 of Apple's non-US dollar revenue in Q4 of 2014 translated to only $85 last quarter due to the weakening currencies."
Apple's cash hoard continued to grow: The company has $216 billion in cash and securities, $200 billion of which is held overseas.
iPhone sales peak each year in the holiday season, and they were flat in the last quarter of 2015 relative to the same period a year prior. For the coming quarter, Apple projected revenues between $50 billion and $53 billion, down from the $58 billion it made in the first three months of 2015. If Apple's revenue falls into that range, it would be its first annual revenue decline in the second quarter since 2003, almost four years before Steve Jobs presented the iPhone.
Apple sold 74.8 million iPhones, just below what analysts expected but slightly ahead of the 74.5 million iPhones Apple sold in the last three months of 2014 in what was one of the most successful quarters in corporate history.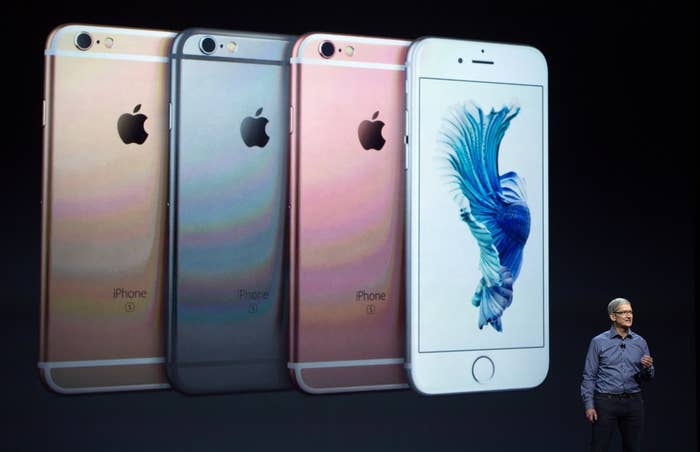 Apple sold 16.1 million iPads, short of analysts' expectations of 17.3 million and well short of the 21.4 million the company sold in the same period last year.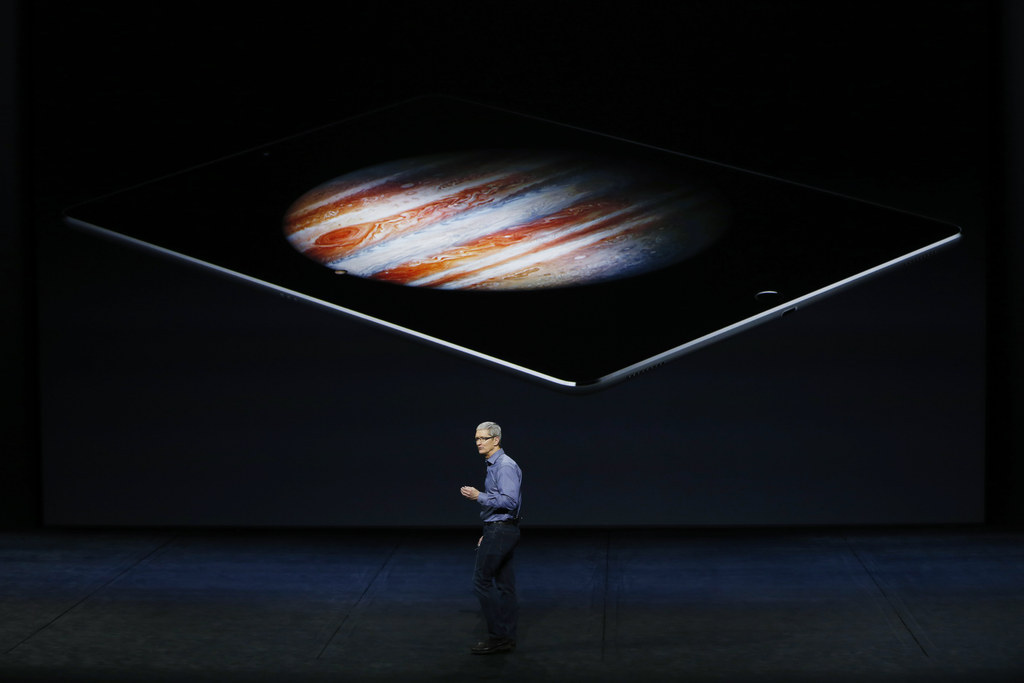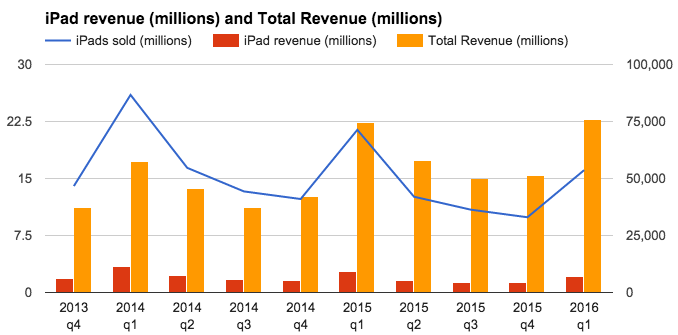 Apple's total sales in Greater China, which includes Hong Kong and Taiwan, were $18.4 billion, up from $16.1 billion a year ago. Greater China is Apple's second-highest revenue region, ahead of Europe, which provided $17.9 billion in revenue.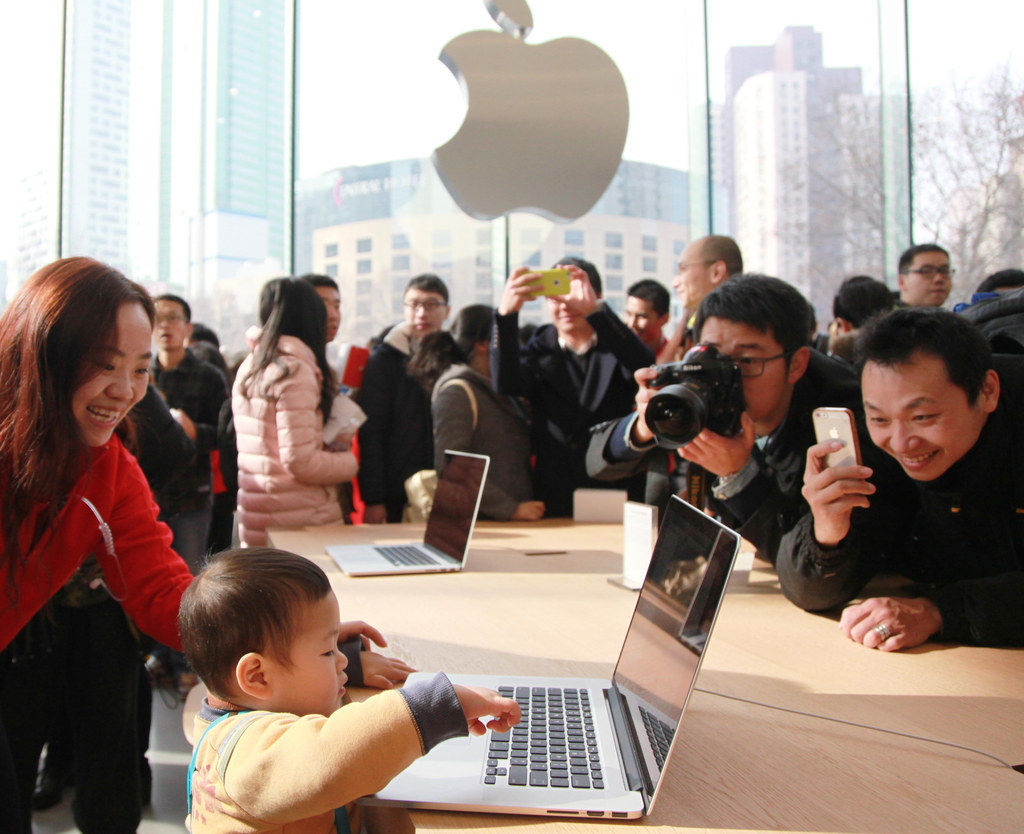 The "other products" segment, which includes the Apple Watch and Apple TV, had revenues of $4.4 billion. The watch launched in the third quarter of Apple's fiscal 2015, when the "other products" segment had $2.6 billion in revenue.