There's the open office, with bookcases filled with business tomes, standing desks, and exercise-balls-as-chairs. Then there's the venture capital funding and the dot-com veteran founders. But this is a company where more than half of the full-time, paid-with-benefits employees work preparing food or delivering it.
Maple is a food startup launching today in Lower Manhattan, a place with no shortage of restaurant or food delivery options. A quick look on Seamless shows hundreds of places ready to deliver almost any cuisine imaginable; opening Yelp anywhere in Maple's delivery zone (for now, Manhattan below Chambers Street) will show dozens of restaurants within a few minutes' walk.
It's a brutally competitive market, and Maple's founders, Caleb Merkl, Akshay Navle, and Will Gaybrick, don't have a background in the food business. But the company's street cred on that front is delivered in spades by David Chang, the Momofuku founder, who is serving as its chief culinary officer. Chang was introduced to Maple via an investor last summer, and helped the company recruit Soa Davies, who led menu development at Le Bernardin, as executive chef.
"We had nothing when we first talked to him; we didn't even have a name," Merkl told BuzzFeed News. "He has his Momofuku empire, but he really just cares about food. He's a progressive guy and is interested in where food is going."
Maple, Merkl said, has "one mission and vision, which is to make every touch point in the food ordering process exceptional." Right now, the service is limited to Lower Manhattan, with plans to move out farther over time. Although Maple wants to serve restaurant-style food, it's able to cut down on costs by not needing the trendy location or dining room of a regular restaurant.
It has also trimmed down the options: three choices for dinner and three for lunch, rotating daily. The prices, including tax, tip, and delivery, are $15 for dinner and $12 for lunch.
Similar businesses are gaining ground in San Francisco: SpoonRocket sells meals for $8 or $9 and has attracted over $10 million in venture capital funding, while others like Sprig and Munchery have also set up similar delivery services with minimal menus and simplified pricing. All of them compete with the Seamless-GrubHub empire, which has become the go-to company for ordering from tens of thousands of restaurants across the country.
The way Maple's founders see it, delivered food is often low-quality, deceptively priced, and inconsistent when it comes to timing. So the goal for Maple is charging a flat fee for high-quality food and fast — but more importantly, accurate — delivery.
"Our thought around speed is that it's definitely important," Merkl said, "but it's not the number one thing. I wouldn't do something to deliver in 10 or 12 minutes that would affect food quality."
And the way Maple plans to manage quality is to own the entire process, from food preparation at a kitchen in Brooklyn to vans that move the food to a delivery kitchen on Liberty Street in Lower Manhattan, and then the delivery crew, made up of full-time employees.
That kind of work — operating a kitchen, owning a fleet of vans, employing cooks and delivery people — led to raised eyebrows when the company was raising money. It's a major departure from the trend of the highest-valued and fastest-growing logistics and delivery apps like Seamless and Uber, which operate as software-based middlemen, leaving most of the physical work to be done by others.
"When we went around and started talking to people about a series A [funding round], there was definitely a lot of groups who were like, this is not a marketplace, not everyone is 1099 [contractor], there's a line that's called capex" Merkl said.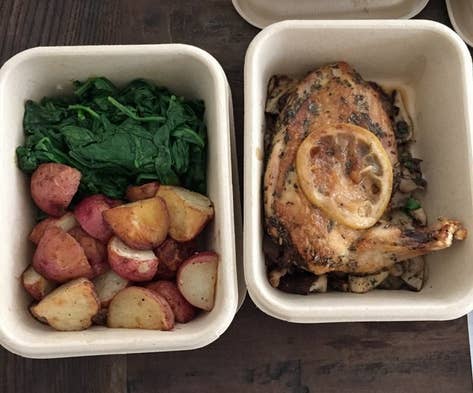 When I visited Maple's Financial District offices, we had the day's options delivered: baked arctic char with green olive relish, roasted fennel and leeks, and broccoli rabe; lemon rosemary chicken on a bed of mushrooms with roasted potatoes; and a green chile enchilada with lime and radishes. I had just eaten lunch an hour before, so I focused on the char, and it was delicious: meaty, substantial, a little salty, and I could easily pull away the meat with a fork. The greens were not soaked and sitting in a puddle of water, as is so often the risk with delivered food.
"We can't have the flimsy mixed greens that everyone serves, because by the time it rattles around in the delivery bike it deflates to nothing. If we put a lot of liquids in here it's all going to slush," Davies said.
The meals come in small, separate compostable boxes with folded tops. "One of the things we thought about a lot was packaging and branding," Merkl said. "We looked at 200 different pieces of packaging."
But plenty of people have started restaurants and plenty of people have started delivery services. Both are famously difficult businesses, as plenty of people are happy to remind Maple's founders.
"When you tell someone you're starting a restaurant," Merkl said, "they feel the need to sit you down and tell you why starting a restaurant is a bad idea."