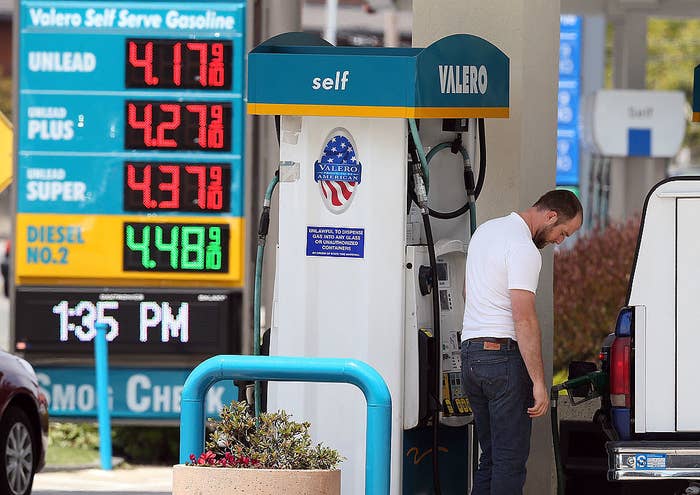 Saudi Arabia and Russia have a special inauguration gift in store for Donald Trump: Rising gas prices, which will be taking extra dollars out of American wallets just as he enters the White House in January.
The two oil powerhouses came to a rare agreement to slash production on Wednesday, with OPEC, the Saudi-led cartel that also includes Iran and Iraq, committing to reduce supply by 1.2 million barrels per day. Russia, which is not an OPEC member, is joining the party, cutting its output by 300,000 barrels per day.
This will have an almost immediate impact on the price of gas, which "just like oil prices is very much supply and demand driven," Patrick DeHaan, a senior analyst at GasBuddy, told BuzzFeed News. The cuts won't happen until next month, but oil prices rose immediately after the deal was announced and kept rising Thursday, meaning rising gas prices should quickly follow.
"In the next one to two weeks, motorists across the country will likely see an uptick of 5 to 10 to 15 cents a gallon," DeHaan said. With the cuts planned to kick into effect in January, prices could rise another 10 to 30 cents then, DeHaan said — right around the time Donald Trump moves into the White House.
Gas prices plunged in the summer of 2014 after Saudi Arabia decided to boost oil production, tanking the global oil market. By early 2015, prices had fallen by more than a dollar per gallon — a windfall for US consumers and a disaster for American and international energy companies.
But while conventional wisdom says lower gas prices should boost consumer spending, the impact of cheap gas on the US economy in recent years has has been limited. Instead of spending more on something else, many American drivers responded to cheap gas by buying larger, less fuel-efficient cars. Others saved the windfall rather than spending it.
And the benefits of cheap oil have been offset by a crisis in the US energy industry, where oil and gas drillers plunged into bankruptcy or cancelled and scaled back investment plans, wreaking economic havoc on once-booming oil regions like North Dakota.
The deal to cut oil production is good news for US producers, who are not part of the agreement and set to benefit from higher global prices. In response to news of the deal, many energy companies stocks spiked: Marathon Oil rose almost 21%, while Anadarko Petroleum was up 15%.
One friend of Team Trump is doing particularly well thanks to the Saudi-Russia agreement. Fracking billionaire and rumored potential Energy Secretary Harold Hamm gained $3 billion in net worth yesterday (taking him to $17 billion), according to figures compiled by Bloomberg, when the stock of his company Continental Resources soared as much as 22%.