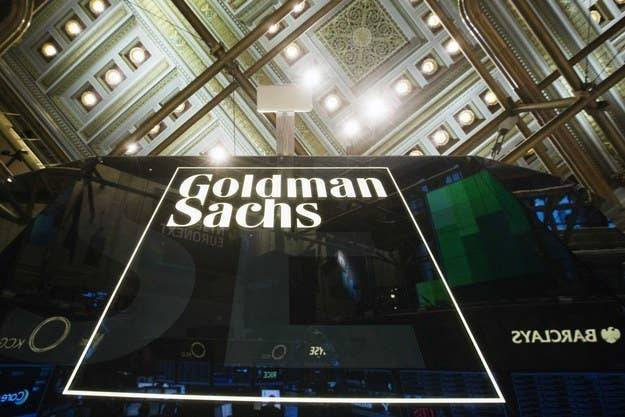 In trading that resembeled the most dire days of the 2008 global financial crisis or the 2011 European debt crisis, Goldman Sachs saw record trading volume on Wednesday, an executive familiar with the matter said.
Although stocks had been trending down for weeks along along with yields on U.S. Treasury debt (which move inversely to its price), morning trading on Wednesday featured a particularly steep move in normally staid 10-year Treasury bills, which then drove equities down with it.
The fall on Wednesday morning was quick and unusual: The 10-year yield, which is seen as a proxy for expectations of U.S. economic growth, dropped by 34 basis points, from 2.20% to 1.87%, the biggest such drop in five years.
It eventually rebounded to 2.14% and US stocks made back some of their losses as well. The Goldman executive said that the particularly sharp move was evidence of traders with large positions having to buy up the ten-year Treasury to cover their losses on a trade betting on rising yields.
The bank's third quarter results, which saw big gains in profits and revenues, were the result of volatility returning to markets in September, Goldman's chairman and CEO Lloyd Blankfein said the said in an interview with CNBC. "This is a little bit like the genie in the bottle," Blankfein said, referencing recent market gyrations. "You wish, you wish, you wish and now all of the sudden you have an avalanche of volatilty."
The most shocking market move on Wednesday was the sudden drop in ten year US government bond yields.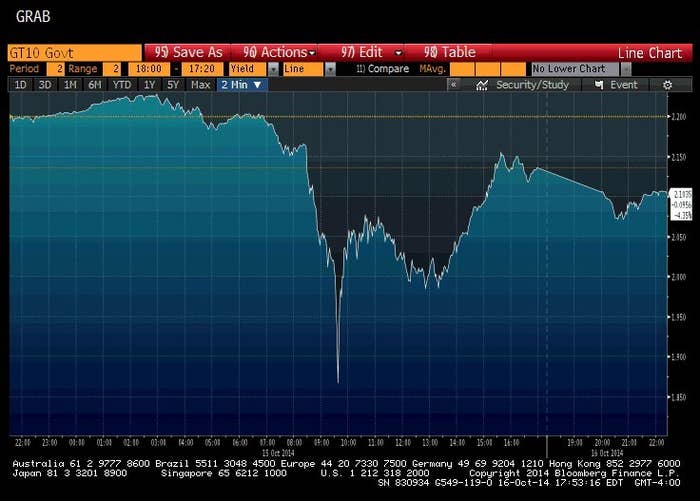 Goldman's own stock suffered today, as investors were unimpressed with the company's earnings and profits, which were driven by large increases in trading profits, Goldman's own investing in companies, funds, and real estate, and low employee compensation compared to its revenues. Goldman shares fell 2.63%, or $4.66, to $172.58.
There were also large losses Wednesday in the stocks of companies that were targets of so-called inversion deals, where a US company buys an overseas one and moves it tax headquarters to a new, lower-tax country. One such deal, US pharmaceutical company AbbVie's $54 billion acquisiton of Irish drugmaker Shire collapsed last night when AbbVie's board recommended against the acquisition. Shire's stock fell 30% yesterday amid speculation the deal would fall apart. 30.1 million Shire shares were traded compared to 1.4 million on Tuesday. Many hedge funds owned Shire shares in hope the deal would be approved.
Other potential inversion targets also fell dramatically. The Goldman executive said that having to liquidate those stakes drove some of the dramatic stock moves in early trading and that some investors probably lost billions among the upheaval.
"For us, in any environment, it's always about staying close to our clients," Goldman's chief financial officer Harvey Schwartz said on a call with analysts. "Yesterday was a difficult day for many of them."
The Goldman executive said that the high volume was not just evidence of particularly freaked-out traders, but also the strength of Goldman's market-making business. When volatility was sitting at record lows this summer, many speculated that the business model of large investment banks with client-facing trading divisions could be under threat.
Goldman has refused to dramatically shrink its fixed-income trading business or slough off or reduce its commodities business. The Goldman executive said that large movements in the price of oil in the last month as well as volatility in natural gas earlier this year drove client activity that went through Goldman.
Goldman reported its earnings Thursday and its fixed income, currency, and commodities trading business saw its revenues jump up 74% to $2.17 billion, although its equities trading business saw its revenue fall 22% to $429 billion from $549 in the third quarter of last year.
"If you take a step back and you look at the third quarter, we came into the third quarter, everybody was focused on the fact that there is absolutely no volatility," Schwartz said "and as we sit here today, people feel like there's too much. So it's a little bit too hot, too cold." Goldman's record trading day was first reported by the Financial Times.