Americans Would Rather Have Transactions Canceled Than Pay Overdraft Fees
Overdraft fees, which amount to around $32 billion a year, generate massive revenue for banks but confuse and anger many consumers. New rules mandate that consumers opt-in to overdraft programs.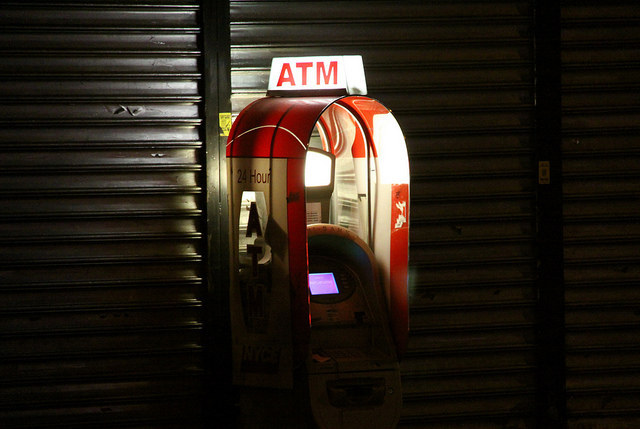 Despite new rules that are supposed to increase transparency and consumer awareness of withdrawal fees on overdraft ATM and debit charges, a majority of consumers who pay them are not aware of opting in to overdraft coverage, according to a new study by the Pew Charitable Trusts.
Banks collected around $32 billion in overdraft fees in 2012, according to research by Moebs Services, with a median charge of $35, according to Pew. This is despite the fact that many overdraft amounts are much smaller than the typical fee — 39% of withdrawals incurring an overdraft fee were for $20 or less. They are essentially very high interest rate loans with little risk of failure to repay.
The Pew survey says that more than half of overdrafts end up costing consumers between $30 and $99.99, and on average the fees, including the initial fee and extended fees for not paying the initial fee and getting the balance back to positive, amount to $69. The study found that more than two-thirds of people who pay overdraft fees, pay transfer fees, have transactions declined, or never go into a negative balance would prefer a declined transaction instead of paying a $35 fee.
Since 2010, banks have been required to get their consumers to opt-in to overdraft protection programs, where the overdrawn transaction will go through and then be charged a fee or have an amount transferred from another linked account like a credit card or savings account. Despite these rules, however, the Pew survey found that last year 52% of consumers charged overdraft fees did not know they opted into the protection program, down only 2 percentage points from 2012. 10% of Americans said they paid at least one overdraft penalty fee while 5% said they paid a transfer fee.
"Checking accounts are the most widely used financial product in the country, yet many consumers are still concerned and puzzled by bank overdraft practices," said Pew's director of consumer banking research Susan Weinstock.
While overdrafts have decreased slightly from 2013 to 2012, according to the Pew Survey, from 12% of respondents saying they paid an overdraft fee on a debit card transaction in 2012 to 10% in 2013, they are a steady revenue stream for banks, whose consumer banking operations especially have been hemmed in by low interest rates and increased regulatory scrutiny.
Since many checking accounts aren't profitable for banks — StrategyCorps says almost 40% of them are unprofitable — they have to generate sizable fee income to subsidize the more quiet accounts. As bank income has gotten squeezed, fewer and fewer banks offer free checking: 82% in 2009, and only 59% in 2014, according to Moebs. Some large consumer banks, including Chase, don't allow for overdrafts at ATMs (they simply decline the transactions) or won't charge fees if the account is overdrawn by $5 or less.
Weinstock said that the Consumer Financial Protection Bureau, which regulates consumer financial products, should have new rules on overdraft fees by early 2015.
"This data should help lay the groundwork for these rules," Weinstock said. "They demonstrate the need for new rules for this product."
Overdrafts are concentrated among those who do it frequently.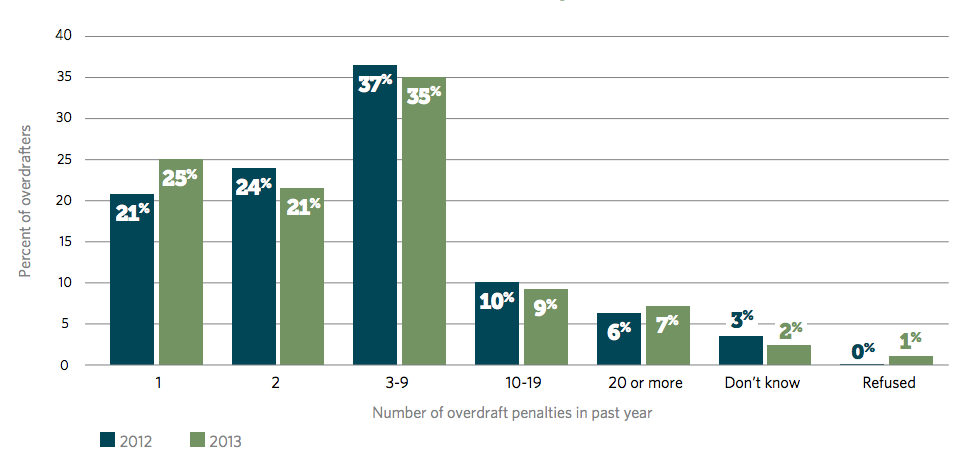 39% of transactions that caused overdrafts were for $20 or less.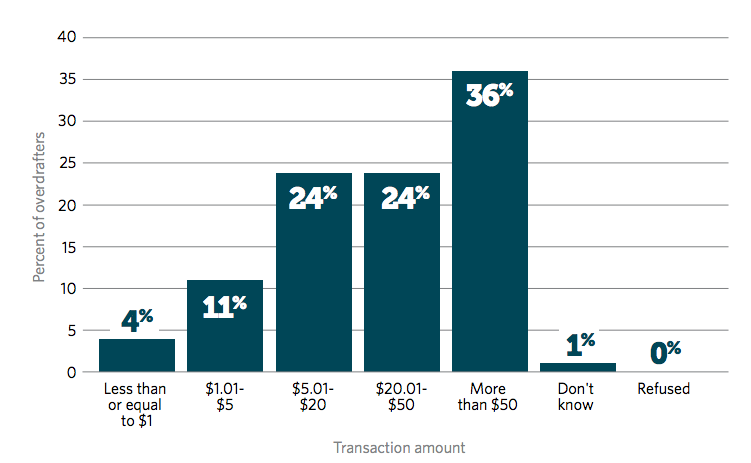 Less than half of consumers who incur overdraft fees learn about them on the same or next day of the transaction.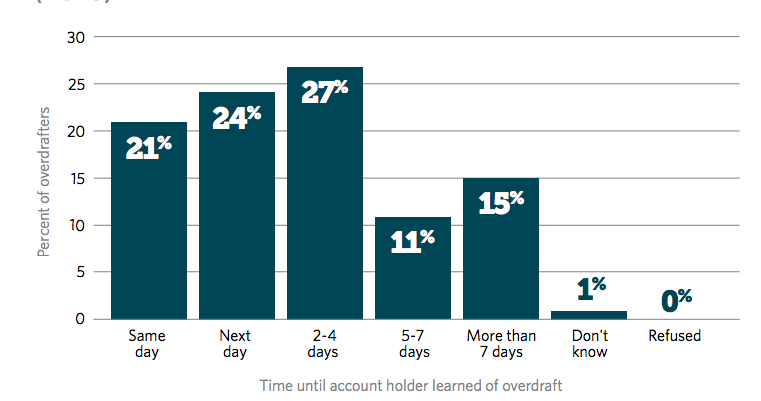 Instant notifications of overdrafts appear not to work: 58% of overdrafters learn of their overdraft from a mail notice or account statement.