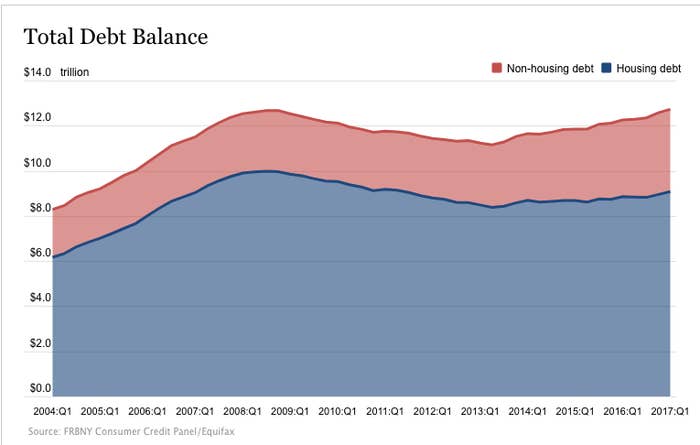 American households are back at peak debt, with new data showing the highest level of household debt since 2008.
Kind of.
Americans now sit on a $12.73 trillion pile of household debt, meaning mortgages, loans, credit cards, home equity lines of credit, car loans, and student debt. That figure previously peaked at $12.68 trillion in the early days of the Great Recession.
Those numbers aren't adjusted for inflation, and $12.68 trillion 2008 dollars would be equal to more than $14.5 trillion today. And while debt number is at it's highest ever, the economy has grown significantly in the last nine years, meaning that as a percentage of the total economy, it's still well below its 2008 high.
"Almost nine years later, household debt has finally exceeded its 2008 peak but the debt and its borrowers look quite different today," said Donghoon Lee, a Research Officer at the New York Fed. "This record debt level is neither a reason to celebrate nor a cause for alarm."
The makeup of American household debt has changed in a big way. Back in 2008, people held $10 trillion in housing debt; that has fallen to $9.1 trillion today. In its place, student loan debt has boomed, and car loan and credit card debt also rose.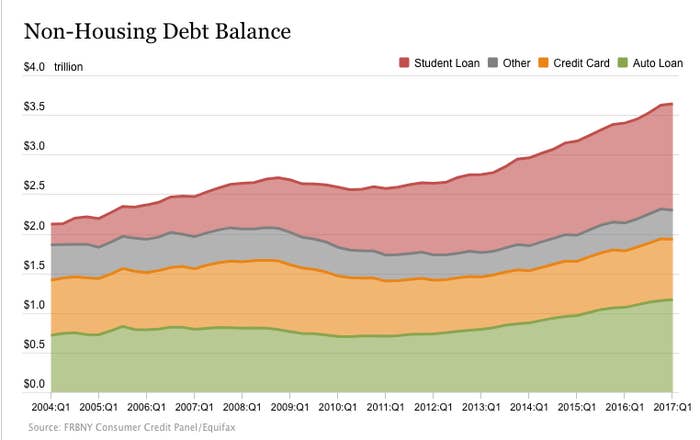 Home loans have become harder to come by for middle- and low-income buyers in the decade since the housing crisis began. And as the recession kicked into high gear and unemployment spiked, people poured into colleges in huge numbers, looking to weather the storm. That led to a boom in the for-profit college industry — and a soaring national student debt pile.

When household debt peaked in 2008, Americans had $610 billion in student loan debt, about 5% percent of all consumer debt and 23% percent of all non-housing debt. Today, student debt balances have more than doubled to $1.3 trillion, 11% of all consumer debt and 37% of all non-housing debt.

But people are now defaulting on those student loans at at a higher rate than any other form of debt. 11% of all student debt is now more than 90 days overdue, compared to 7.5% for credit cards and 3.8% for home loans.
"The standout, however, has been student loans—with new serious delinquency flows that deteriorated steadily between 2004 and 2014 and have remained stubbornly high since then," the Fed researchers said.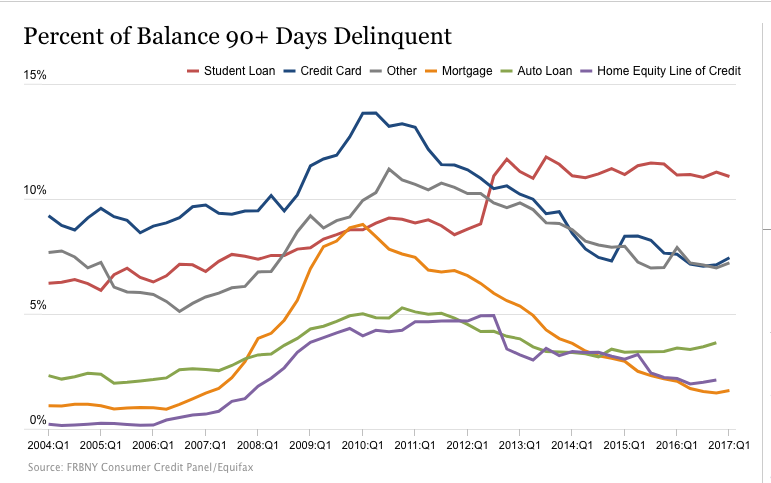 And that 11% figure, the New York Fed explains, is likely an understatement. About half of student loans are "currently in deferment, in grace periods or in forbearance and therefore temporarily not in the repayment cycle," according to its analysts. As a total share of all loans that could be paid back, the delinquency level is "roughly" twice as high as the 11% reported, they said.