Another day, another Amazon move sending rivals' shares crashing.

The beleaguered retailer Sears said on Thursday that it would sell its full line of Kenmore brand appliances on Amazon, including appliances equipped with Alexa, Amazon's smart home software.
The announcement is weighing on Sears' rivals. At the close of trading on Thursday, Home Depot shares were down around 4.1%, Lowe's shares fell 5.6%, and shares of competing appliance brand Whirlpool declined 4.4%
Sears shares rose 10.6% and Amazon shares are basically unmoved.
This is just the latest example of how Amazon's moves can echo across the retail landscape. When the company announced its deal to buy Whole Foods last month, retail and grocery stocks shuddered and fell dramatically. Shares of the recently public Blue Apron fell by 11% earlier this week when journalists discovered an Amazon trademark filing for a meal-kit service, and continued to fall the next day when Amazon-brand meal kits were found on its website for customers in the Seattle area.

The stock decline of Amazon's new rivals in the appliance business shows just how terrified investors are of the e-commerce behemoth. Sears itself is only worth just over $1 billion, while the market value of Home Depot and Lowe's declined by $3.6 billion and $7.6 billion respectively. Amazon, which is worth almost $500 billion, saw its market value change a mere $875 million.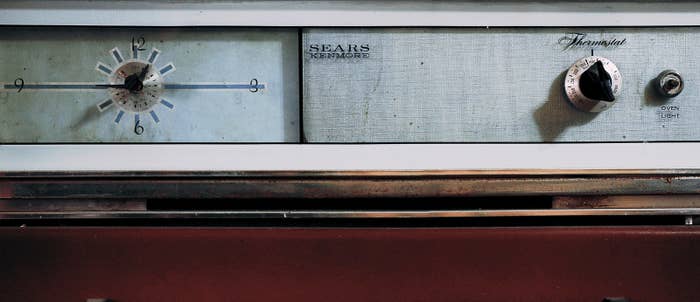 While "Kenmore Smart connected room air conditioners integrated with Alexa" are already available on Amazon, Sears said today that "distribution on Amazon.com is planned to be expanded to the full line of Kenmore home appliances in all US market segments," which includes washing machines, dryers, microwaves, refrigerators, and dishwashers. Sears' existing services and delivery operations will still provide "delivery, installation and extended product protection for a full range of home appliances," the company said.
Appliance sales, especially for items like washing machines and refrigerators, still largely happen in brick-and-mortar stores, and come with the type of in-person salesmanship, installation, and ongoing service largely absent in e-commerce.
While this is a relatively small move for Amazon — which had $35.7 billion in sales in its last quarter — it's huge for Sears. Sears Holding (which also owns Kmart) had $4.3 billion in revenue in its most recent quarter, down from $5.4 billion in the same quarter last year. At US Sears stores, comparable sales fell more than 12%, which was partially due to a decline in appliance sales.
Market research group NPD estimated using receipt data that US consumers spent $4 billion on online purchases of major home appliances in 2016, a 38% jump from 2015. That's still a small portion of all appliance purchases — Home Depot alone sold over $7 billion of appliances in 2016, about 8% of its total sales; while Lowe's sold $7 billion of appliances, 11% of its total sales last year. Whirlpool had $20.7 billion in total net sales last year.