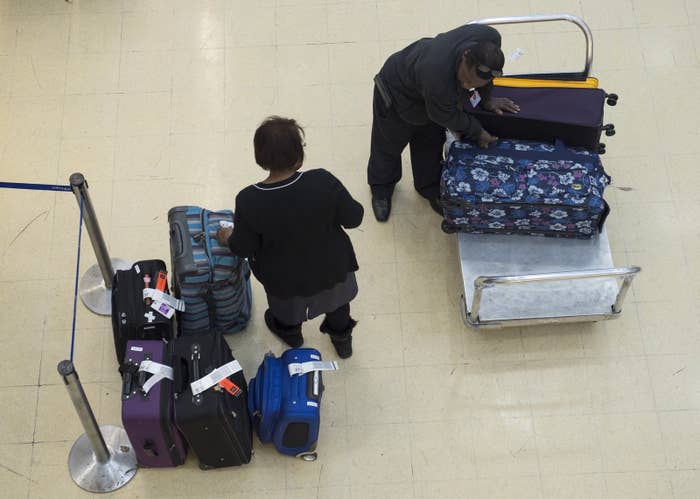 The airline industry is cheering the Trump administration for halting a proposal to require all baggage fees to be listed alongside ticket prices on booking sites like Expedia and Kayak, saying such a rule "would have allowed the government to dictate how airlines sell and distribute products and services."
The late-Obama-era proposal was first floated by the Department of Transportation in January, when it requested public comment on the proposed rule.
The second comment process halted was a request for information the Department of Transportation floated in October about how airlines mete out information to services that allow users to search and compare airline tickets online. The request could have kicked off new rules governing the interaction between airlines and online ticket services.
More than 59,000 comments were received in the months that followed. But the process has now been halted, the DoT said on Thursday, so that President Trump's appointees have "the opportunity to review and consider this action."
A major airline industry trade group said that delaying the fee disclosure rulemaking process showed new Transportation Secretary Elaine Chao was making "common sense" decisions after decades of excessive regulation.
"We applaud Secretary Chao's leadership today and look forward to an era of smarter regulation that protects consumers from unfair practices, but does not step in when action is not warranted," said Nicholas Calio, the CEO of industry group Airlines For America.
There is an inherent conflict between airlines and online travel sites. Most fliers turn to booking sites when price shopping for tickets, with airlines needing to pay commissions to the sites where their seats are sold. Airlines also pay distributors to get their flights and pricing data on the sites. Some — particularly discount airlines — choose not to participate in the system.
Booking sites, on the other hand, want as much information from the airlines as possible. Their industry group said it was "disappointed" that the request for information and the fee disclosure rule had been halted.

"Airlines are inhibiting transparency at the expense of consumers," said Steve Shur, the president of the Travel Technology Association, which represents sites including Expedia, Priceline, and TripAdvisor. "Four carriers currently control over 80 percent of domestic seat capacity. The DOT needs to work to ensure a competitive air travel marketplace, where airlines compete on price, service, ancillaries and more."
The suspension of both proposals comes amid the broad regulatory rollback initiated by the Trump Administration and its Republican allies in Congress. One of the first executive orders signed by the newly inaugurated President was his "2-for-1" rule on regulations, that for every new rule implemented, two had to be withdrawn.

UPDATE
This piece has been updated with more details on the two proposals.