After Stock Crashes, SeaWorld Expands Orca Habitats And Donates $10 Million For Research And Conservation
The changes follow massive public and political scrutiny of how the company treats its signature killer whales.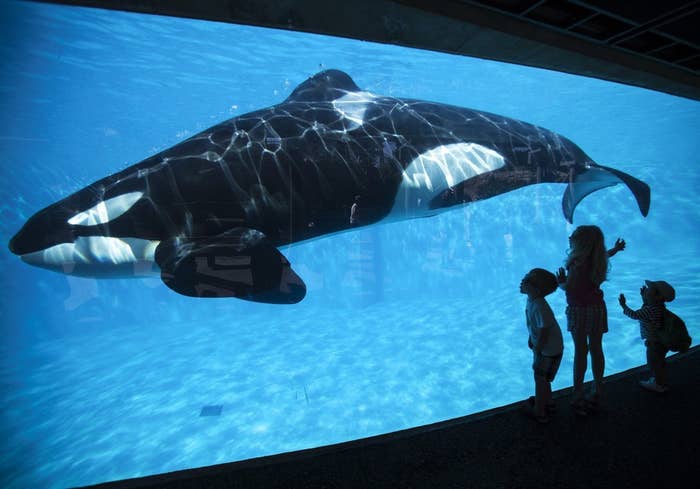 After the marine park operator SeaWorld saw its stock fall 33% following a disappointing earnings report and flat attendance, the San Diego-based company said it would build larger tanks for its whales and donate $10 million to research on killer whales in the wild.
"The unprecedented access to marine mammals that our parks provide has increased our knowledge of the ocean and inspired generations," said Jim Atchison, SeaWorld's chief executive officer, said in a statement. "Our new killer whale homes and research initiatives have just as bold a vision: to advance global understanding of these animals, to educate, and to inspire conservation efforts to protect killer whales in the wild."
The company also said the new tanks would "support the whales' broad range of behaviors and provide choices that can challenge the whales both physically and mentally" and would allow SeaWorld employees easier access to the whales "that can lead to a better understanding and care of the animals both in the parks and in the wild."
The company's efforts to update its whale displays and support research addresses two interlocked issues that have threatened the company's bottom line since selling shares to the public last March: stubborn attendance and increasing public opposition the company following the release of the documentary Blackfish last year.
SeaWorld shares have tanked in the last two days, with the stock falling more than 35%.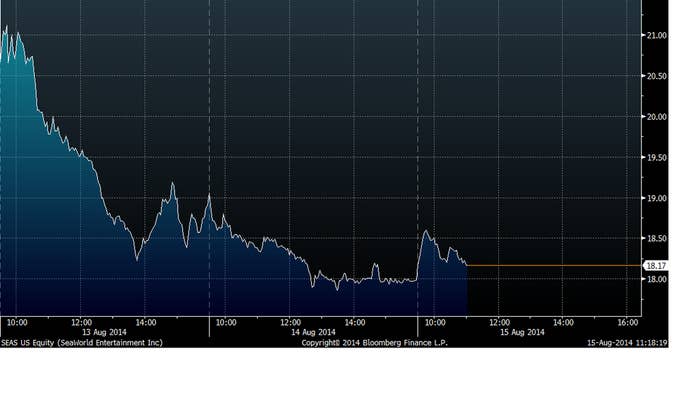 SeaWorld hopes to both provide a better experience to customers who are still showing up as well as convince the broader public that it's not tormenting the whales or putting its trainers in danger. The Wall Street Journal reported that the changes would cost several million dollars. The first new whale environment will be built at the SeaWorld park in San Diego and will be completed by 2018, the company said, followed by new tanks in Orlando and San Antonio.
When SeaWorld announced its earnings on Wednesday, it acknowledged that the spate of negative attention had probably dragged on its attendance, saying that it "believes attendance in the quarter was impacted by demand pressures related to recent media attention surrounding proposed legislation in the state of California." A bill proposed in the California state legislature sought to ban the live orca shows.
After SeaWorld announced second quarter revenues of $405 million, well short of analysts' expectations, as well as guidance that its full-year revenue would be down 6% to 7%, the company's stock fell almost 33% to $18.90 from Tuesday's closing price of $28.15. In early trading Friday, SeaWorld's shares are trading at $18.09.