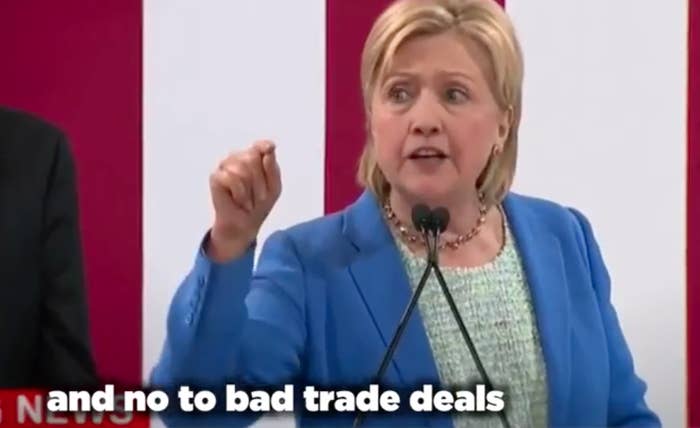 The progressive activist groups CREDO Action and Democracy for America are launching an campaign calling on Hillary Clinton to "publicly and personally oppose" a vote on the Trans-Pacific Partnership during a lame duck session of Congress after the presidential election.
While the massive trade deal is supported by President Obama, Clinton came out publicly against it during her campaign, and opposition to the deal was a key point of Bernie Sanders's primary campaign.
Many progressives are suspicious that even if Clinton (or Trump, who also opposes the deal) win the election, the deal could go through before the inauguration and that Clinton would not vocally oppose it. They also worry that Clinton's opposition to the deal could not go as far as acting meaningfully to stop it when it's most likely to pass.
A video produced by CREDO, first shared with BuzzFeed News, traces Clinton's opposition to the deal from October of last year through her joint appearance with Bernie Sanders and the Democratic National Convention and asks viewers to sign CREDO's petition. The ads promoting the campaign, which includes a a pair of petitions, will be targeted through Facebook at Clinton's Brooklyn-based campaign staff, the White House, and the Commerce Department staff.

The tactic of targeting specific decision-makers and their staffs was also used by CREDO as part of their campaign to urge Google to end its partnership with with the Republican National Committee at the Republican National Convention.
"Right now, Donald Trump is running around the country using the specter of a lame-duck vote on the job-killing Trans-Pacific Partnership to divide Secretary Clinton from the millions of voters who agree with her that this disastrous trade deal has to be stopped," Robert Cruickshank, a senior campaign manger at Democracy for America, told BuzzFeed News in a statement.
"Now we need her help to stop it from being jammed through Congress in a lame duck session. A personal and public statement from Secretary Clinton in opposition to a lame duck vote would provide huge momentum in the fight to stop the TPP once and for all," CREDO's political director Murshed Zaheed said in a statement to BuzzFeed News.
CREDO's petition notes that Clinton's campaign chairman John Podesta has said that Clinton "opposes TPP BEFORE and AFTER the election." CREDO's campaign email says "to stop the overwhelming corporate pressure to ram through the Trans-Pacific Partnership (TPP) through this Congress deal, we need help from Sec. Clinton herself."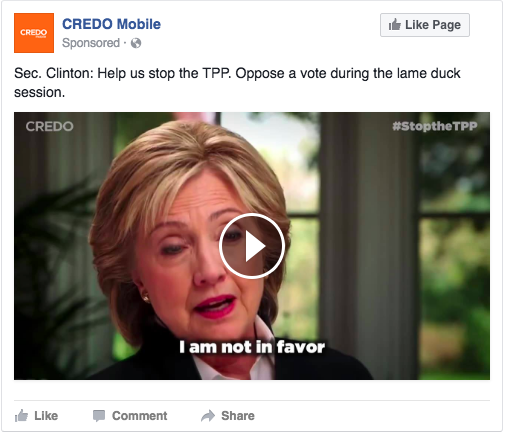 While Clinton has clearly stated her opposition to the deal, her close friend and ally Gov. Terry McAuliffe, said in an interview at the DNC that Clinton would sign a slightly altered version of the deal, although the comments were quickly walked back and Clinton officials told Politico that McAuliffe was engaging in speculation, not communicating Clinton's views.

Sanders made his strong opposition to TPP a major theme of his insurgent campaign, even departing from his speech at the Democratic National Convention to say, "We have got to make sure that TPP does not get to the floor of the Congress in the lame-duck session."