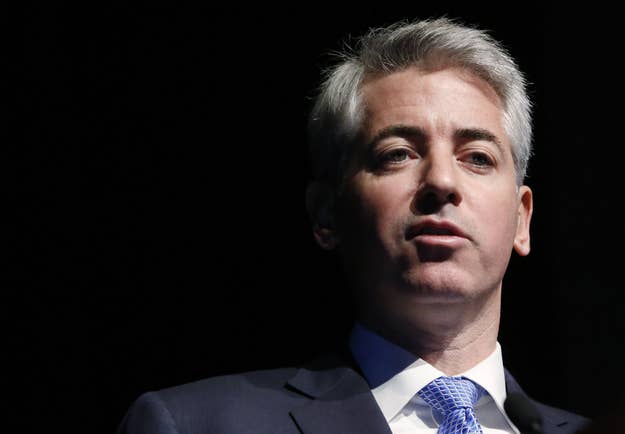 Hedge fund manager Bill Ackman has started taking his profits from his massively successful investment in Beam, the liquor company that has agreed to be acquired by the Japanese beverage conglomerate Suntory. Beam is the second largest whiskey seller in the U.S. and owns the Jim Beam, Maker's Mark, and Knob Creek brands.
According to regulatory filings, Ackman's hedge fund Pershing Square sold 7.3 million shares of Beam for $608 million. Pershing now owns 13.5 million shares of Beam, or 8.3% of the company, before this week, its stake was 12.8% of Beam with 20.8 million shares. Pershing sold the shares this week in six batches at $83.28 and $83.36. Beam closed this week at $83.30.
Suntory announced its plan to acquire Beam and create a trans-Pacific liquor conglomerate in a $13.6 billion all-cash deal, acquiring Beam for $83.50 a share on January 13. Since then, the price has bounced around the sale price. Beam's stock jumped up 24% from about $67 when the deal was announced giving Pershing about $370 million in profits on paper.
Ackman bought into Fortune, a brand conglomerate that owned the whiskey brands in 2010 and encouraged it to break up into three separate companies: one for its home goods and security business which included Moen faucets and Master Lock, one for its golf business including the Titelist brand of clubs, and then the whiskey business in Beam.
Fortune would sell off the golf business to Fila and a South Korean firm for $1.2 billion and spun off the home and security business in 2011. The entire Fortune brand business had a $7 billion market capitalization before the split up three and a half years ago. Beam agreed to be sold for more than twice that.
If the Beam acquisition goes through at the announced price of $83.50 a share, Ackman would be leaving about $1.6 million on the table by selling now. Ackman tends to only own stakes in 10 or so companies at a time and is typical for him to take gains and move them into a new deal.
Ackman's success in Beam stands in contrast to his recent large losses — maybe up to $700 million — he's taken in his massive $1 billion short bet against the nutritional company Herbalife. According to his most recent investor letter in October, Ackman's $10.8 billion fund is up slightly on the year.