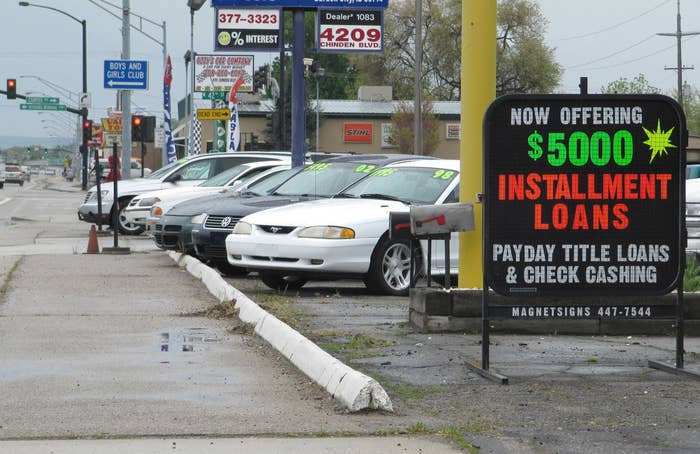 The Consumer Financial Protection Bureau has proposed new rules that seek to transform America's massive, loosely regulated, and highly controversial payday lending market. If the regulator has its way, the industry would shift from one that thrives on fees paid by customers who borrow repeatedly to pay off older loans, to one that makes its money on interest — and is likely much smaller than it is today.
The regulator first floated the proposed rules more than a year ago, and since then has been publishing research about the industry in an effort to justify strict rules.
The goal of the rules is not, explicitly at least, to ban short-term loans, even those with high interest rates. Instead, they target the kind of lending that can put borrowers into what are known as debt traps: where people borrow more than they can afford to repay, and take out more loans to pay back older ones. Payday loans have terms as short as two weeks and annual percentage rates of around 390% — and frequently much higher, according to CFPB research.
The CFPB rules would require payday lenders to determine if a borrower has the ability to pay back the loan on time — while still meeting everyday obligations like living expenses and bill payments — before approving a loan.
"The proposal would identify it as an abusive and unfair practice for a lender to make a covered loan without reasonably determining that the consumer has the ability to repay the loan," the CFPB says.
A bulk of research shows that many payday loans are made to people who borrow frequently — often to pay back older loans. Data from Florida cited by the CFPB shows that 83% of payday loans in 2015 were "made to borrowers with seven or more loans and 57 percent of payday loans that same year made to borrowers with 12 or more loans."
Fees are even more concentrated on the frequent borrowers, who often have to pay charges each time they borrow — CFPB data showed that 90% of fees collected by payday lenders "come from consumers who borrowed seven or more times." Fees alone, the CFPB says, are typically $15 for every $100 that's borrowed, and more than 80% of the loans require a new loan to pay them off. That means more fees, and borrowers end up in default 20% of the time.
For online payday loans, it's even worse: CFPB research shows just over half of the loan sequences end in default. Online lenders collect just over $3 billion in fees annually, according to one industry estimate cited by the Bureau. But despite the boom in online lending, brick-and-mortar loan shops are still a massive presence across the country: there were 15,766 storefront payday lenders in 2014, the CFPB estimates, and only 14,350 McDonald's locations.
Alongside the requirement to check if people can afford to repay on time are limits to how frequently borrowers can take out these loans. Under the rules, if a borrower wants to rollover or refinance their short term loan within a month, they can only do so if the lender shows that their "financial situation during the term of the new loan would be materially improved relative to what it was since the prior loan was made."
After three loans in succession, there would be a 30-day "cooling off" period where customers couldn't get more payday loans.
The payday loan industry has come out hard against the proposed rules. "The CFPB has made eminently clear that it cares little for preserving consumers' ability to access credit, or conducting a rulemaking process grounded in sound data," said Jamie Fulmer, the spokesperson for lender Advance America, in a statement Wednesday.

Fulmer called the rules "a direct threat to millions of Americans' access to affordable, transparent and reliable credit" and said that for smaller lenders, "they are a death sentence."
The Pew Charitable Trusts said in a report last year that the current high-volume business model of many payday lenders would likely not survive if they made loans following guidelines that credit unions use for short term loans. "The revenue available to lenders from this loan type is unlikely to support the expansion of this product beyond a small share of credit unions and some nonprofits or workplace lenders," the group said.
The CFPB is aware that the rules would like cut off a major portion of the industry's bread-and-butter business. "Lenders are dependent upon such reborrowing for a substantial portion of their revenue and would lose money if each borrower repaid the loan when due without reborrowing," the Bureau says.
Release of the final proposed rules kicks off a public comment period that will last until September.
The payday lending industry has put out its own research in response to the CFPB, and pointed to other reports which it says show the rules are bad for consumers and the industry. At a meeting the CFPB held with lenders, nearly all of them said that the rules first proposed last year would lead to less lending, according to an attorney who attended.
In Washington, the regulator's approach to payday lending has been criticized by a broad swathe of Congressional Republicans and even the Democratic National Committee chair Debbie Wasserman Schultz.