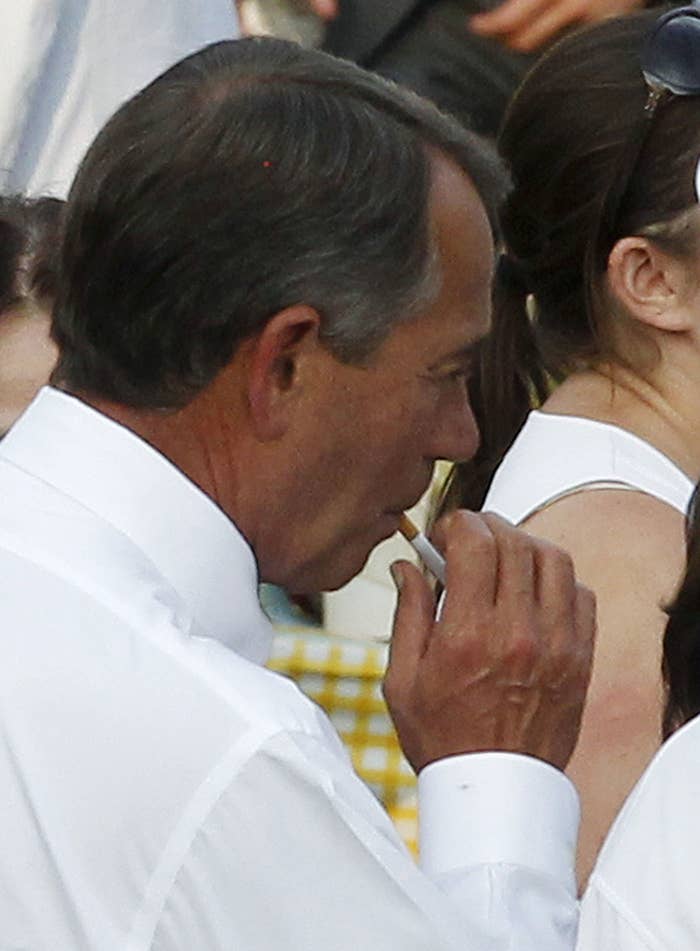 Days after a coalition of black activists renewed their call for a ban on menthol cigarettes, Newport maker Reynolds American Tobacco has shown the caliber of weaponry it can bring to a Capitol Hill fight: they announced former House Speaker John Boehner will join its board of directors.
Boehner isn't just an extremely well connected political operator: he's a Camel-loving chain smoker. When Paul Ryan took over following Boehner's exit, he had to get the Speaker's office fumigated. "You know when you ever go to a hotel room or get a rental car that has been smoked in? That's what this smells like," Ryan told NBC.
"It's not a surprise that Speaker Boehner is making a move like this," Republican strategist Ron Bonjean told BuzzFeed News. "He's known as the Dean Martin of American politics."
"He has a tremendous amount of cachet and influence because of his years of relationships he's built with Republicans and Democrats in Congress," said Bonjean. "He's a well respected political player that brings a strong amount of juice for what Reynolds needs to accomplish."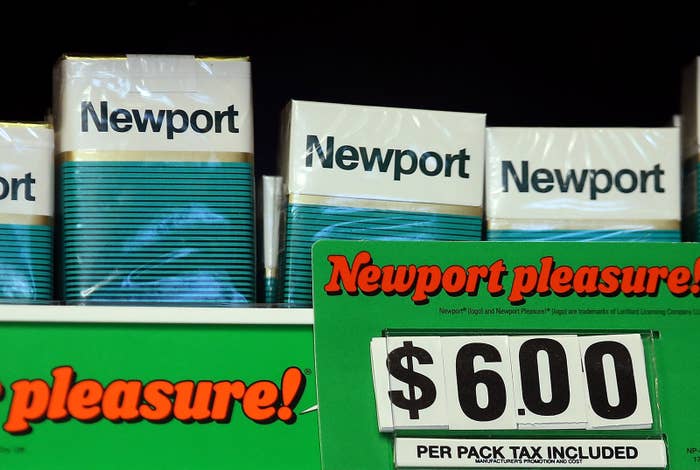 Reynolds American makes cigarette brands including Camel and Newport — the number one menthol brand — and faces plenty of political battles as its industry grapples with the demise of tobacco and the rise of electronic cigarettes.
Most urgently, its Newport brand is threatened by African-American activists who say menthol cigarettes target black smokers and are partially responsible for high smoking rates among black teens and higher death rates among black adults. Reynolds acquired Newport in a $25 billion deal for cigarette maker Lorillard last year.

The African American Tobacco Control Leadership Council is helping organize this week's anti-menthol efforts, which included direct appeals to President Obama and federal regulators. "We are disheartened to hear that former Speaker of the House John Boehner has joined the board at Reynolds American. This illustrates how public officials do not necessarily hold the public health as a high priority," the Council said in a statement Thursday.
"RAI is striving to transform the tobacco industry through innovative strategies that include speeding the decline in tobacco use among young people and reducing the harm caused by smoking," Boehner's spokesperson said in a statement to the Wall Street Journal. "These are objectives Speaker Boehner supports and looks forward to helping RAI advance through his service on the board."
Reynolds did not respond to questions from BuzzFeed News about what Boehner will do for the company in relation to Congress and regulators. Boehner will be on the company's governance, nominating, and sustainability committees.
Thanks to the addition of Lorillard's brands, including Newport, Reynolds' tobacco profits in the second quarter of this year jumped 67% to $1.2 billion. Newport's market share "continued to demonstrate outstanding momentum," the company said in its earnings release," reaching 14%, "with growth primarily driven by its core menthol styles."
The Food and Drug Administration published research in 2013 showing most black smokers smoke menthol cigarettes, that young people are the most likely to smoke menthols, and poorer smokers are more likely to smoke menthols. It also found menthol smokers "appear to be more nicotine dependent than nonmenthol smokers," and therefore less likely to quit, the FDA said.
"The weight of evidence supports the conclusion that menthol in cigarettes is likely associated with reduced success in smoking cessation, especially among African American menthol smokers." This was interpreted by activists as potentially setting up regulatory action against menthols, although federal regulators have yet to crack down on the flavored cigarettes.
Earlier this year, Reynolds lost a bid in federal court to legally challenge another FDA report. Reynolds and Lorillard sued over a 2011 report by an FDA advisory committee, which recommended a menthol ban. The companies argued the regulator shouldn't use the report to make any rules because some of the committee members had served as expert witnesses in lawsuits against tobacco companies.
The "exact identification of the plaintiffs is complicated but largely irrelevant," the federal appeals court opinion said. A district court had previously ruled in favor of Reynolds and Lorillard.
As for how Boehner will get from his home near Cincinnati to Reynolds' board meetings in Winston-Salem, North Carolina? There's only one way to travel in style:
UPDATE
This piece has been updated with a statement from the African American Tobacco Control Leadership Council.