The U.S. government got rid of its final stake in General Motors and today the company announced the departure of CEO Dan Akerson and the ascension of Mary Barra, the first female CEO of a "Big Three" American auto company — or any major car company.
Akerson will step down as Chairman and CEO on January 15, Barra will join the company's board, and board member and former Cummins CEO Theodore Solso will become chairman. According to GM, Akerson advanced his succession plan "by several months after his wife was recently diagnosed with an advanced stage of cancer."
The company flirted with collapse during the financial crisis and was saved by a $50 billion bailout starting at the end of 2008. The government would own more than 60% of the company's shares, which it started selling off in November, 2010 when the company went public again after going through bankruptcy. The company's stock is up 24 cents today to $40.80. The stock is up 41% on the year.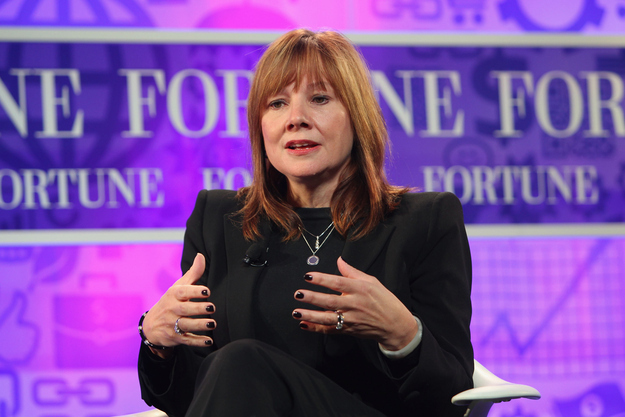 1.
She's a GM lifer.
Barra is GM through and through. A native of Royal Oak, Michigan, her 33 year career at the iconic auto company started when she was only 18 as a student at what was then known as General Motors Institute — now Kettering University — in 1980. Her father was a 39 year veteran of Pontiac, the now shuttered GM brand where Barra also started her career as an engineer. Shen then went off to Stanford for an MBA and came back to Detroit in 1990 and she's been with GM ever since.
2.
She's a "Car Gal."
In the auto industry, there's a basic dichotomy for executives: "car guys" and everyone else. Ford's CEO, Alan Mullaly, despite his management brilliance, is the former CEO of — not a "car guy." Barra, on the other hand, is firmly from the automative side of the business. Her degree from Kettering is in electrical engineering, and her career at General Motors has been split between human resources and manufacturing.
Earlier in her career, she ran a GM plant in Detroit and was responsible for the overall development of the company's cars for almost the most last two years.
GM's now departed CEO Dan Akerson said, according to Bloomberg, "The Detroit Three are all run by non-car guys, someday, there will be a Detroit Three that's run by a car gal." That's Barra.
3.
She's been groomed for this spot.
Since February, 2011, Barra has been the Vice President, Global Product Development at GM, putting her in charge of design, engineering, and quality control for all of GM.
In August, she also took control of the GM supply chain, taking the title of Executive Vice President, Global Product Development & Global Purchasing and Supply Chain. She was appointed to both of these roles by departed CEO Dan Akerson, who stepped down today, indicating a smooth succession.
4.
She already makes a lot, most of it coming from GM stock.
Her 2012 compensation as a senior executive was $4.9 million. But only just over $1 million of that came in a salary or deferred payments. $3.9 million came in stock awards. She also took home $251,000 from her board seat for the defense contractor General Dynamics. No pay package has been announced for her new gig.