4 Charts Showing How Hot The Auto Industry Is
Car sales were at their highest rate in six months in May. But the auto industry has been expanding since well before then.
The Commerce Department reported today that spending on vehicles and parts jumped 1.8 percent in May and 8.5 percent from May of last year. This is the biggest monthly jump in half a year and shows that consumer spending is resilient in the face of a soft economy. Earlier this month, General Motors, Ford, Chrysler, and Toyota reported a 12 percent jump in cars sold in May from the month before and 7 percent from May, 2012. And the data isn't just in cars sold and dollars spent, but all over the auto economy.
Monthly car sales jumped at the end of last year and are up from a year ago: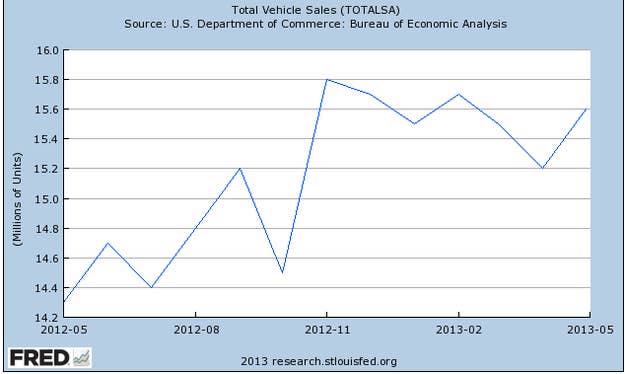 General Motors stock is up:
And there are more car workers than there were a year ago: