Haunting Photos Reveal What Life Is Like For Syria's Refugees
Photojournalist Ben Taub has spent the last two summers on the Turkish-Syrian border, recording the lives of civilians caught up in the conflict in Syria. Contains graphic images.
Now in its fourth year, the Syrian war is as bloody as ever, with more than 170,000 people killed in the conflict since 2011, according to the Syrian Observatory for Human Rights.
Journalist and photographer Ben Taub has spent recent weeks in Kilis, a Turkish city near the Syrian border, documenting the lives of people displaced by the ongoing horror of war.
"Syria's war can be heard every day in distant booms and ambulance sirens," Taub told BuzzFeed. "For most Syrians, escaping the line of fire does not qualify as having left the war behind, as the crisis continues to haunt those from whom it took homes, friends, family members, pets, comfort, and sometimes limbs."
Taub said he wants his work to "give a sense of this loss, but also a glimmer of hope through the strength and resilience Syria's civilians demonstrate in spite of what war has taken from them."
A Syrian refugee who suffers from a congenital heart disorder, living in a makeshift camp in Kilis.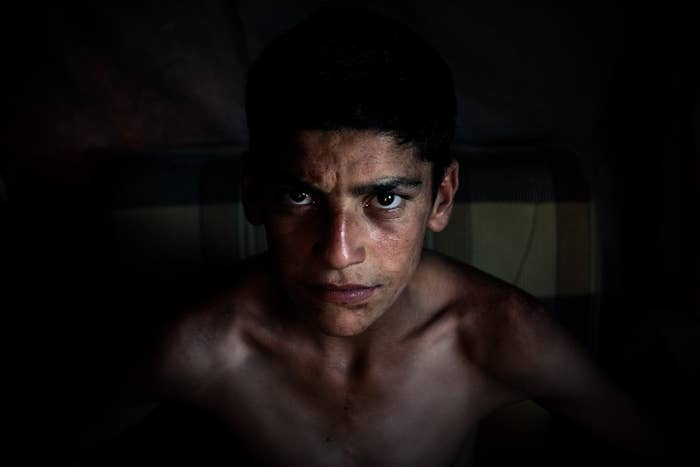 Bakri Douer's son didn't give a name, but did explain that he's in need of medical care for a congenital heart condition. A long-healed scar bisects his ribcage from prior heart surgery. While medical care and NGO support is readily available to registered Syrian refugees in southern Turkey, residents of the makeshift camp lack documents and have no addresses, no running water, and no electricity for which to pay and show utility bills as proof of residency. Proof of residency would render him eligible for the medical treatment he needs. Meanwhile, he can sometimes be found begging in front of the few hotels in Kilis.
Fake US dollars.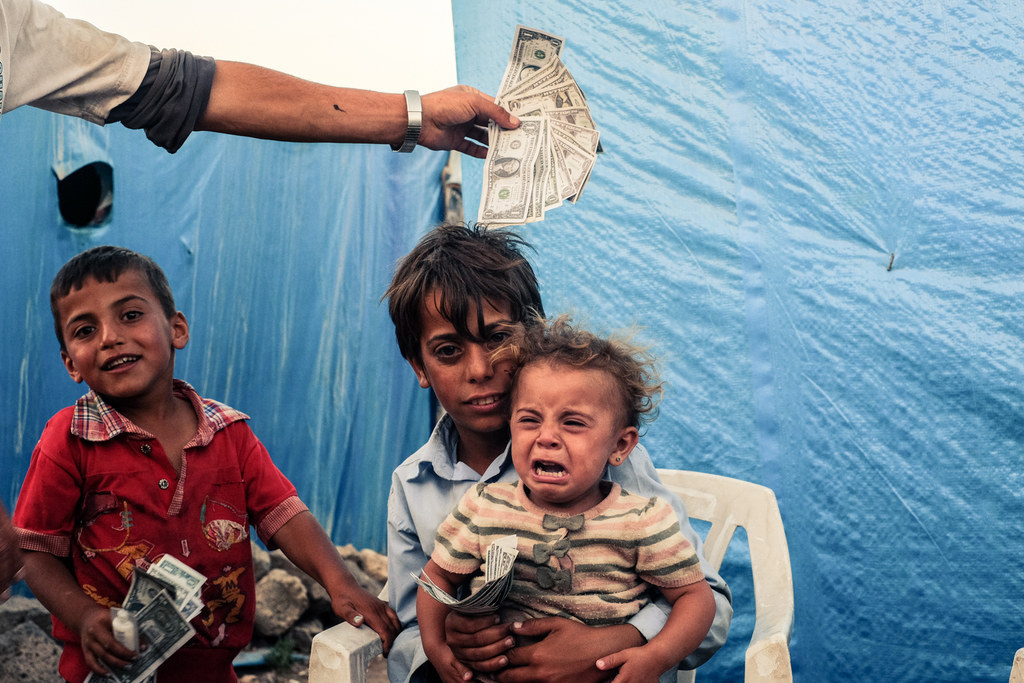 Bakri Douer holds out a fan of fake dollar bills, which he keeps among his few worldly possessions inside his makeshift tent. Moments prior, he tossed a stack in the air, laughing as several camp children scampered to collect the crisp paper bills from the muddy floor. Once a skilled factory worker, Mr. Douer now picks up and sells scrapped plastic from the streets of Kilis, like many other residents of the unofficial camp. On good days, Mr. Douer earns the Turkish equivalent of about $5.
The mental and physical injuries of Aisha Kador.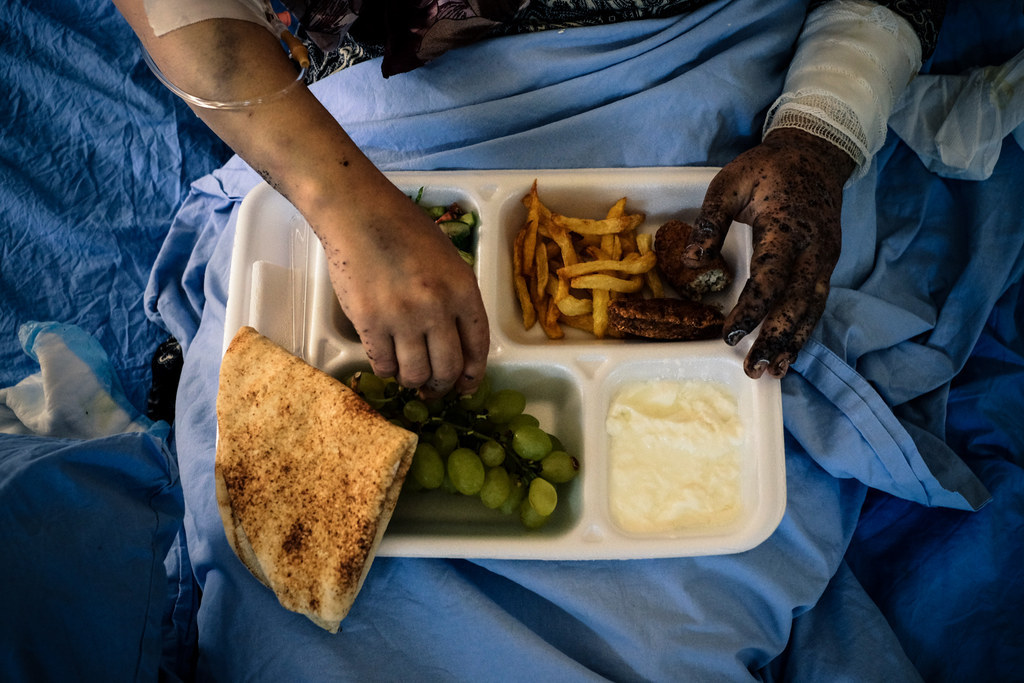 Aisha Kador, 33, was walking past a mosque in the small northern Syrian village of Tal Rifat with her husband and young child when a Syrian government launched a missile that killed the child and sent both parents to field hospital in Kilis. Turkish ambulances ferry Syrians all day from the border gates to a variety of treatment centers, depending on the severity of the injury. Aisha is a midwife. Her husband, Ahmad Haj Kador, 44, is a nurse. They are recovering from their wounds in neighboring rooms, and the doctor said the loss of their child will prove more crippling long-term than their current physical injuries, which include burning, scarring, shrapnel wounds, and broken bones.
Ali, a 4-year-old orphan.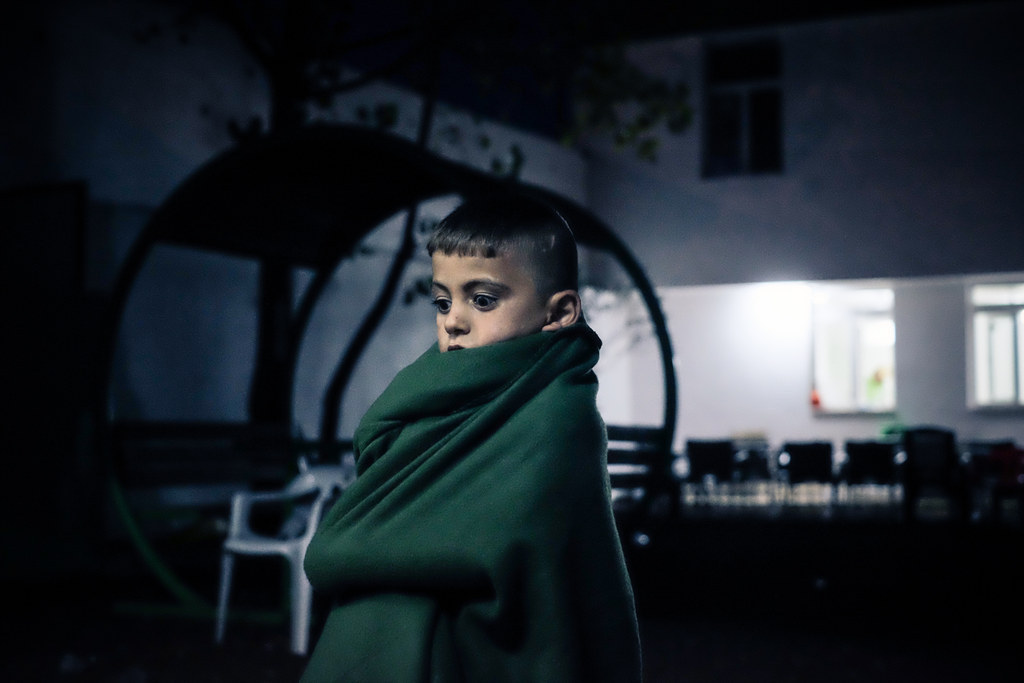 Ali, aged 4 or 5, was found wandering alone near the Turkish-Syrian border gates in mid-July. He now lives in an orphanage just 500 meters north of the Syrian border.
Beating a drum to mark the breaking of fast during Ramadan.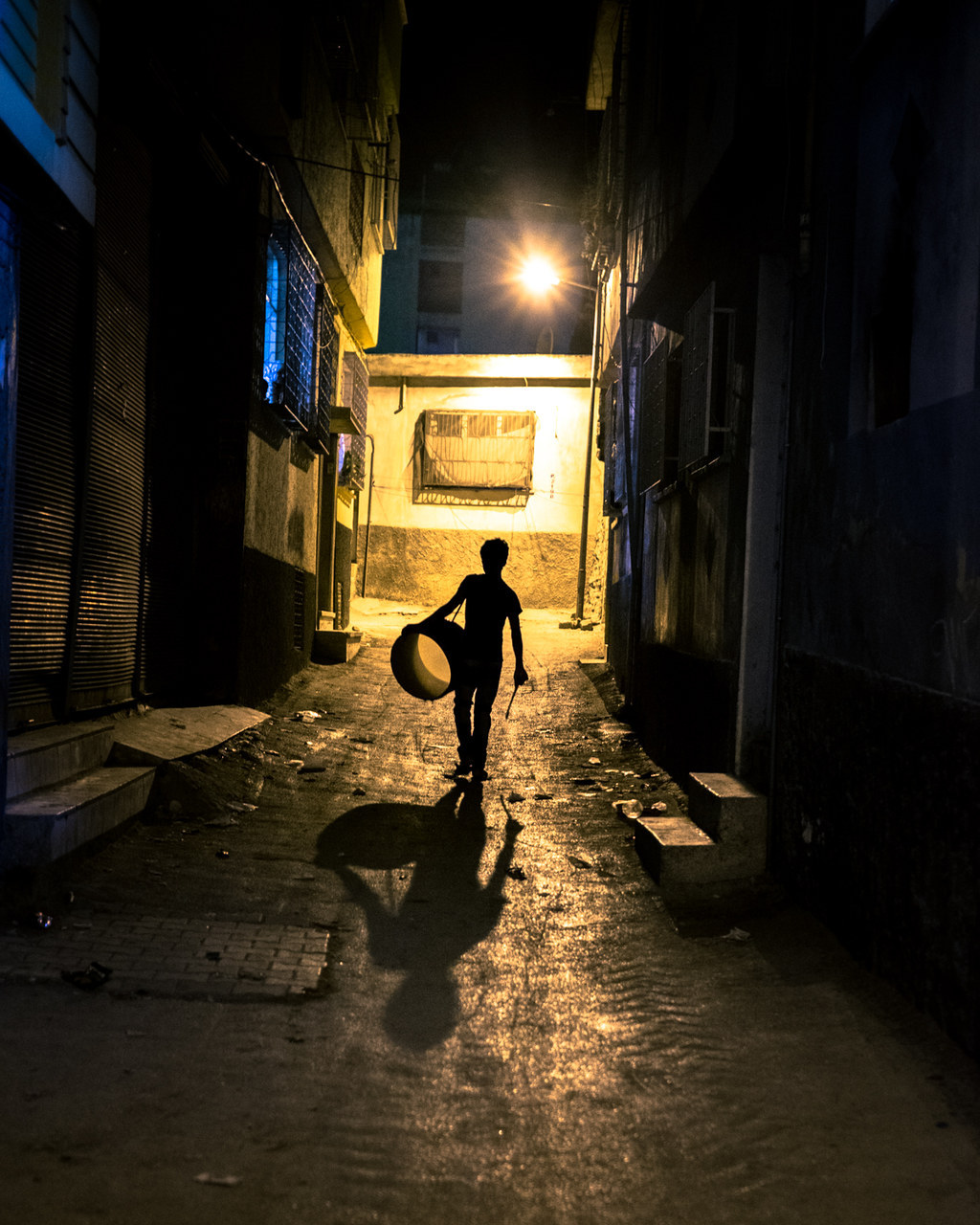 Every night during the holy month of Ramadan, a small cadre of boys roams all over Kilis beating drums to wake up the locals in time to eat before dawn breaks and the fasting begins. The vast majority of residents fast without food or water for nearly 16 hours, with outdoor temperatures consistently reaching over 100 degrees. In the makeshift camp, however, where there's no escaping the blistering sun, many people sip tea and water inside their tents to replenish what's lost in sweat as they wait for dusk.
Halima Hammadi, 75, who lost her husband in an air strike.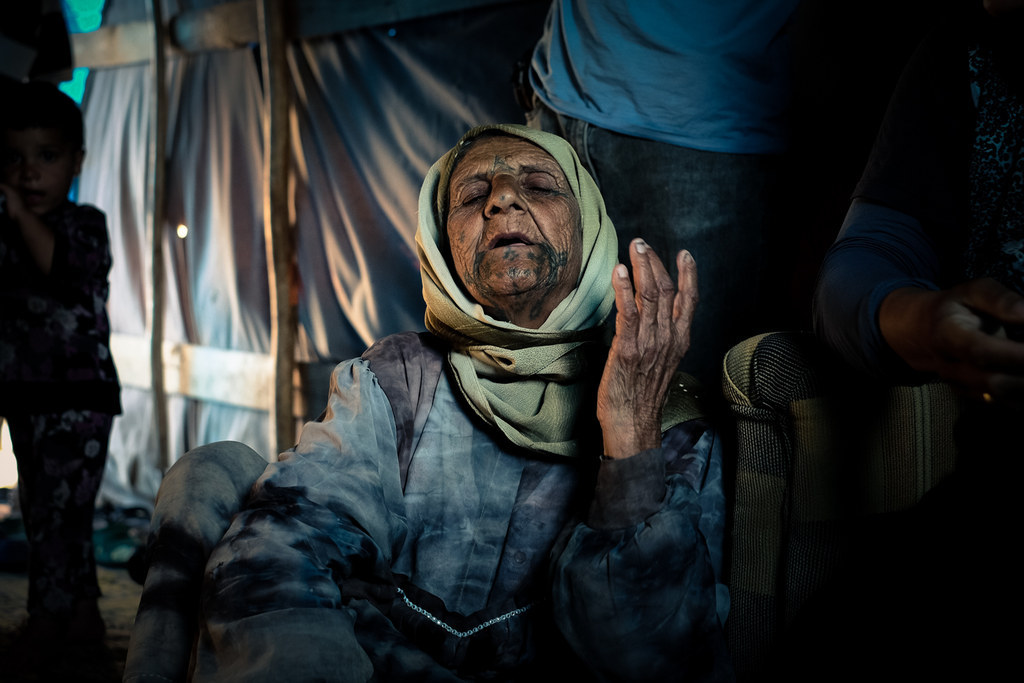 Halima Hammadi, age 75, lost her husband in an airstrike. She now lives in a makeshift camp on the outskirts of Kilis with no NGO support, and collects plastic from the streets to sell for an average income of $4 per day. Some days she and other Syrians in the camp beg outside the Kilis hotels, but receive only scorn from the staff.
Kilis bus station, where many Syrian refugees start their journey to look for work in Istanbul.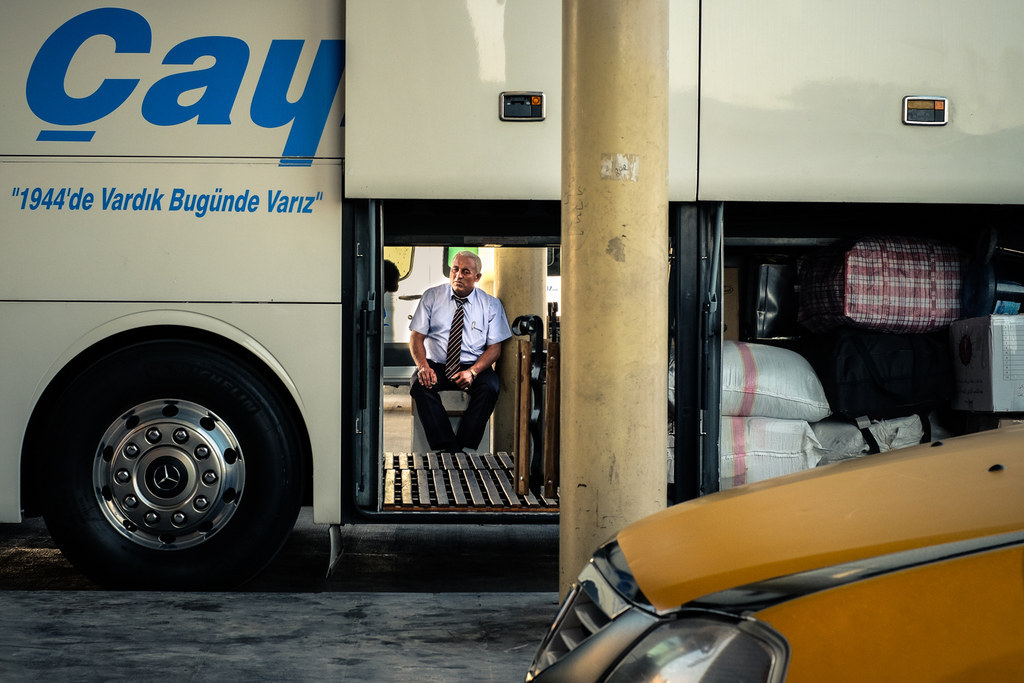 A Turkish driver at Kilis bus station, seen through the luggage bay of his vehicle. From Kilis, many Syrians begin the 20 hour journey to Istanbul, where they seek jobs, homes, and a new life. For most it does not come easily. The parks — even the grass on the exit ramps — between Istanbul's Ataturk airport and the center of the city are full of displaced Syrian families with little more than the blankets on and under which they sleep.
Abdulhamit Galil, 15, a former child soldier.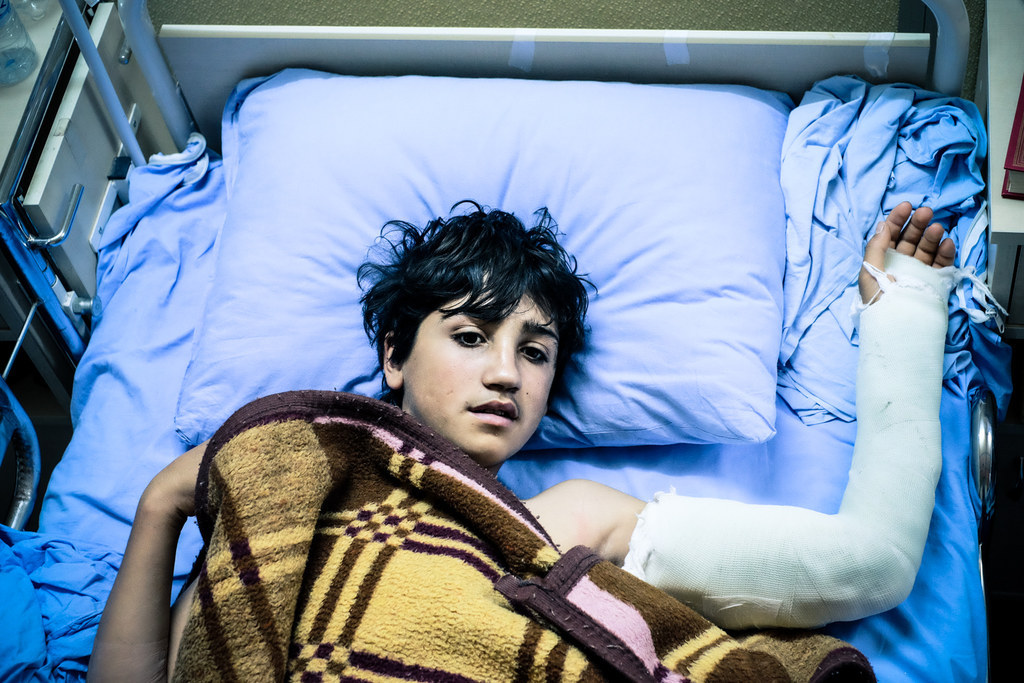 Abdulhamit Galil, age 15, suffers from a broken arm and diffused brain injury, which has rendered him incapable of speech and other activities. He was a child soldier, and suffered these injuries after falling off a roof while on guard duty at a rebel checkpoint in Aleppo. Over the four days I visited the field hospital, his father had not left his side, and could frequently be seen reading the Qu'ran or praying. "All patients are civilians once they're in the hospital," the doctor insisted. "We treat them all the same." He would not specify with which rebel brigade Abdulhamit had been allied.
The results of a barrel-bomb attack in Aleppo.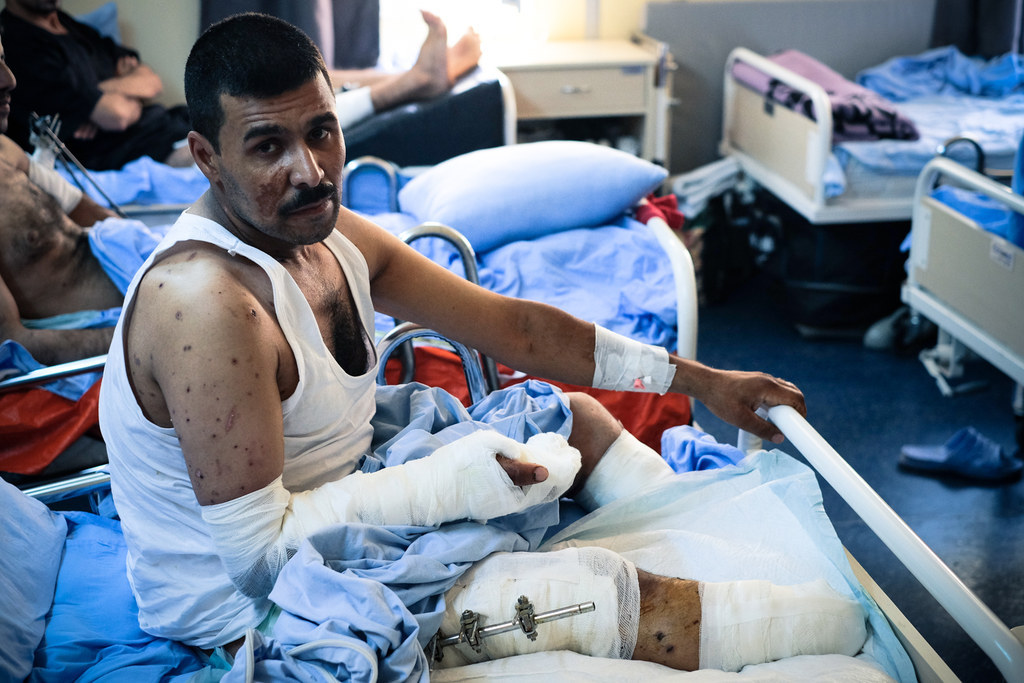 Assad Mahmoud, 33, was a garbage collector in Aleppo, Syria. He lost both of his legs below the knee in a barrel bomb attack while doing his rounds for work on July 1. Barrel bombs are giant metal containers filled with shrapnel and TNT, and have been a major instrument of war for the Assad regime, usually thrown out of helicopters into civilian areas. Six of Mr. Mahmoud's friends were killed in the explosion, all fellow garbage men.
A Syrian rocket, seen from Turkey.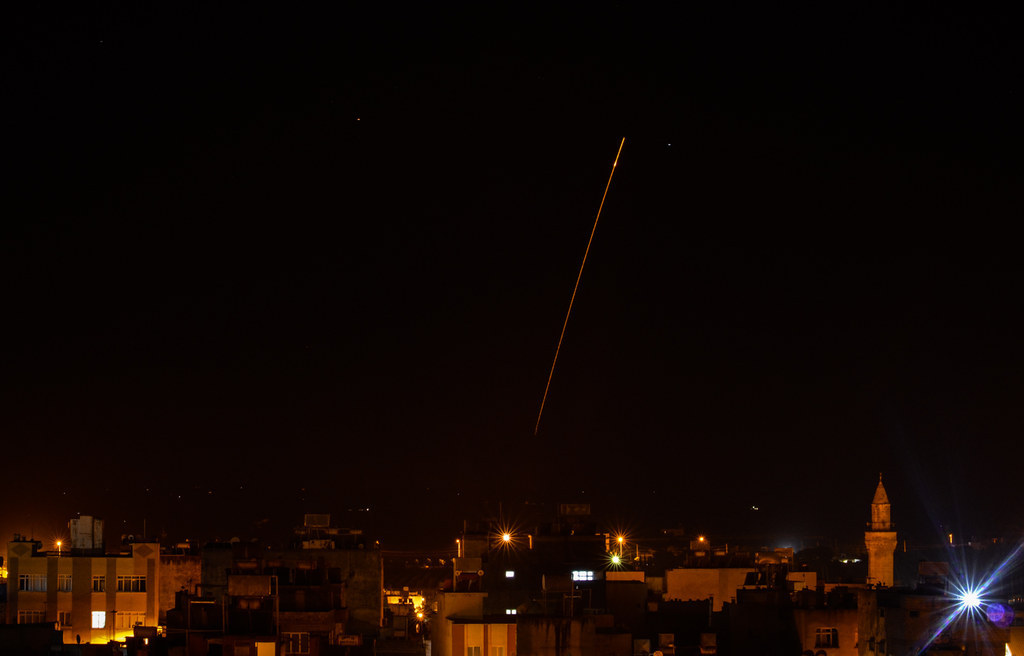 A long-exposure photograph of a rocket in northern Syria, as seen over the skyline of Kilis, Turkey. Kilis is the last Turkish town on the road to Syria's embattled city of Aleppo, and is now populated by more displaced Syrians than Turkish locals. Distant explosions frequently echo their way up from Syria into the hills of southern Turkey, and serve as a constant reminder to those who fled the war as to why they cannot return home.
At her uncle's feet.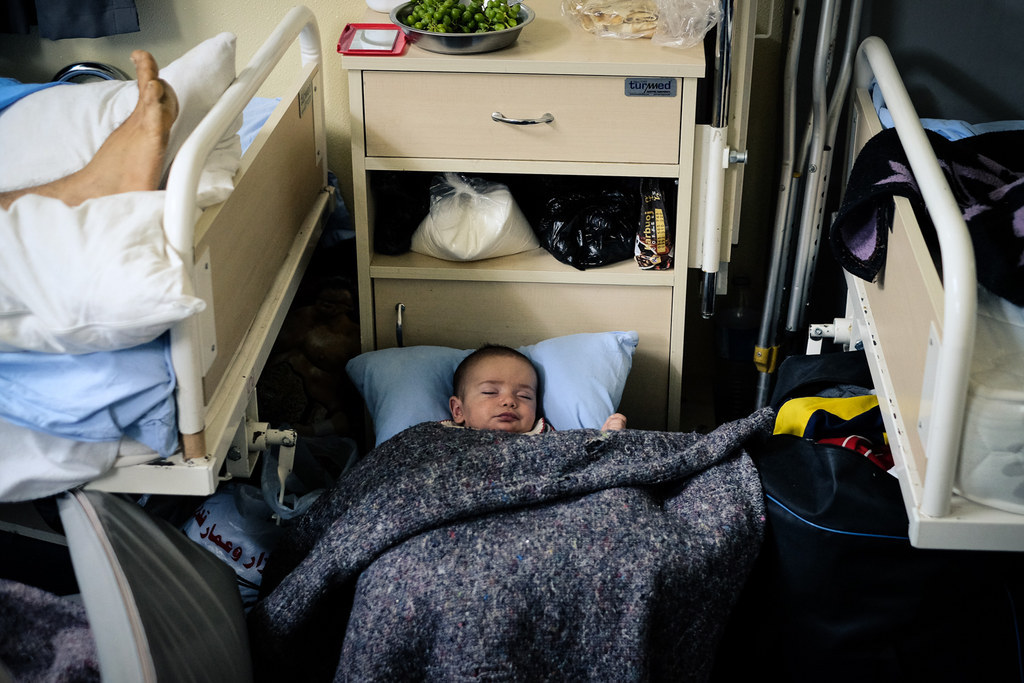 A baby girl lies at her uncle's feet in the field hospital in Kilis, Turkey. He was injured when a barrel bomb was dropped out of a government helicopter and into his neighborhood. The first bomb missed him, and he went to go help victims of the attack. Then the helicopter circled back and dropped a second one on the people who had gathered to help.
Mustafa, 10, who will one day walk again.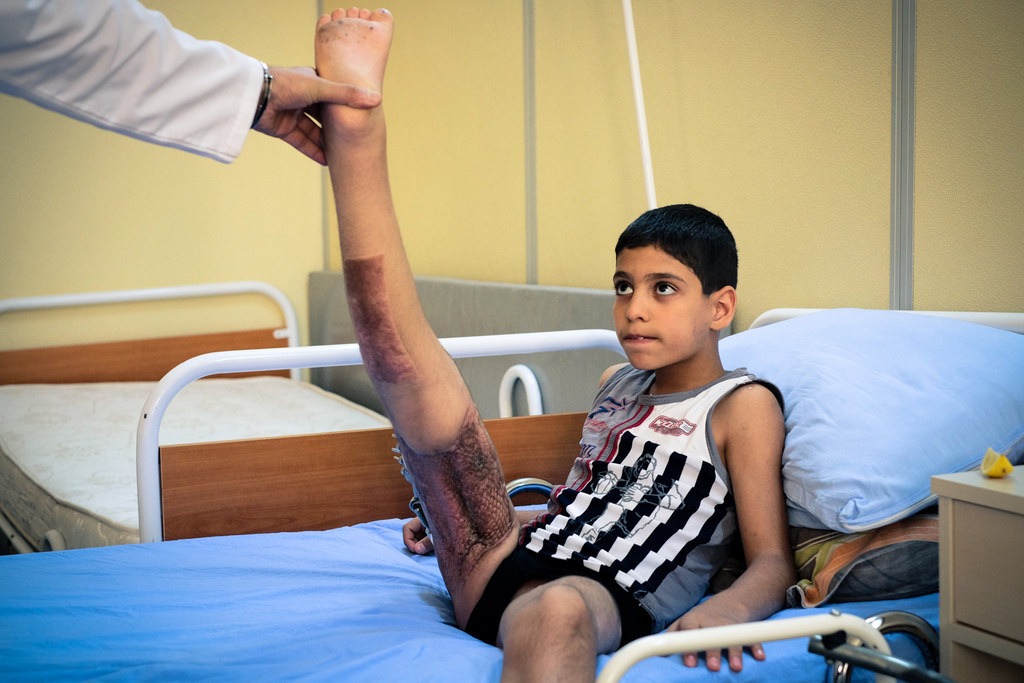 Mustafa, age 10, was struck by a barrel bomb dropped out of a government helicopter in his neighborhood in Aleppo this February. He was on his way to buy bread at the time, and in addition to major scarring, skin grafts, and a significant loss of tissue, still has an externally-fixed titanium rod holding his femur together. However, the doctor said Mustafa had been showing great resiliance, and would eventually be able to walk again.