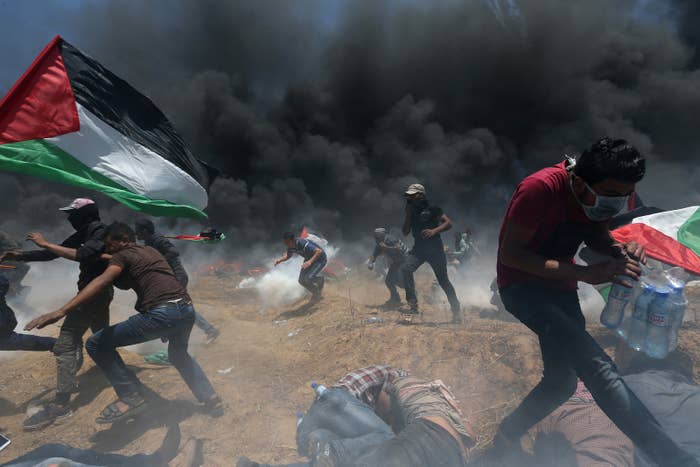 Dozens of Palestinian protesters were shot dead by Israeli forces Monday as the US officially opened a new embassy to Israel in Jerusalem.
It was a stark juxtaposition: The massacre took place about 100 kilometers from a ceremony filled with pomp and circumstance, remarks by President Donald Trump's daughter and son-in-law, a video address from Trump himself, and amid his live tweets from Washington DC:
Monday's protests were long-planned by Palestinians and are part of an action that has been underway for months. But the embassy move — a fulfilled Trump campaign promise that has been praised by Israel — has also been widely condemned by Palestinians and many in the Arab world and exacerbated the tensions on Monday.

According to the Palestinian Health Ministry in Gaza, 60 Palestinian protesters were killed and more than 2,700 injured by Israeli troops firing at demonstrators along the Gaza border. Dr. Ashraf Al-Qudra, the ministry's director of public relations, confirmed the number on Facebook and earlier said that the "martyrs" had been killed as a result of "Zionist assaults."

It was one of the deadliest days of violence at the border in years.

In a list of what Al-Qudra claimed were those killed in Monday's conflict, the victims killed by gunfire ranged from 14 to 39 years of age. One of the dead was an infant who died from tear gas inhalation, it was claimed.
The Palestinian Authority accused Israel of committing a "terrible massacre." Turkey's deputy prime minister, Bekir Bozdağ, also referred to the attacks as a massacre.
In a statement, the UN Committee on the Elimination of Racial Discrimination said it was "alarmed by the disproportionate use of force" by Israeli troops.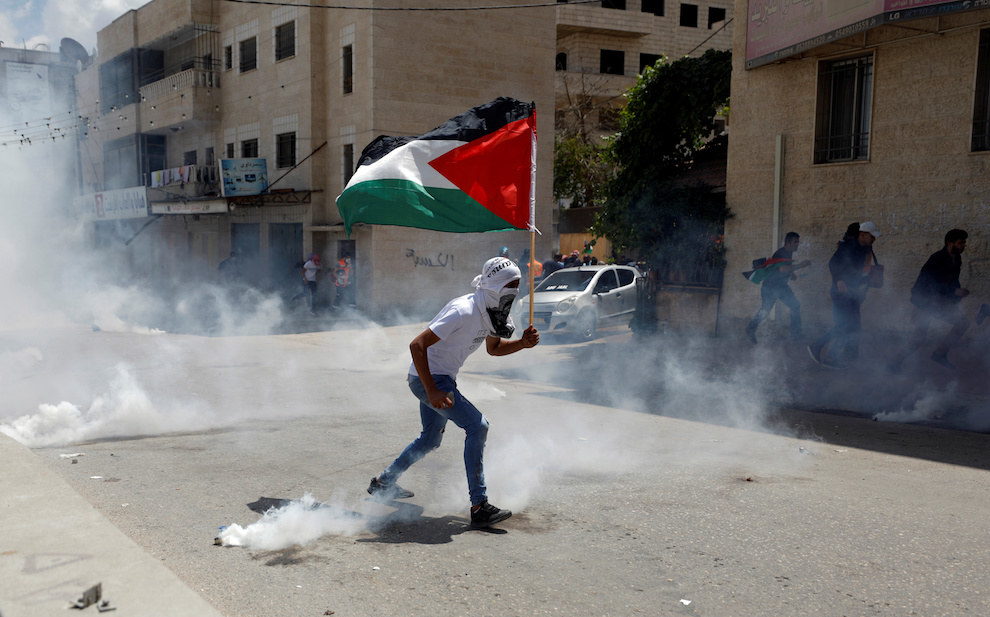 Riyad Mansour, who represents Palestine at the United Nations as a permanent observer, wrote in a letter to UN leaders on Monday that "repeated pleas for international protection for the defenseless Palestinian people must no longer be ignored."
Mansour wrote that the United States' decision to move the embassy to Jerusalem was a "provocative and illegal decision" which has "severely aggravated tensions and sensitivities" and has the potential to fuel "violent radicalism and strife in the region and beyond, with far-reaching repercussion."
The EU's high representative of the foreign affairs, Federica Mogherini, called for all involved to "act with the utmost restraint to avoid further loss of life." In a statement she also referred to dozens of Palestinians, including children, being killed and hundreds more "injured from Israeli fire." The UK and France both called for restraint.
The Israel Defense Force said on Twitter that some 35,000 Palestinians were taking part in protests on Monday and that it was "responding with riot dispersal means and fire, and are operating according to standard operating procedures," in response. The IDF also claimed that "rioters" were throwing firebombs and explosives into Israeli territory.

"The IDF will not allow any damage to security infrastructure & is to defend and ensure the security of Israeli civilians," it said.
At a press conference on Monday afternoon IDF spokesperson Lt. Colonel Jonathan Conricus said Hamas operatives had tried to plant explosives near the border fence in Gaza, and said all of the Palestinians killed in the protest were targeted for trying to breach the fence.
As the protests continued, the IDF launched two air strikes. In one, an Israeli Airforce plane struck five targets, which it referred to as "Hamas terror organization targets in a military training facility in northern Gaza.
It said the air strike was in retaliation to "the violent acts carried out by Hamas over the last few hours along the security fence."
At a separate press conference on Monday, senior Hamas official Gaza Khalil al-Hayya said the protests will continue.

Despite the rising death toll, President Donald Trump tweeted to say that today's embassy opening would be a "great day for Israel!"

At an event to mark the embassy's opening, the US ambassador to Israel, David Friedman, said: "Today's historic event is attributed to the vision, the courage and the moral clarity of one person to whom we own an enormous debt of gratitude, President Donald J. Trump."

The mention of the president drew a standing ovation. Later, there were chants of "Trump! Trump! Trump!"
Trump said via videolink: "Israel is a sovereign nation which like any other sovereign nation has the right to determine its capital. But for too many years we have ignored the plainly obvious reality that Israel's capital is Jerusalem.
"Our greatest hope is for peace. The US remains fully committed to facilitating a peace agreement."
Trump's daughter Ivanka and her husband Jared Kushner — both White House advisers — appeared at the ceremony at the current US Consulate in Jerusalem, which from today will be the official US Embassy in the country. The event was attended by several high-ranking Israeli religious figures and politicians, including Benjamin Netanyahu, Israel's prime minister.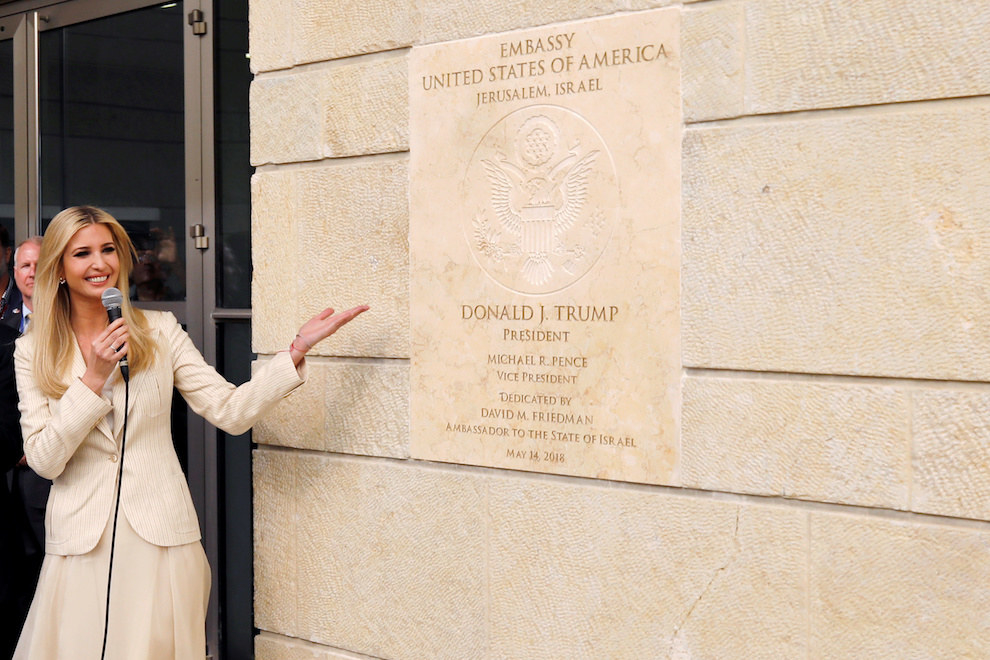 "This is history! President Trump: By recognising history you have made history," he said. "Thank you President Trump for keeping your promises."
Netanyahu paid tribute to Israel's army and security services, who were "protecting the borders of Israel as we speak today."
Kushner, addressing the ceremony, said: "By moving our embassy to Jerusalem we have shown the world once again that US can be trusted. We stand with our friends and our allies, and above all else we have shown that the USA will do what's right and so we have.
Referring to the peace process, he said: "The pursuit of peace is the noblest pursuit of humankind. The way things were is not how they must forever be.

"It will not be an easy road... but if we dream big and if we lead with courage we can change the trajectory for millions."
Outside the embassy, a small group of protesters gathered, including Palestinians from Jerusalem, Palestinians who are Israeli citizens, and some Jewish Israelis and Americans.
Israeli police and border police tried to break up the protest, detaining 14 people and confiscating Palestinian flags, which are illegal in Israel, as some local residents took pictures. One woman sprayed protesters with a water hose, and some threw stones at protesters.
Yasmeen Zahalka, 29, from northern Israel who now lives in Jerusalem, joined the protest today to protest the Embassy move and show solidarity with Palestinians.
"The Israeli occupation is one occupation," said Zahalka. "And we are one people. In the West Bank. In Jerusalem. In Gaza. Inside [Israel]. We are all under the Israeli occupation in different situations."
She said she had no faith that America or Israel or the Palestinian Authority would achieve a two-state solution. The two-state solution "is dead in principle and in actuality," she said. "I'm for one democratic and secular state for all the people living here."
For some Palestinians, the violent response to the protests in Gaza over the past couple of weeks echo the 2014 Gaza war, a 50-day period of violent conflict which resulted in the deaths of 2,251 Palestinians, including 1,462 civilians, and 73 Israelis, including 6 civilians, according to a UN report.

"Today I was surprised by the number of dead increasing and how it reminded me of the last war," Hamza Saftawi, 27, a journalist from Gaza who's been reporting from the protests and nearby hospitals, told BuzzFeed News.
"For me as a Gazan, I'm really afraid to deal with another war. We are already so frustrated and unable to deal. So imagine another war," he said, adding that he was having "flashbacks" to that 2014 conflict.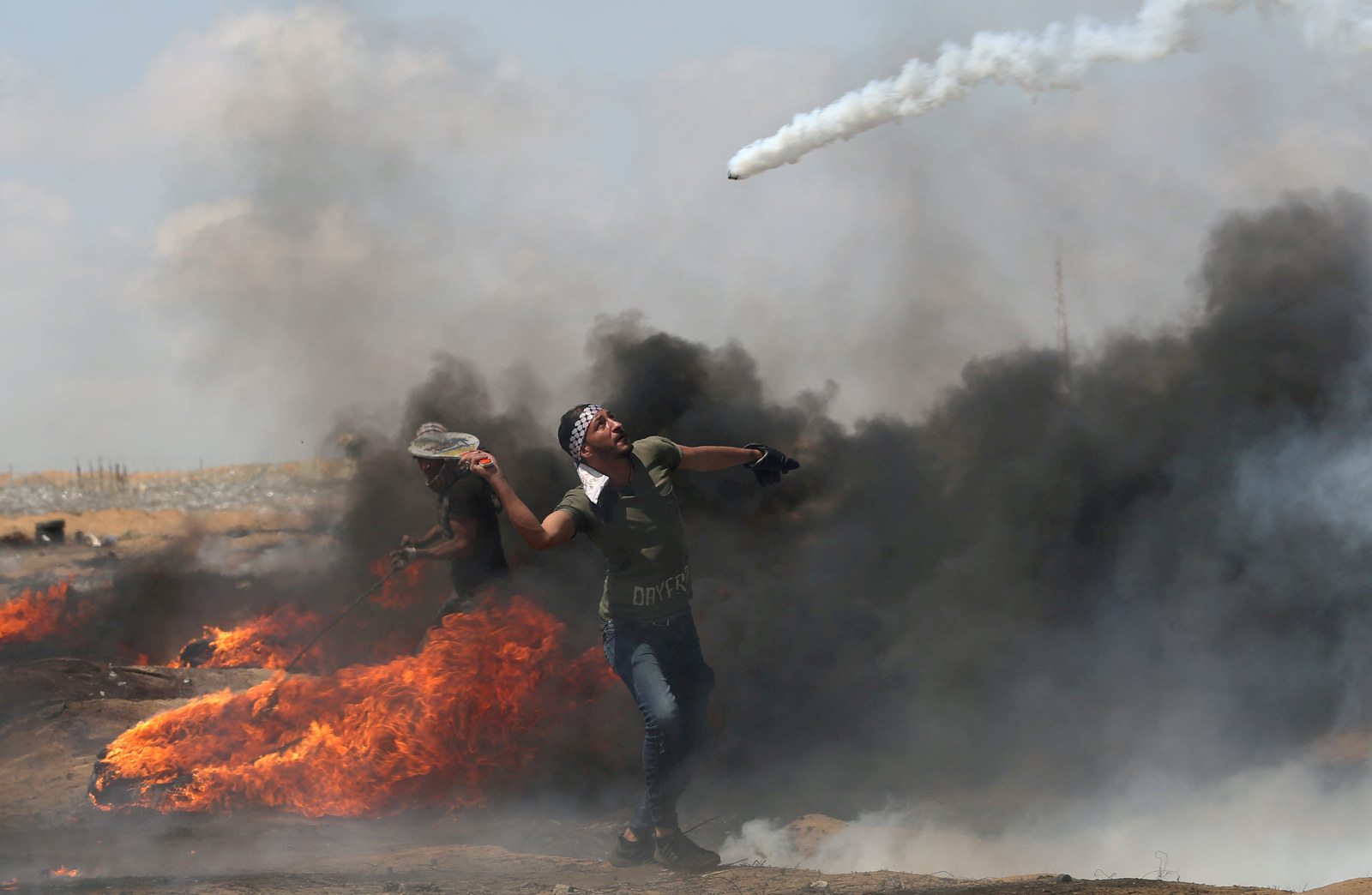 The mood in Gaza has grown increasingly grim in recent months, as people struggle with economic hardship and a sense of isolation from the world. Hamas offers money to those injured or families of those killed in clashes. But there's also a sense of skepticism of Hamas taking over protests for it's own interests, to draw attention away from it's own failings towards Israel and the Palestinian Authority instead.
"Right now the [Gazan] military wings are making their security meetings to discuss how they'll deal with the large number of dead," Saftawi said. "These radical people controlling actions from both sides are guiding the situation to that result [war]."

Hospitals in Gaza City were full of wounded people on Monday, according to reporters on the ground, and an extra tent was put up outside Shifaa hospital to treat the expected surge of injuries.
As the violence continued, human rights watchdogs Amnesty International and Human Rights Watch condemned the IDF's actions on Monday, calling the killings "an abhorrent violation of international law & human rights" and "a bloodbath."
"A shameless violation of international law, in some instances constituting war crimes. The Israeli authorities show no signs they intend to rein in excessive force. #ArmsEmbrago needed," Amnesty International wrote in a statement on Twitter.
In Monday afternoon's White House press briefing, deputy press secretary Raj Shah said the White House blames Hamas for today's deaths and injuries.
Shah called the protests a "gruesome and unfortunate propaganda attempt" and said, "The responsibility for these tragic deaths rest squarely with Hamas. Hamas is intentionally and cynically provoking this response. Israel has the right to defend itself."
Asked again if Israeli authorities bear any responsibility for killing dozens of Palestinians on Monday, Shah said again, "We shouldn't lose sight of the fact that Hamas bears responsibility for the dire situation."
He said he did not believe today's conflicts will have any effect on a US-led peace plan for the region.
"I don't think it hurts the peace plan. The peace plan will be introduced at the appropriate time, but what today is about is following through on what the president promised and believes," Shah said. "And it's also recognition of reality. I think we for decades walked on egg shells pretending Jerusalem isn't the capital of Israel when it obviously is."
Shah said he did not have an answer when another reporter asked when the Trump administration last reached out to Palestinian authorities, and whether US officials would be reaching out given today's death toll.
Trump broke with decades of US policy when he formally recognized Jerusalem as Israel's capital in December last year, fulfilling a campaign promise he made before his 2016 election.

Protests erupted globally following that decision, and over the last six weeks, 46 Palestinians have been killed and hundreds injured by Israeli troops firing on protests that are expected to culminate today.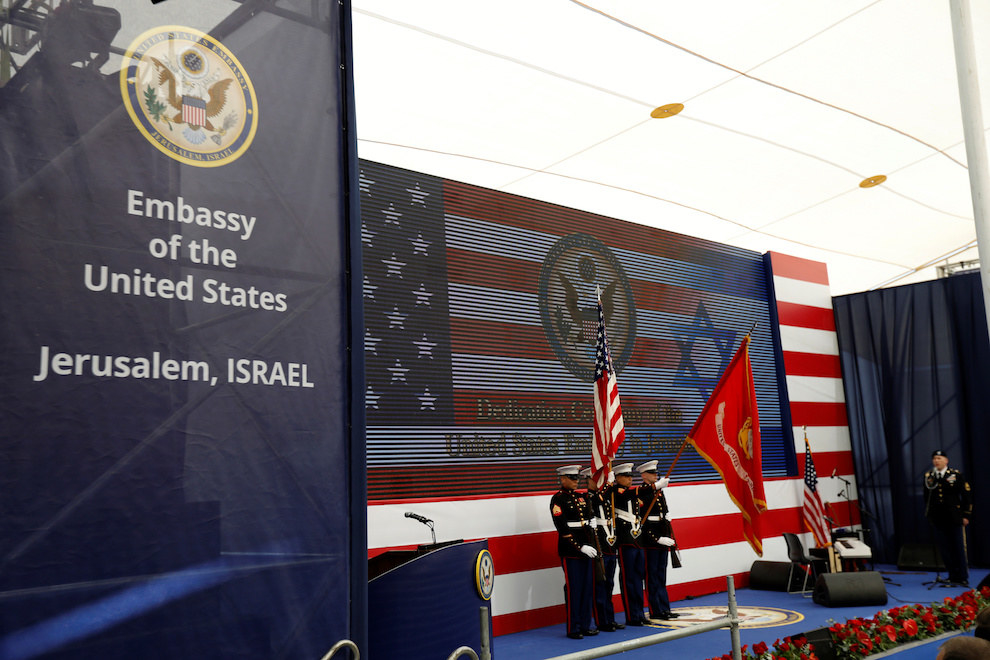 Monday's ceremony was brought forward to coincide with the 70th anniversary of the establishment of the state of Israel, or what the Palestinians commemorate as Nakba Day — Day of the Catastrophe. It could be many years until the US Embassy relocates permanently to a new site, however.
Trump said last year that recognizing Jerusalem as Israel's capital was a "necessary condition to achieving peace." Congress passed a law in 1995 that required the US to relocate its embassy from Tel Aviv, but successive presidents before Trump deferred it on security grounds.

The decision to recognize Jerusalem as the capital and relocate the embassy has been sharply criticized by all major US allies except Israel.
A gala event Sunday night ahead of the embassy ceremony was snubbed by most countries, with Austria, the Czech Republic, Hungary, and Romania the only EU countries to send representatives.
Israel has occupied East Jerusalem, which the Palestinians would regard as their capital in any future state, since 1967, building a dozen settlements that are home to 200,000 Jews and are considered illegal under international law.

A State Department statement ahead of the formal opening of the embassy said, "As the President stated on December 6, 2017, the historic opening of our embassy recognizes the reality that Jerusalem is the capital of Israel and the seat of its government."
The statement added, "We are not taking a position on final status issues, including the specific boundaries of Israeli sovereignty in Jerusalem, nor on the resolution of contested borders."
Christian pastor Robert Jeffress, who has made controversial remarks about people of other religions in the past, opened the ceremony at the embassy with a prayer. In a tweet, former Republican presidential nominee Mitt Romney dubbed the pastor a "bigot."
Jeffress appeared to respond to this charge with his own tweet early Monday, arguing that his beliefs were "neither bigoted nor newsworthy."