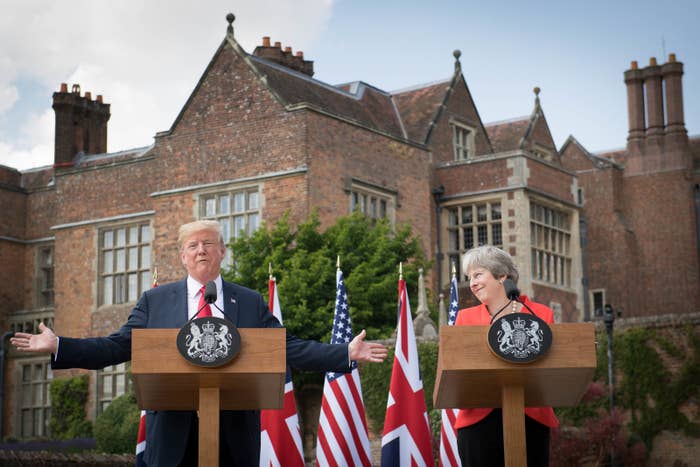 President Donald Trump has said he does not know how to resolve Russia's occupation of Crimea, but went to great lengths to blame his predecessor Barack Obama for it ever happening.
Trump was asked at a joint press conference with UK Prime Minister Theresa May how he would address the issue of Crimea when he meets Russian President Vladimir Putin in Helsinki, Finland, on Monday, July 16.
"President Obama failed very badly with Crimea, I don't think [Putin] would have done that if I were president — he took over Crimea and he actually took it over during the Obama administration, I think you will admit," Trump said in response.
Pushed by John Roberts of Fox News to explain how he would get Russia out of Crimea, which was annexed from Ukraine in 2014, Trump said: "Well, we'll have to see what happens, you know I'm not bad at doing things. If you look at what I've done compared to what other people have done, 160 days in, there's nobody even close, I don't believe. Let's see what happens.
"But this was an Obama disaster, and I think if I were president then [Putin] would not have taken over Crimea during the Obama administration. He essentially took over Crimea. I don't think he would have done that with me as president."
Asked once again how he planned to resolve the issue, Trump said, "Well, we're going to see what happens, I mean it's a process. If I knew I wouldn't tell you, because that would put us at a disadvantage, but we'll see what happens, we'll see how it all [pans] out."
Monday's meeting with Putin comes ahead of an at-times fractious NATO summit in Brussels, where Trump repeatedly demanded that other members increase their defense spending, and accused Germany of being a "captive of Russia."
While Trump acknowledged the summit was "testy," he said NATO members came together at the end, "more unified and wealthier as a group than ever before."
"So we go in strong," he continued, "we'll be talking to President Putin about a number of things: Ukraine, we'll be talking about Syria, we'll be talking about other parts of the Middle East, I will be talking about nuclear proliferation."
Trump said he would "absolutely" bring up Russian meddling in the presidential election.
"I don't think there'll be a 'gee I did it, I did it, you got me,'" he said. "But I will absolutely, firmly ask the question. And hopefully we'll have a very good relationship with Russia."