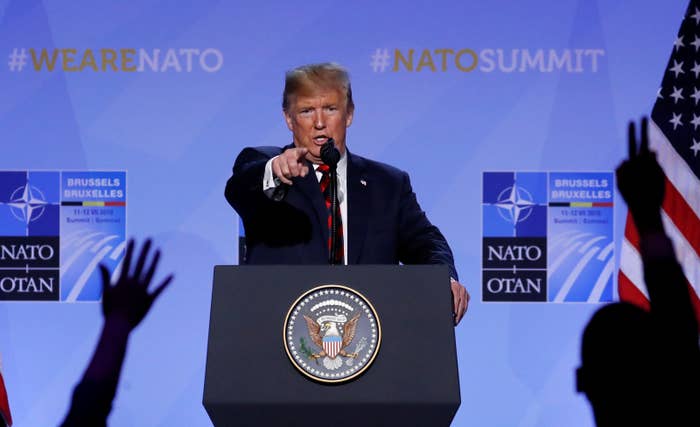 President Donald Trump has ended a deeply contentious NATO summit by insisting that the US commitment to the military alliance is "very strong, remains very strong."

After two days of haranguing other NATO leaders, particularly Germany, over their defense spending, Trump used a summit-closing press conference in Brussels to declare victory, telling reporters the commitment to increase spending was "much greater" than when he arrived.
"The US was not being treated fairly but now we are because the commitment has been upped so much," he said, adding that "NATO is now a fine-tuned machine. People are paying money they never paid before and they're happy to do it. The United States is being treated much more fairly."
On Thursday morning, news spread quickly around Brussels that Trump had delivered an ultimatum to the other leaders, telling them that if they didn't all increase defense spending to 2% of GDP by January, "We will do our own thing." That was interpreted as a thinly veiled threat to pull the US out of the alliance.
He was asked later at the press conference whether he was threatening to unilaterally leave NATO, and if he believed he could do so without the support and approval of Congress.

"I think I probably can, but that is unnecessary," Trump replied. "They have stepped up today like they have never stepped up before."
Trump told reporters that other NATO members had agreed to up military spending to "levels that they've never thought of before."
Trump has goaded other NATO members, particularly Germany, in the buildup to the summit, criticizing countries that failed to match a commitment to spend 2% of their GDP on defense. At a closed-doors meeting with other leaders, he even said that the commitment should be doubled to 4%.
Trump is now due to fly to the UK for a three-day visit, before traveling to Helsinki, Finland, for a meeting with Russian President Vladimir Putin.