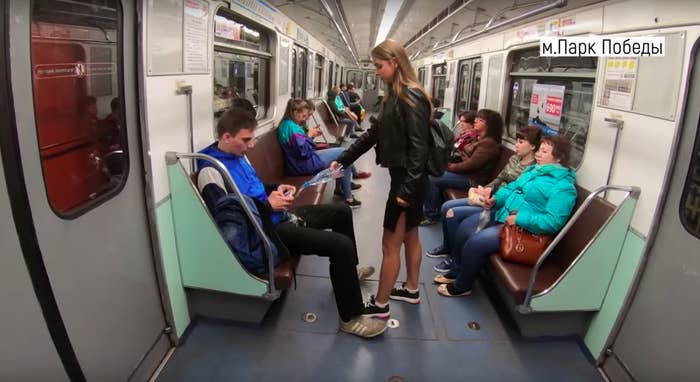 A Russian politician has called for feminists to be prosecuted after a video of a woman squirting liquid on manspreaders on public transport went viral.

Vitaly Milonov, an ultra-conservative lawmaker from Vladimir Putin's United Russia party, said feminism should be classified as an "absolutely radical point of view."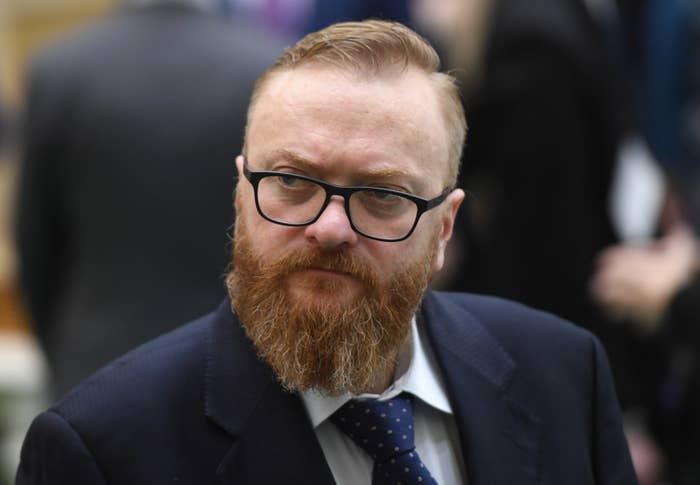 "Feminism is insanity from the standpoint of a normal person," Milonov, who initially proposed Russia's controversial anti-gay propaganda laws, told the Moscow City News Agency.
His comments came after a viral video where activist Anna Dovgalyuk squirted what she claimed was diluted bleach — but still strong enough to stain clothes — on men who were manspreading on the St. Petersburg metro.
Dovgalyuk dubbed the video, which has been watched more than 3.3 million times on YouTube, as her "second video manifesto," having previously tried to raise awareness about upskirting in Russia. She has also denied that it was staged. (A local magazine later interviewed one of the men in the video, who said he was an actor paid to be Dovgalyuk's victim.)

"Men demonstrating their alpha-manhood in the subway with women and children around, deserve contempt," she wrote. "If you publicly show what kind of macho you are, we will publicly cool you off! This video manifesto was created in assistance with friends who share my position."
Responding to Milonov's comments, Dovgalyuk, 20, posted a picture of his interview on Instagram with the caption, "are you sure you're qualified in this issue?"
Milonov had called on people who "propagate feminism" to be prosecuted under Article 282 of Russia's criminal code, which can carry a prison sentence of up to five years.
Blogger Lyubov Kalugina has been charged under the same code for posting feminist memes after one man in a city 2,500 miles away complained.
She told BuzzFeed News she feared she was "certain to be convicted," and that even if she was not imprisoned, the stigma of the conviction and the accompanying fine would ruin her life.