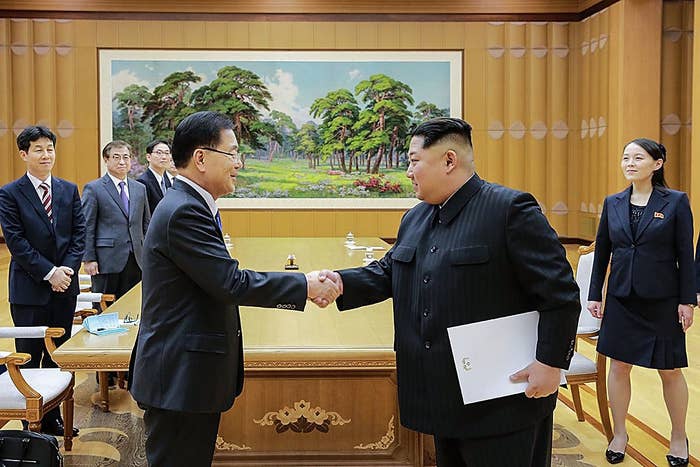 North Korean leader Kim Jong Un has said his country is prepared to give up its nuclear weapons program and hold talks with the US in return for security guarantees, South Korea officials say.

The claim was made by South Korean envoys returning after a two-day trip to the North that included dinner with Kim himself — the first time he has met officials from Seoul since he succeeded his father as leader of North Korea in 2011.
"The North side clearly affirmed its commitment to the denuclearization of the Korean Peninsula and said it would have no reason to possess nuclear weapons should the safety of its regime be guaranteed and military threats against North Korea removed," Chung Eui-yong, the top security adviser for South Korea's president, said according to the South's Yonhap news agency.
He added that Kim and South Korea President Moon Jae-in would meet face-to-face at the end of April in the joint security area of Panmunjom.
In his first response to the news, President Donald Trump tweeted a link to a Drudge Report story about Kim hosting South Korean envoys, adding, "We will see what happens!"
He later tweeted that "possible progress" was being made by South Korea, but warned the North that the US was "ready to go hard in either direction!"
Trump further clarified his reaction during an Oval Office meeting with Prime Minister Stefan Lofven of Sweden, saying he "wants to see what happens," but "they seem to be acting positively" in terms of a peace agreement.
"We have come certainly a long way, at least rhetorically, with North Korea," Trump said. "The statements coming out of South Korea and North Korea have been very positive. That would be a great thing for the world."
However, Trump insisted that he is "willing to go either way," referring to his administration's aggressive, hard-line approach to sanctions against North Korea.
"We've been in a situation that should have been handled for a long time. For many, many years, this should have been taken care of," he said, referring to past administrations. "But we'll get it done."

Vice President Mike Pence, who was in Pyeongchang for the Winter Olympics, said in a statement that the US and its allies "remain committed to applying maximum pressure on the Kim regime to end their nuclear program."
The US has said North Korea abandoning nuclear weapons and suspending all missile tests is a precondition for any direct talks between the two countries, which are being sought to defuse escalating military tensions.

However, in a call Tuesday evening about the developments, a senior White House official skirted questions as to whether the Trump administration will insist on North Korea agreeing to dismantle its nuclear missile program as a prerequisite to direct talks, saying they remain guarded and are watching to see if Kim takes "concrete steps" to denuclearize.
"We have a long, 27-year history of talking to the North Koreans and there's also a 27-year history of them breaking every agreement ever made with the US and the international community," the official said. "We are open minded and look forward to hearing more. But the North Koreans have earned our skepticism. We are guarded in our optimism."
Even if the regime promised to refrain from testing nuclear missiles, they still have an "enormous industry that is preceding the pace of mass producing warheads and missiles," the official added.
North Korea has not officially confirmed it is willing to take such a step, but state media agency KCNA said Kim had "warmly welcomed" South Korean delegates to the four-hour dinner that was also attended by his wife, Ri Sol Ju, and sister ,Kim Yo Jong, who was part of the North Korean delegation at the recent Winter Olympics in Pyeongchang.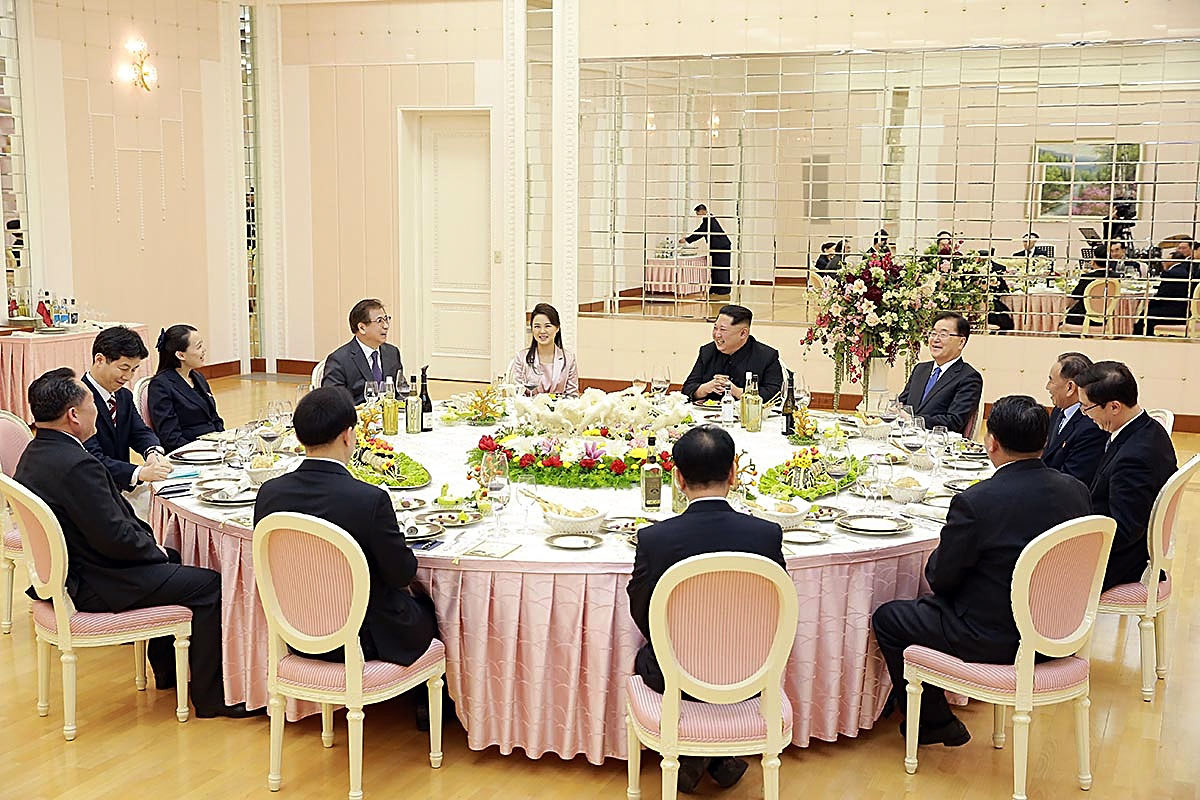 KCNA added that Kim held "open-hearted" talks, and wanted to "write a new history of national reunification."
The South Korean delegation visited Pyongyang as part of the slight thaw in diplomatic relations between the two countries — which are technically still at war with each other — that has been taking place before and after an Olympic Games that saw the Korean athletes march under a unified flag.
Now that the Olympics have concluded, the US and South Korea will also resume "routine" military exercises on the peninsula, the official confirmed, calling it "only natural."

Later this week, US officials will meet with South Korean envoys and Japanese allies to further dissect the discussion between the two Korea's, which are also hosting a summit meeting in Panmunjom, a kind of "truce village" that straddles the border between the two countries.
"All options are on the table," the senior administration official emphasized. "But we won't change our posture to the regime until we see action."