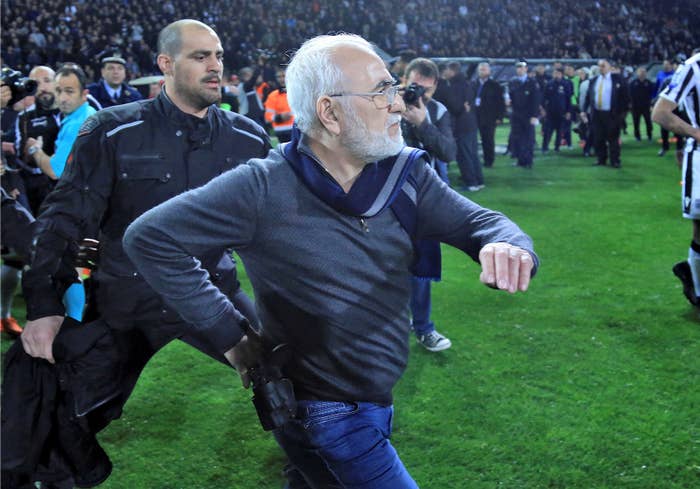 An entire European soccer league has been indefinitely suspended after the president of a club marched on to the field with a gun.
Greek-Russian businessman Ivan Savvidis walked on to the pitch while wearing what appeared to be a gun in a hip holster when his PAOK Salonika side had a late goal disallowed for offside on Sunday evening.
His own bodyguards pulled him back but players from the opposition team, AEK Athens, left the field and did not return.
The Greek Super League was suspended on Monday following talks involving the country's prime minister.
"It won't start again unless there is a clear framework, agreed by all, to move forward with conditions and rules," Greece's deputy culture and sports minister Georgios Vassiliadis said according to Reuters.

There was huge confusion over the outcome of the top-of-the-table match, with AEK Athens' website saying the referee had reversed his decision to chalk off the PAOK goal, apparently several hours after the players had left the field.
According to Greek broadcaster Skai TV, police have an arrest warrant out for Savvidis and four other people, but the warrant relates only to the match being abandoned and not any firearm offences.
Savvidis is a former deputy in the Russian parliament, and is reported to have close links with President Vladimir Putin.
A statement on the PAOK website said Savvidis was "preparing to take all necessary steps to protect the club and all his executives and associates from the threats and attacks they are suffering. More relevant announcements to be made shortly."