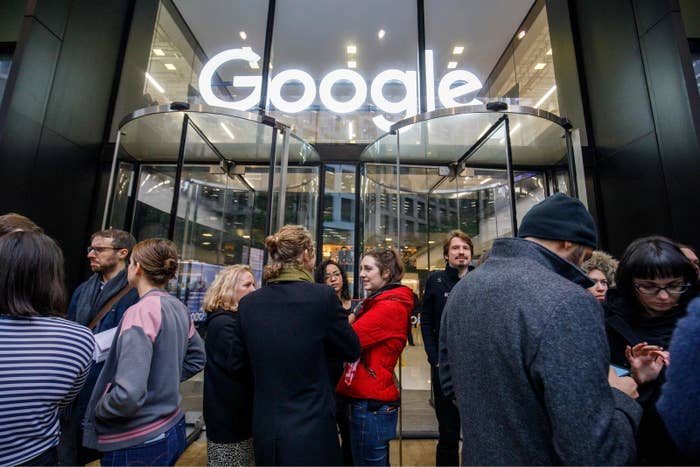 Google employees are staging walkouts at offices around the world to protest gender inequality and a company culture that has tolerated and protected executives accused of sexual misconduct.
The companywide protest, which began in Google's Tokyo office at 11:10 a.m. local time, follows a New York Times story that revealed the company paid and shielded a former executive following an internal investigation into an alleged coerced sexual relationship with an employee. Planning for the walkout began last week after a group of about 200 employees was unsatisfied with the company's response to the story during an all-hands meeting.
Since BuzzFeed News first reported on the planned protest, the event has ballooned to thousands of participants across many of Google's global offices in Singapore, Japan, Israel, Switzerland, Germany, the UK, and Ireland. The largest walkouts occurred in New York, San Francisco, and at the company's Mountain View, California headquarters.
"Sadly, this is part of a longstanding pattern, one further amplified by systemic racism."
The protest is the culmination of anger and frustration from some groups within Google over how the company treats women and minorities, while protecting executives in positions of power who have been accused of sexual misconduct. Thursday's walkout is also the latest in a series of employee-led actions at Google, which have included internal pushback against an experimental censored search product for China and opposition to the company's drone warfare work with the Pentagon.
"As Google workers, we were disgusted by the details of the recent New York Times article, which provided the latest example of a culture of complicity, dismissiveness, and support for perpetrators in the face of sexual harassment, misconduct, and abuse of power," the organizers of the walkout wrote in a press release. "Sadly, this is part of a longstanding pattern, one further amplified by systemic racism. We know this culture well."
Google CEO Sundar Pichai signaled his approval of the walkouts on Tuesday, telling employees in an email that "you have the support you need."
"Some of you have raised constructive ideas for how we can improve our policies going forward… I'm taking in all of your feedback so we can turn these ideas into action," Pichai said in the email, according to two sources.
Organizers of the event listed a set of demands that included changes in how Google handles sexual misconduct allegations, namely an end to forced arbitration in harassment and discrimination cases. Other requests included a commitment to end pay and opportunity inequity, a publicly disclosed sexual harassment transparency report, a clear process for reporting sexual misconduct, and elevating the company's chief diversity officer to answer to the CEO.
"As the recent article and the executive response make clear, these problems go all the way to the top," the protest's organizer's wrote. "While Google has championed the language of diversity and inclusion, substantive actions to address systemic racism, increase equity, and stop sexual harassment have been few and far between."

According to the New York Times, Google paid Andy Rubin, the creator of Android, $90 million when he left Google in 2014 despite an internal investigation into an allegation he coerced an employee to perform oral sex on him. Rubin has since denied this allegation.

On Twitter, California-based Google engineer Jaana B. Dogan noted that she would attend the walkout and that she would ask the company to release records associated with Rubin. She also wanted an independent investigator to look into the case.
Around 150 employees walked out of offices in Gurgaon, Mumbai, and Hyderabad in India, a Google source said. In London, some employees attempted to brave the rain and cold, but most congregated indoors to show their support.

"I don't know what it's going to take to change the system, but I do know we are a crazy force to be reckoned with," organizer Meredith Whittaker said over a megaphone at the New York City walkout. "While leadership is listening to us, let me be clear. We are just getting started."
At the New York City event, which took place near the company's offices in Chelsea, hundreds walked in silence to 14th Street Park where organizers gave speeches. Some employees held signs.
"It's not a culture that we feel proud of right now."
"This is not just sexual harassment or diversity, it's about the way our culture works," Claire Stapleton, a product marketing manager at YouTube told BuzzFeed News. "Googlers like to say, 'We're not a conventional company.' But we are. We have a lot of the same problems with abuse of power [as other companies.]"
"It's not a culture that we feel proud of right now," she said.
Another organizer, who spoke to BuzzFeed News on the condition of anonymity, noted that management felt "the need to quickly co-opt the movement." That was a sign they were taking it seriously, the person said, before adding that some connections could be drawn between employees' earlier opposition to the drone program and the Chinese search engine.
"This is about putting profit over people," she said.
In Mountain View, hundreds of people gathered in a company courtyard to listen to harrowing stories of harassment from a number of speakers — all women. Some spoke of being sexually harassed by coworkers. Others recalled being silenced by Google's human resources department after reporting harassment. Many cried.

"I work on an Android app geared toward getting kids interested in STEM and I feel like I'm leading young boys and girls to the slaughter," one unidentified speaker said. "Why would you want to go into tech if it's like this?"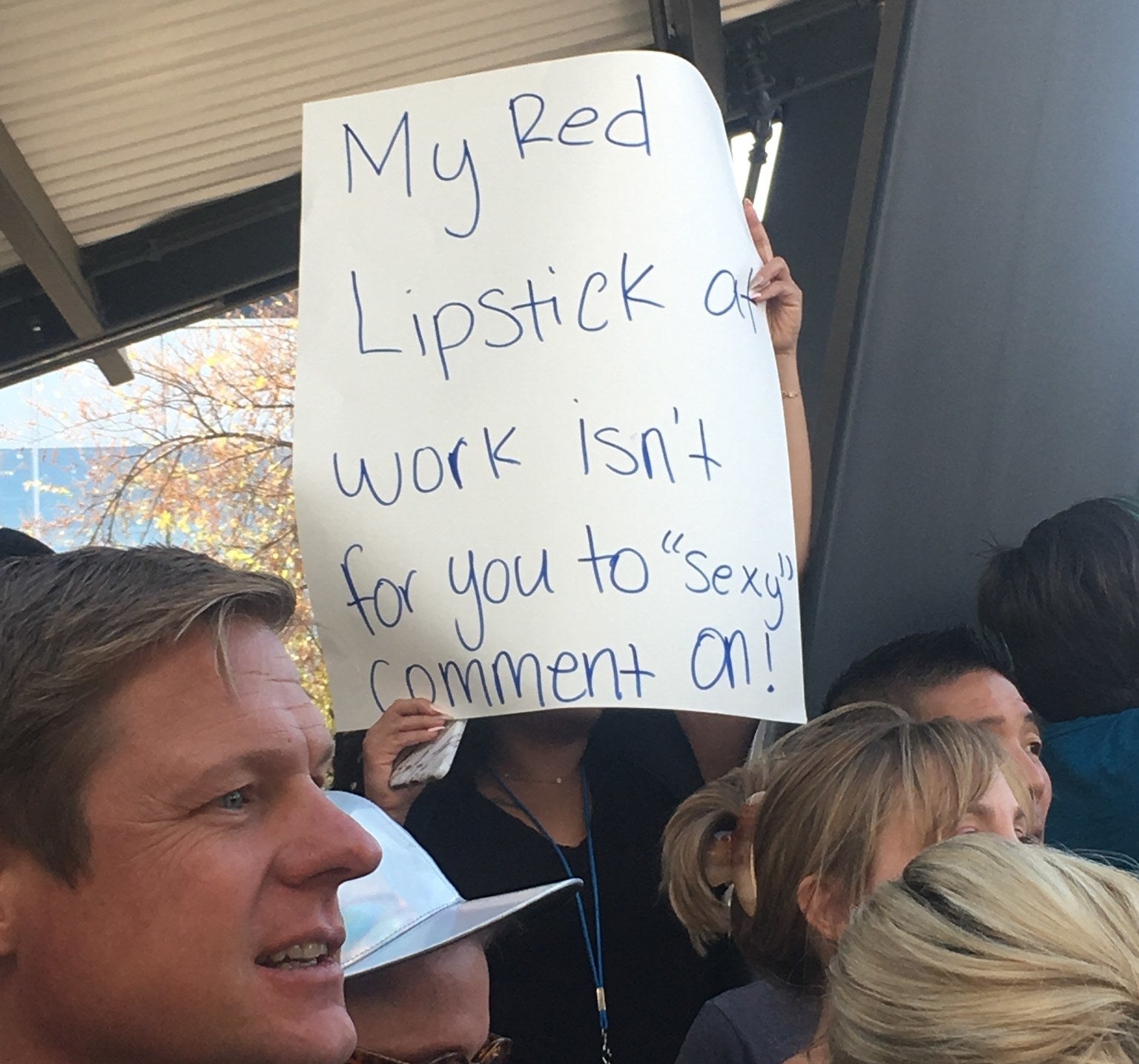 Another woman told a story of working as a barista at Google's Mountain View campus where an employee commented on her red lipstick. "Nice lipstick," the person said according to the woman. "Lick your lips for me." The organizers of the walkout are seeking for the same harassment protections to be applied to the thousands of contract workers that work at the search giant around the world.
Celie O'Neil-Hart, a walk organizer, said, "We want a change to the performance review process." The walk organizers, including some who were political organizers in past lives, started gathering stories on an internal website, and "we've gotten hundreds already," she said. "Part of this is just about raising up those voices. The demands came together from hundreds of voices on an internal chain of emails, this is as grassroots as it gets."

No senior executives appeared to attend any of the walkouts, though the company provided chairs and broadcast audio equipment for the Mountain View event. Pichai was in New York to speak at the New York Times' DealBook conference where he partially defended the company's "transparent culture," while noting that it needs to do much more.
"There is anger and frustration within the company," he said on stage. "We all feel it. I feel it too. We set a very high bar and clearly didn't live up to it."

Reached for comment Thursday morning, a Google spokesperson sent a statement from Pichai that elaborated on his email to staff: "On Wednesday, we let Googlers know that we are aware of the activities planned for Thursday and that employees will have the support they need if they wish to participate."

CORRECTION
Google CEO Sundar Pichai's name was misspelled in an earlier version of this post.