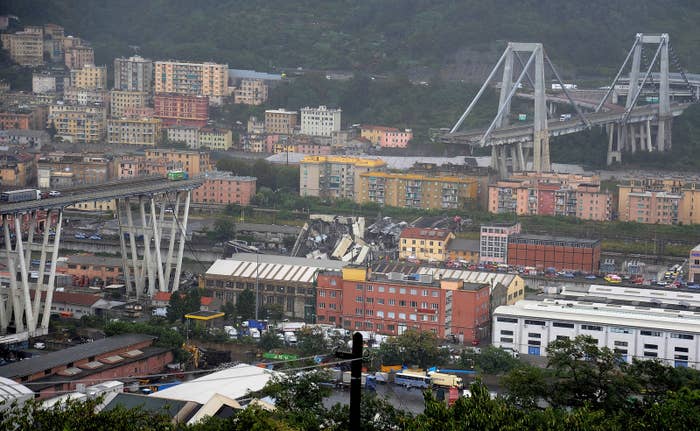 A major highway bridge in Genoa, northwest Italy, collapsed Tuesday during a sudden and powerful storm, killing dozens of people as vehicles were sent plunging into an industrial area below.
On Wednesday authorities in Genoa announced that 39 people had died, all but two of whom have been identified. A further 16 people were injured in the bridge's collapse, 12 seriously.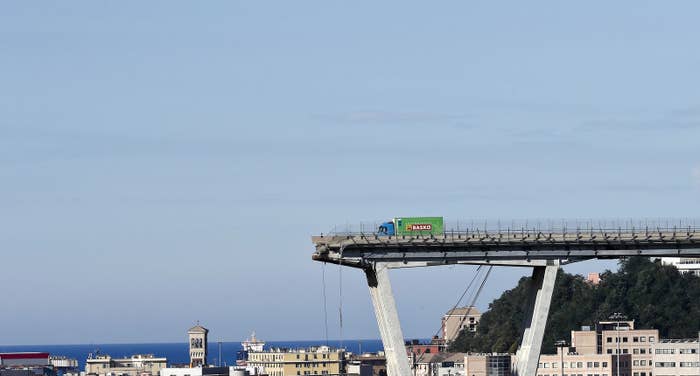 Italian Prime Minister Giuseppe Conte warned overnight that the death toll could change as hundreds of firefighters sifted through piles of steal and concrete in search of survivors.

An estimated 30 cars and three heavy trucks were on the section of the Morandi Bridge that collapsed around midday, according to Angelo Borrelli, the head of Italy's civil protection agency.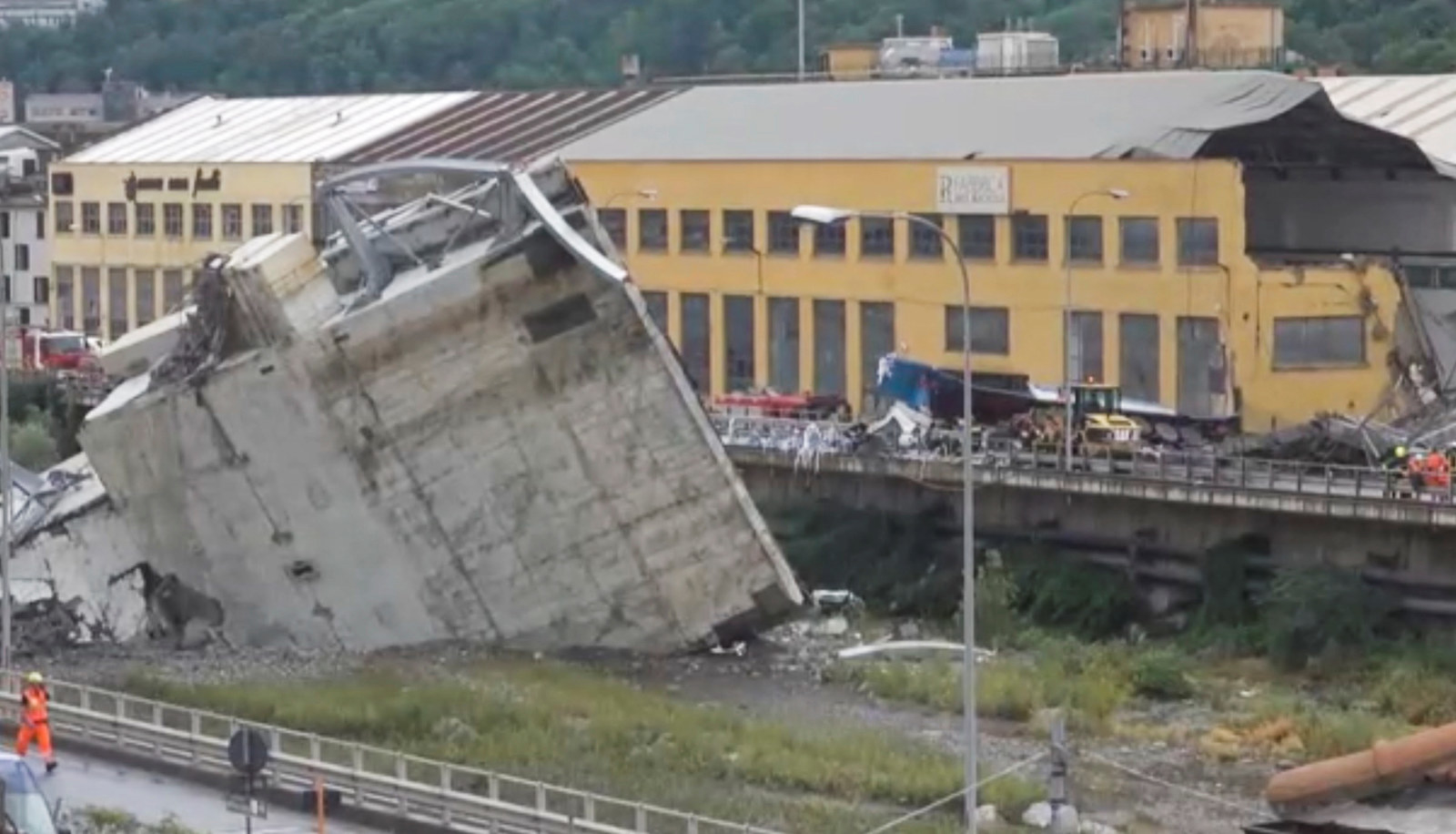 Italian Interior Minister Matteo Salvini said 200 firefighters were on the scene.

Pictures and videos posted online showed a huge section of the bridge, which was built in the 1960s and is part of the A10 highway connecting Italy to France, missing and large amounts of rubble on the ground below. The cause of the collapse was not immediately known.

Firefighters said a section of the bridge collapsed at around noon local time and posted a picture of a truck perched near the edge of what remained of the structure.

According to the online edition of the Italian newspaper La Repubblica, most of the section of the bridge that collapsed fell in the Polcevera river, but houses and an industrial estate were also struck with falling rubble.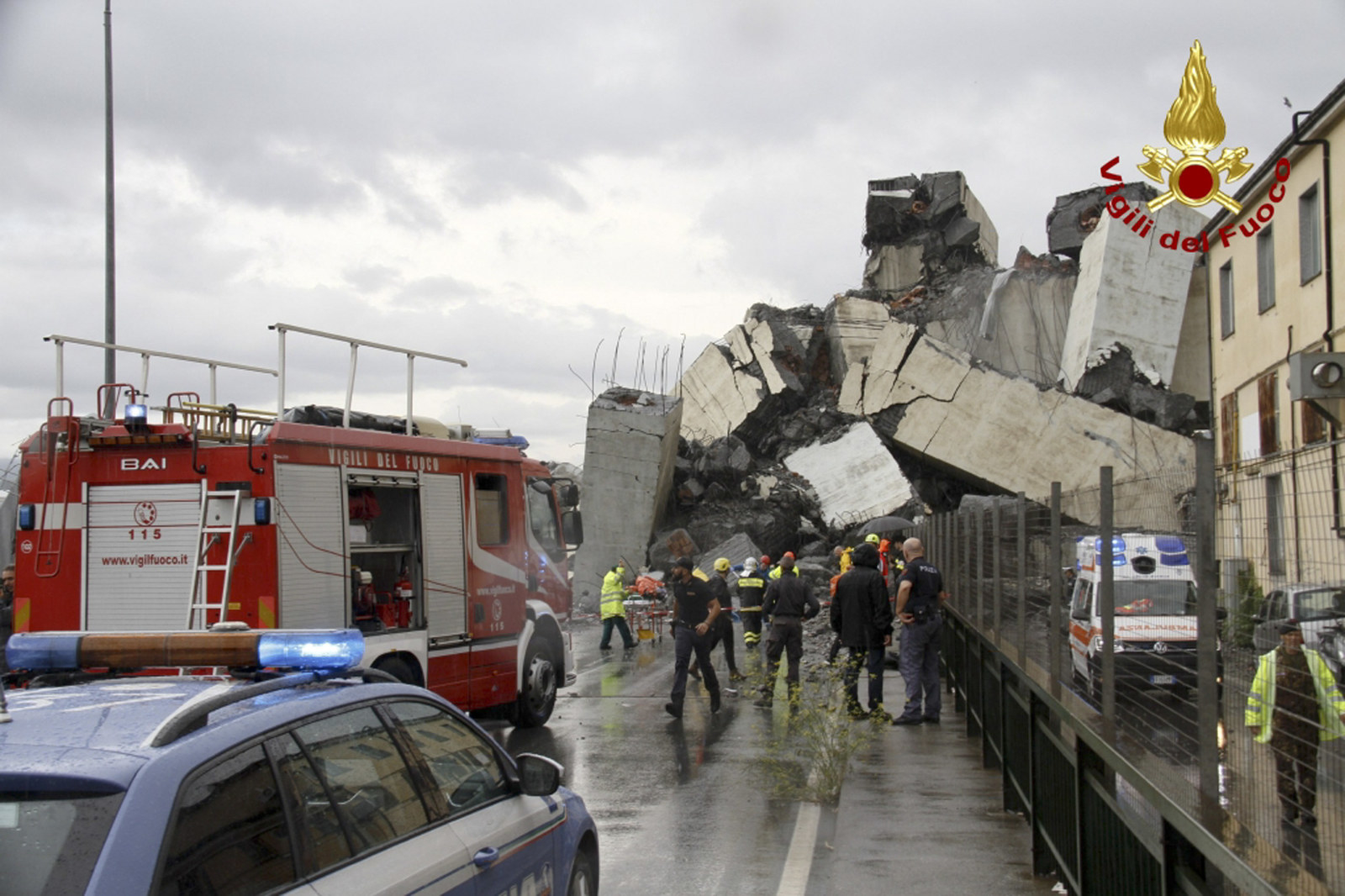 And Italian newspaper Corriere della Sera's website reported that there were "numerous victims," with many vehicles crushed under the rubble.

According to Italian media, the section of the bridge that fell away is around 200 meters long.

Italy's Transport and Infrastructure Minister Danilo Toninelli said the incident was an "immense tragedy," a description echoed by Giovanni Toti, the president of the Liguria region, of which Genoa is the capital.

"My total support at this moment is with the city," Toninelli wrote on Twitter, adding he was in close contact with the highways agency.
Italy's national police force posted several photos and videos of the collapsed bridge and its aftermath, including footage of what appeared to show the moment of the collapse.
French President Emmanuel Macron reportedly offered assistance in a call with Conte, who visited the scene later in the day.
It was the second disaster on an Italian highway this month.
A tanker truck carrying flammable gas exploded last week near the northern city of Bologna after smashing into a stopped truck, killing one person and injuring dozens of others.