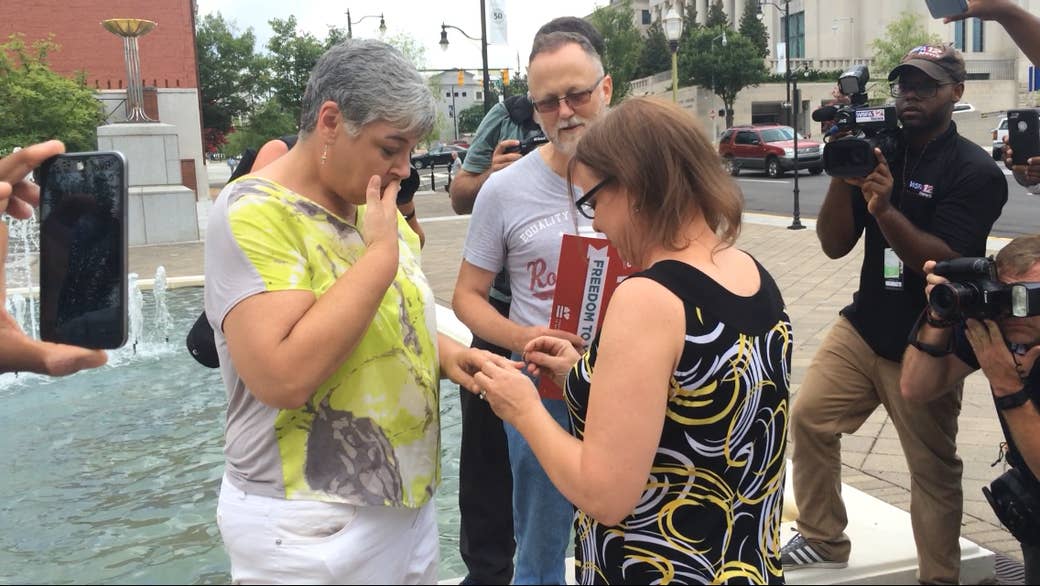 MONTGOMERY, ALABAMA — When Montgomery resident Jessica Dent heard the news that the United States Supreme Court had struck down state bans on same-sex marriage, she had to fight the urge to jubilantly scream out loud while at work. The order meant that she and Carolee Taylor — her partner of 13 years — would finally be able to get married in their home state after months of legal uncertainty.
She quickly left her office and rushed to the Montgomery County Courthouse. A few hours later, they were wed in an impromptu ceremony, exchanging vows and rings in front of one of the city's fountains, surrounded by activists, reporters, and photographers.
When asked how it felt to finally be married, Dent replied: "Amazing. Legitimized." In her opinion, it had been "too long to wait."
Like other same-sex couples in Alabama, Dent and Taylor had endured months of tumult over the status of their relationship as federal and state judges clashed over marriage equality. Despite Friday's Supreme Court victory, some LGBT campaigners believe that opponents of marriage equality won't end their opposition anytime soon.
The confusion began in late January after a federal judge overturned a 2006 state ban on same-sex marriage in Alabama. The ruling outraged Roy Moore, Chief Justice of the Alabama Supreme Court, and probate judges tasked with issuing marriage licenses soon found themselves caught between federal and state courts — both of which were seeking to control the probate judges' actions. Amid the legal chaos, one county judge even ordered a temporary ban on the issuing of marriage licenses altogether. Friday's decision from the Supreme Court, which ruled in Obergefell v. Hodges that marriage is a constitutional right available to all couples nationwide, should have put the matter to rest — although questions continued into this week about whether and how readily state and local officials would comply with the ruling.
Moore, also known for once being removed from public office for disobeying a federal ruling ordering him to remove a monument of the Ten Commandments from his courthouse, has long been vocal in his opposition to marriage equality in Alabama. He has said that "Christians are going to be persecuted" in the U.S. following Obergefell v. Hodges and has compared the ruling to the Dred Scott case.

Alabama Governor Robert Bentley also tweeted his disagreement with the court ruling: "Regardless of today's ruling by the Supreme Court, I still believe in a one man and one woman definition of marriage." Bentley said he was disappointed the Supreme Court "has disregarded the choice made by the people of Alabama in its decision."
While Bentley's statement expresses disapproval with the verdict, he has not said he plans to defy the Court's orders. However, others in Alabama expressed concern about Moore's intentions, citing his history of defying federal orders at the cost of his position.
Representatives for Bentley and Moore did not respond to requests for comment for this article.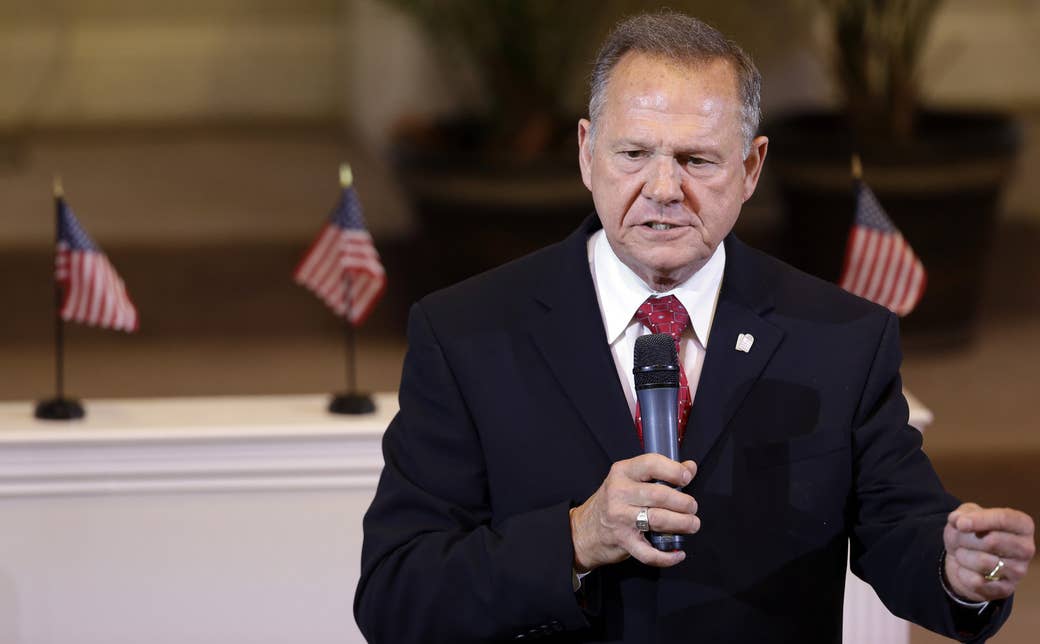 Richard Cohen, president of the Southern Poverty Law Center, told BuzzFeed News that despite how speedily the LGBT community has made progress in the United States, the marriage equality movement may yet experience some turbulence in Alabama.
"I think this stuff is going to work itself out over the next month, but I think there are going to be some people coming kicking and screaming," Cohen said, mentioning Moore specifically. "He's going to go screaming into the night, I'm sure."
Steven Reed, probate judge in Montgomery county, began issuing marriage licenses again the day the Supreme Court's decided Obergefell v. Hodges. He issued the license for Dent and Taylor Friday afternoon, shortly before they wed in an impromptu ceremony near the courthouse.
"For me, it's pretty clear-cut in the direction we should go," Reed said. "And that's why we started issuing licenses again today."
Judge Reed also said he anticipates legislation to be introduced that will seek to block same-sex marriage in the state, despite the Supreme Court decision.
"He had no constitutional authority to do that," Reed said, referring to Moore's original order to stop issuing marriage licenses. "Do I expect more legal maneuvers by people? Sure, I think that'll happen as long as there are lawyers and people to pay those lawyers. But I don't think there's anything the Supreme Court left in a gray area or anything left to debate."
Tori Wolfe-Sisson, a field organizer at the Human Rights Campaign in Alabama, was in February granted Montgomery's first same-sex marriage license in order to wed her now-wife Shanté. Wolfe-Sisson told BuzzFeed News it is difficult for her to understand why state officials would attempt to rebut the Supreme Court's decision.
"It seems like there's really no respect for authority coming from their offices," Wolfe-Sisson said. "If you are a representative, an individual in that type of power, wouldn't you expect respect to be given to your decisions?"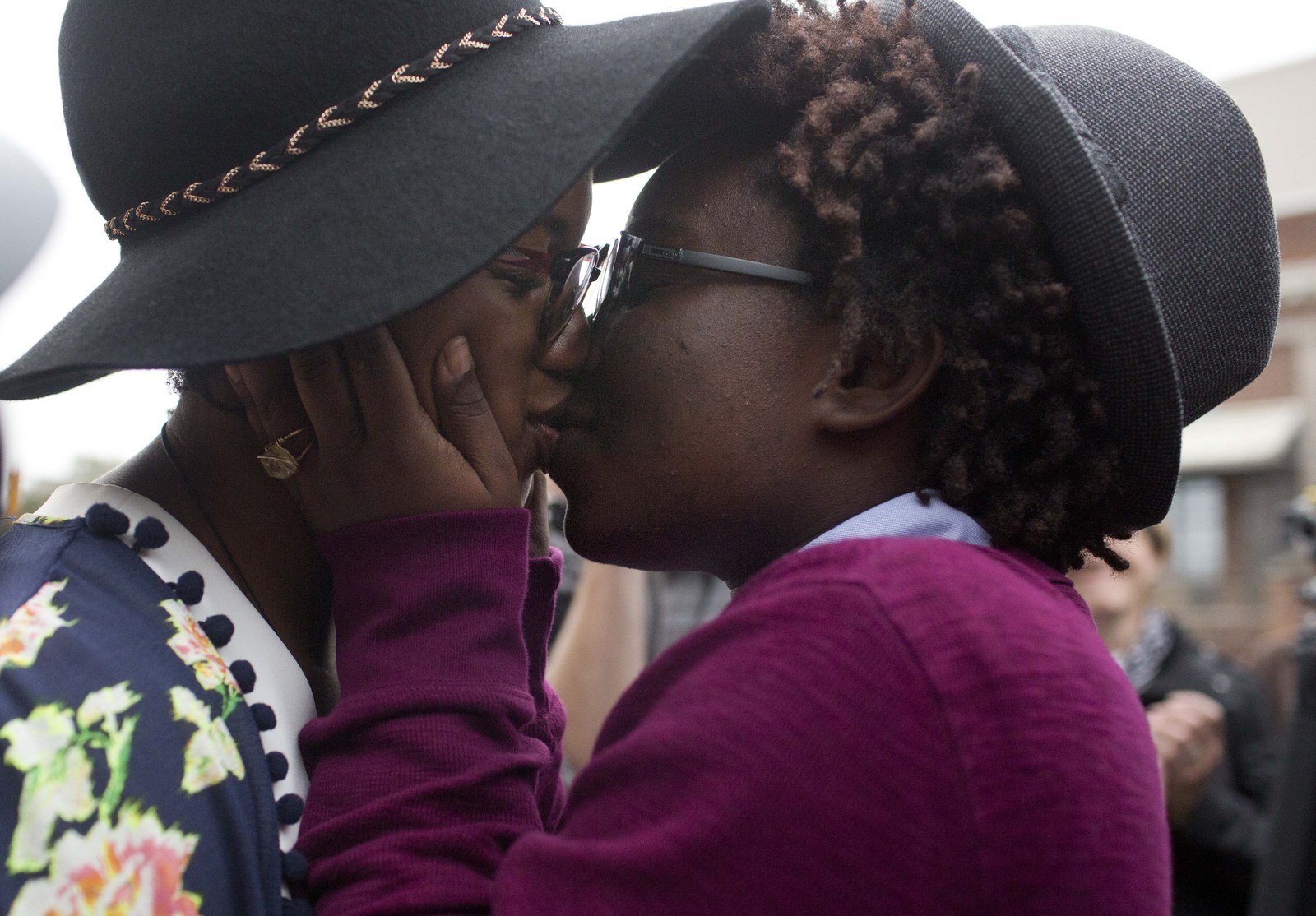 Patricia Todd, a Democratic member of the state's House of Representatives, has been fighting for marriage equality in the state for years. She once suggested she was prepared to reveal the alleged extramarital affairs of some opposing legislative members who had cited "family values" as an argument against marriage equality.
Todd told BuzzFeed News she believes Moore uses his position on marriage equality to generate money for the Foundation for Moral Law, a conservative non-profit corporation run by his wife, Kayla.
A spokesperson from the Foundation for Moral Law objected to Todd's accusations, but did not want to comment further on this story.
According to the organization's tax forms, the group received $427,142 in contributions and grants in 2013 and $557,870 in 2012. The organization's purpose, as listed on its website, is to "restore the knowledge of God in law and government and to acknowledge and defend the truth that man is endowed with rights, not by our fellow man, but by God!"
Todd also said that throughout the back-and-forth over marriage equality in Alabama, other Republicans have been wary of siding with Moore's views.
"He is just an embarrassment to the state," Todd said. "I've talked to Republicans who are embarrassed by him, as well. He's now backed off a bit, saying [they'll] have to fight this legislatively."
Todd said although there will most likely be initial attempts to prevent marriage equality in Alabama, the Supreme Court's decision will stand and the state's LGBT community can move on to their next civil rights battle: non-discrimination laws.
"We need to be a protected class," Todd said. "I've been fired from a job because I was gay, very blatantly. I know lots of people who have. That's the next thing we have to fight for."
Todd also cited transgender rights as an issue that requires urgent attention. "It's a new frontier. We've got a lot of work to do," Todd said.
Dent echoed a similar sentiment shortly after her and Taylor's wedding as they left the courthouse, marriage certificate in hand.
"We're done now," Dent said. "[But] we'll keep fighting the good fight for everyone else.
"Love always wins. It takes time, but it wins."