Why We're Not At The Biggest Tech Show In The World
Because it's not the most important event in technology anymore. The two trends that killed CES.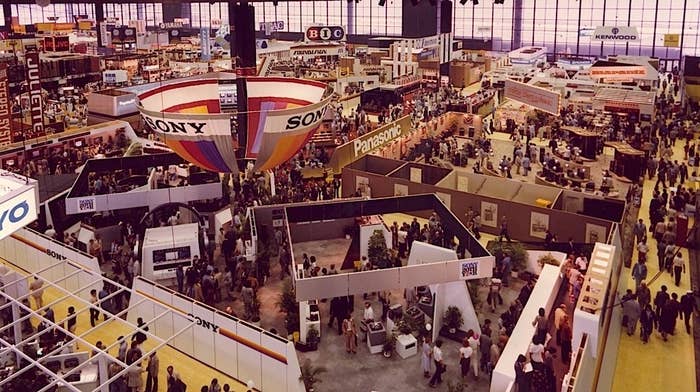 For a long time, the Consumer Electronics Show, which began in 1967, was the Super Bowl of new technology. It was a city-sized crystal ball, revealing what we'll have in our living rooms and pockets a year or two or three years from now.
This is the first time in six years I haven't dragged my body, still recovering from the onslaught of Christmas and New Year's, onto a plane bound for Las Vegas, in order to subject it to a five-day frenzy of new gadgets, PR people, exotic strains of influenza, rivers of liquor, mountains of terrible free food, neat piles of overpriced decent food, endless lines of irritated bloggers, a constant fog of cigarette smoke and air freshener and blogger self-loathing, big TVs, small TVs and skinny TVs, all on just a handful of hours of sleep stretched across several nights. We decided at BuzzFeed this year that CES, after years of diminishing relevance, is no longer the most important place to go to see what's going to be happen in technology in the comings months and years.
Two overlapping trends have chipped away at CES and events like it: First, software and services have become the soul of consumer technology. Hardware (seriously doesn't the word "electronics" in the conference's dusty title make your eyes instantly droop a bit?) has become increasingly commoditized into blank vessels that do little more than hold Facebook and Twitter and the App Store and Android and iOS. And the best and most interesting vessels, increasingly, are made by the very companies making the software.
The second major trend threatens not just CES, but all the gatherings like it, including the increasingly moribund political conventions. The social web has replaced the trade show as a platform for showcasing and distributing products and concepts and ideas. When major tech companies —and new, tiny tech companies! — have a product to launch, they host their own events and rely on the press, Facebook and Twitter to do the rest.
This reality is evident even to CES's most avid participants, like Joshua Topolsky, the founder and editor-in-chief of The Verge, which is CES's Official Technology News Partner.
"The consumer electronics show as a concept is changing and maybe fading out in some way," Topolsky told me.
By Google chairman Eric Schmidt's reckoning, there are now four technology companies that truly matter to people: Apple, Amazon, Facebook and Google. None of them are at CES. Apple's last appearance was in 1992. Microsoft, which delivered the CES keynote for years, announced — before last year's keynote, even — that it would not return in 2013. Its keynote spot is being taken over by Qualcomm, which is mostly known for making chips for phones, and its centerpiece booth now hosts Hisense, a state-owned Chinese manufacturer you probably haven't heard of. There probably isn't a more precise illustration of what's happened to CES: The booth of the world's biggest software company is now occupied by a company mostly noted for its production of cheap HDTVs that line the shelves of Walmarts across the country.
And any event, by any of those five companies, announcing nearly anything — even the flops — is instantly more significant to consumers than practically anything announced at CES. iPhone. Kindle. Windows. Timeline. Project Glass.
CES, at its best, either gave us a clear vision of what was next — high def, before TVs shaped like giant picture frames were mounted on the walls of half the living rooms in America — or a neon-light-festooned fever dream of what was possible — Lady Gaga's bizarre photoglasses — even if it never became reality. But where do we go from a 150-inch television and the four-inch supercomputer? What spectacle is left? Five years later, the "best" of CES 2013 so far includes very pretty wireless speakers and an uncomfortable controller with a screen bolted onto it that, even if it makes it to market, will be bought by precisely 17 people. The best of CES 2012 was no less grim. Former FWD intern and current Verge feature writer Russell Brandom's report from a CES preview event offers little hope it'll get better.
The last showstopping CES product was the Palm Pre, announced in 2009. It was first phone that looked like it might touch the iPhone in its greatness. Even then it was remarked by more than a few reporters at the show that it saved CES. Palm is dead now.
And so the first reason CES no longer tells the future is that the future is no longer hardware. Vizio, a company known just a couple of years ago for its prominence as the king of Walmart TVs is now heralded for its Android phones and laptops, which are simply shells for Google's Android and Microsoft's Windows. That counts as exciting stuff at CES 2013.
The second reason is simply that there are now far better ways to tell the story of technology than physical gatherings that have their roots in the great World's Fairs of the late 19th and early 20th centuries. "2012 will go down as the last of the big, traditional shows and that 2013 is going to be something of a transitional year," Tim Stevens, editor-in-chief of Engadget, which has been the Official Online News Source of CES for five years, told me.
The gadget trade show has been on the wane for years now, the most marked moment of its decline being when Apple pulled out of Macworld in 2009 — just two years after it had announced the iPhone there, which pointedly upstaged CES 2007. Canon pulled out of the Photo Marketing Association trade show — one of the bigger camera shows — in 2010, effectively killing it (it's now part of CES). CTIA, the wireless industry's trade organization, held two trade shows a year, one in the spring and one in the fall, but it's killing one of them, leaving a single show in its wake. The last CEDIA Expo I went to — in 2011 I think? — was so brutally depressing in its listlessness that I don't even to talk about. Broken home theater reporters shuffling in loafers and running shoes from booth to booth, looking for news and interesting products where there were none. And I don't remember a single product from CES last year, only dancing on the countertops of a technology company's very expensive penthouse wearing nothing but a bathrobe, giggling as another writer had his sternum cracked by another editor.
What's left for gadget writers then, as Topolsky put it, is a "secret wish and hope for some emergent new stuff that isn't lame mass-produced Chinese garbage or a Westinghouse TV," a sentiment echoed by Stevens and Gizmodo editor-in-chief Joe Brown. The thing is, that "emergent new stuff" has been doing most its emerging outside of CES and its multi-thousand-dollar booths. The products that would be truly, deeply exciting at CES — the Oculus Rift VR gaming headset, Pebble Smartwatch and Ouya gaming console — were all already Kickstarter darlings that didn't just reach thousands of people without CES, they convinced them to pay money for products that didn't exist yet.
CES is far from a ghost town if you look strictly at the numbers, having benefitted in part by absorbing the functions and attendees of other dead or dying trade shows. Last year it packed Las Vegas with over 156,000 attendees and had over 3,239 exhibitors who devoured 1.86 million square feet of space. And I shudder to think of the number of man hours journalists spent waiting in line for events and interviews and cabs. But the value in going is increasingly on the sidelines. Advertisers meet media executives; marketing firms pitch clients. For journalists, says Gizmodo editor Joe Brown, it's "a bonding experience" for the team and a sourcing opportunity: It's where "you hook up a particularly awesome product manager or engineer with some hand sanitizer or a stick of gum." For Topolsky, "The Verge is having a big party. It's a gadget nerd weird tech party."
And while The Verge brought 60 people, Engadget over 50, Wired around 20, and Gizmodo brought 16 just for content production, many of the bodies there on behalf of publications are ad people, there to entice brands into purchasing ads that'll keep publications running. In part, so they can keep sending people to CES.
The decline and fall of CES as the world's premiere stage for new technology is no tragedy. Consumer technology has simply outgrown CES, which was an exclusive club of buyers and sellers and journalists. The forces that have obliterated "electronics" and the "gadget" as the atomic unit of consumer technology, and rendered the trade show obsolete as the sole mechanism for launching them into the world, are the same ones that have made technology more powerful and accessible and human than ever before. If anything, we should be dancing on its grave.