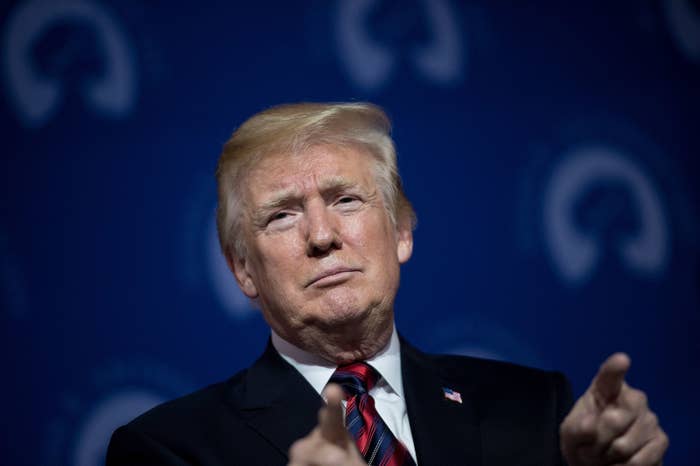 "A lot of bad things have happened," Trump later told reporters outside the White House Wednesday afternoon. "We now call it Spygate. You're calling it Spygate." (BuzzFeed News is, in fact, not.)
No, the president is not referring to the NFL's 2007 "Spygate" scandal, in which the New England Patriots got caught secretly videotaping the New York Jets' play signals. What Trump has in mind is a bit more like this:
Trump has publicly suggested for over a year now that Democrats, former president Barack Obama, the Clintons, or forces within the FBI or Justice Department aligned with Obama spied on his presidential campaign. The claims began in the first months of Trump's presidency, when he suggested on Twitter that Obama had had his "wires tapped" in Trump Tower ahead of the presidential election. He argued the supposed scandal, which he presented as fact, was a gigantic deal.
The claims were refuted by former FBI director James Comey, and months later by the Department of Justice. "Both FBI and NSD confirm that they have no records related to wiretaps as described by the March 4, 2017 tweets," the department said in a court filing that fall, referring to the Justice Department's National Security Division.
Trump began offering new spying claims in early February of this year, centered around a once-secret House Republican memo that attempted to detail how the US government approved applications to surveil former Trump campaign foreign policy adviser Carter Page beginning in 2016. The same day that memo was released, Trump tweeted a quote from a speech by Judicial Watch president Tom Fitton, suggesting the Obama administration "misleadingly" persuaded a court to allow Democrats "to spy on the Trump Team."

But Trump's latest charges are different, and follow a recent string of reporting about the early stages of the FBI's investigation into potential Russian interference in the 2016 election and any involvement by anyone on the Trump campaign.
There is very little known publicly right now about what actually happened here, but the president has seized on a combination of news reports, Fox News commentary, and other unidentified "reports" to again try and manifest a scandal "bigger than Watergate."
Here's What Reportedly Happened In 2016
The FBI opened an investigation into the Trump campaign's potential connections to Russia in late summer 2016. The operation began after the FBI was informed that George Papadopoulos, a Trump campaign foreign policy adviser, told an Australian diplomat in May that he knew Russia had information that would embarrass Hillary Clinton.
The New York Times reported that soon after beginning its investigation, the FBI sent an informant to talk to Papadopoulos and Page, who has close connections to Russia. The Washington Post reported that the informant also briefly met with campaign cochair Sam Clovis. Several outlets have identified the informant as professor and longtime FBI source Stefan Halper. It is not clear what information the informant obtained during these meetings, what information was given to the FBI, or how any of that information was used.
Importantly, according to these reports, the informant was not a spy embedded within the campaign. Rather, he was a source who reportedly met a small handful of aides for brief meetings. As with anything in 2018, there could be other, as-yet-unreported activity, but that is not something publicly known to this point.
Papadopoulos has since pleaded guilty to lying to the FBI.
So, What Is Trump Saying?
Trump is suggesting there was at least one spy embedded in his campaign.
It is not clear exactly what "reports" the president is referring to. But he has repeatedly pointed to Fox News commentary to make his case. "Wow, word seems to be coming out that the Obama FBI 'SPIED ON THE TRUMP CAMPAIGN WITH AN EMBEDDED INFORMANT,'" Trump tweeted last Thursday, before quoting comments by National Review's Andrew McCarthy on Fox News. The next day, he quoted Fox Business Network anchor David Asman on Twitter, saying, "Apparently the DOJ put a Spy in the Trump Campaign." He's also tweeted quotes from commentator Dan Bongino knocking John Brennan, CIA director under Obama, over the investigation.
Muddying the waters further: On Friday morning, Trump lawyer Rudy Giuliani told CNN, "I don't know for sure, nor does the president, if there really was" an informant in the campaign. But he later in the same interview said that "we're told there were two infiltrations, two embedded people within the campaign." He suggested that information came from off-the-record sources.
Giuliani did note that "at one time" Trump had also thought he had been wiretapped, but that there has not been any proof that was the case. "I think he thought that," Giuliani said.
Giuliani isn't alone in suggesting a second infiltrator. Michael Caputo, a former Trump campaign adviser, told Fox News on Monday night that he knows "for a fact" that the informant is "not the only person who came at the campaign."
On Sunday, Trump tweeted that he would "demand" an investigation into whether or not politics were behind surveillance into his presidential campaign, and that demand has resulted in a planned Thursday meeting between top officials from the Department of Justice, the FBI, and two House Republicans to discuss classified information and documents sought by those two members.
Hours after that meeting was announced by the White House, Trump tweeted again.
Speaking to reporters about the meeting Wednesday, Trump said he wants "total transparency," and that "this issue supersedes a party, this supersedes Republicans and Democrats."
There is no public information right now indicating that there was a spy implanted in Trump's campaign, or that any official investigation into Trump's campaign was driven by "political purposes." But the reports about an informant, and the rampant speculation about the reports on Fox News, have given Trump even more ammunition to try and publicly discredit the investigation into Russian interference in 2016, and to try and turn the heat off his campaign and onto the investigators.
On Tuesday, a group of House conservatives introduced a resolution "expressing the sense of Congress" that Attorney General Jeff Sessions should appoint a special counsel to "investigate misconduct" at the Justice Department and FBI, including "how and why the Donald Trump-Russia probe began." The resolution, among many other points, argued the step was necessary because "the DOJ, FBI, or both appear to have planted at least one person into Donald Trump's Presidential campaign to infiltrate and surveil the campaign."