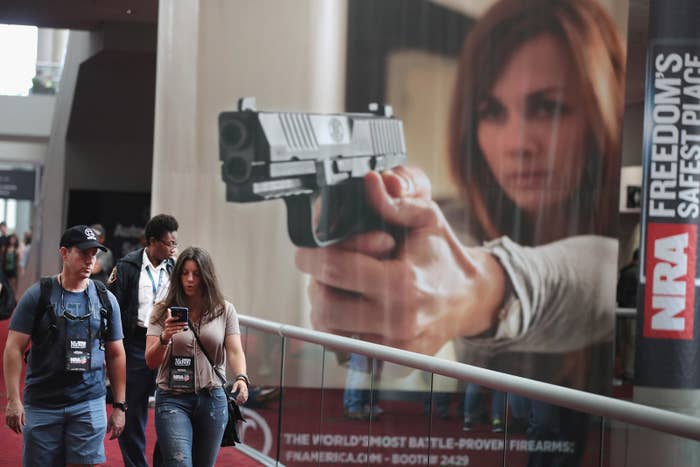 Gun owners who are members of the National Rifle Association and those who are not are sharply divided over support for new gun control proposals, according to a new Ipsos/BuzzFeed News poll.
A slew of new proposals have come out of Congress and the White House in the weeks since 17 people were killed in a school shooting in Parkland, Florida. President Donald Trump has personally suggested ideas ranging from limiting access to certain types of guns to arming teachers or professionals within schools.
Some ideas have more buy-in with gun owners than others.
Approximately 76% of gun owners who are not members of the NRA said they'd support raising the minimum age for buying a high-capacity semi-automatic rifle like an AR-15 from 18 to 21. That proposal even has substantial backing among gun-owning NRA members: 53% support it, with only 25% strongly opposed.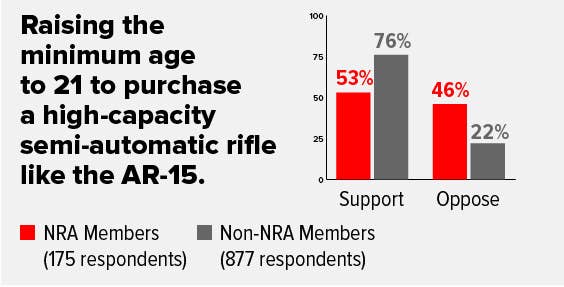 But while raising the legal age for ownership for all firearms from 18 to 21 has support from 64% of gun owners who aren't NRA members, just 40% of NRA-member gun owners would back such a plan. There's also a significant split on support for banning the AR-15 nationwide: 45% of gun owners who aren't NRA members support a ban, compared to only 24% of gun owners who are members.
And a majority of gun owners — 69% of NRA members and 58% of nonmembers — said they believed banning the AR-15 would be the first step toward more restrictive gun laws.
The idea of training and allowing teachers to carry guns at schools also has broad support among gun owners, but especially among NRA members — 79% of owners who are NRA members would back that plan, as would 58% of nonmember owners. NRA members are most enthusiastic about the idea, though: 58% of gun-owning members strongly support the plan, versus 31% of nonmembers.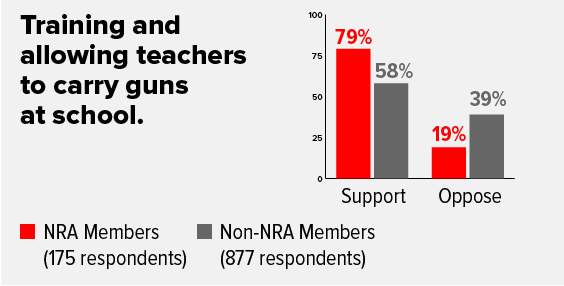 Gun owners also broadly said they would back "gun violence restraining orders," wherein family members would be allowed to petition courts to temporarily bar someone from purchasing or possessing a gun if they pose a threat to themselves or others. Sixty-nine percent of NRA members and 78% of nonmembers support that idea.
Five states already have such "red flag" laws on the books, and the Florida state legislature just voted to adopt the policy. There are also proposals in Washington to spread this judicial power nationwide.
One bill from Florida Sens. Marco Rubio and Bill Nelson would dole out grants to encourage states to put gun restraining orders in place. Another bill from. Sens. Richard Blumenthal and Lindsey Graham would go a step further by empowering federal courts across the country to order these seizures.
The way it would work is if someone, such as a family member, can show there is probable cause that an individual is a threat to harm others or themselves, the courts can grant a warrant to seize that person's guns on a temporary basis. There would need to be clear and convincing evidence of a threat for the order to be extended long-term.
It's not clear whether there is enough Republican support in Congress to pass either bill, but proponents are trying to round up bipartisan support. "I am tired of going home and telling people we just can't do anything," said Graham.
The Ipsos/BuzzFeed News poll was conducted online between March 1 and 6 and questioned 1,052 gun owners in the US 18 and older, including 175 who said that they were NRA members and 877 who said they were not. According to Ipsos, the poll has a credibility interval of plus or minus 8.4 percentage points for NRA members and plus or minus 3.8 percentage points for nonmembers. The poll has a credibility interval of plus or minus 3.4 percentage points for all respondents.
Gun owners are also split over their feelings about the NRA itself.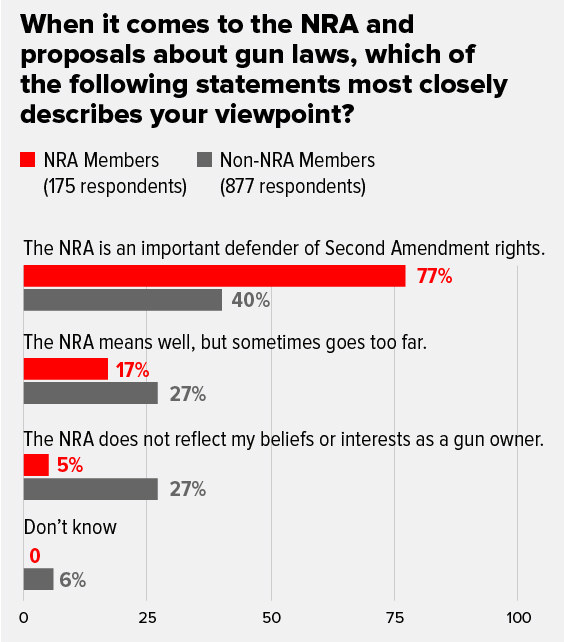 While 77% of NRA members say the organization is an important defender of Second Amendment rights, only 40% of gun owners who are not NRA members say the same. Twenty-seven percent of nonmember gun owners said the NRA did not reflect their beliefs or interests as gun owners.
On the whole, 34% of gun owners said recent mass shootings have changed their views of US gun policy, including 27% of those with NRA memberships. Of those people who have changed their beliefs, 65% said they are now more open to restrictions on certain types of guns or accessories.