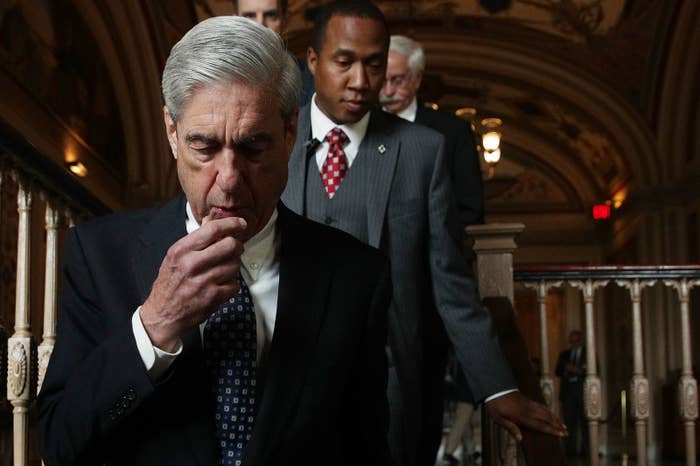 Without explanation, the White House keeps insisting Special Counsel Robert Mueller's work is nearly complete.
The investigation appears to be rolling: Mueller's first indictments landed Monday, charging former Trump campaign chief Paul Manafort and his deputy Rick Gates on 12 counts related to their work for Ukraine's government. Former campaign adviser George Papadopoulos was also revealed to have pleaded guilty to lying to federal investigators about his ties to Russian officials. The way the charges were designed, BuzzFeed News reported Monday, gives Mueller leverage and the potential to flip people like Manafort into cooperating witnesses.
The Papadopoulos plea in particular, a government lawyer said during an Oct. 5 court hearing, is just a "small part" in "a large-scale ongoing investigation."
And yet, the public word from the White House is that this will all be over soon.
"We still expect this to conclude soon," White House press secretary Sarah Huckabee Sanders said of the investigation at Monday's press briefing. "Those are the indications that we have at this time," she added, without saying where those indications are coming from.
Sanders, asked on Tuesday why she made that assertion, stood by it without explaining much further. "That position has not changed. And we do think that it will wrap up soon. I didn't say it would be three or four days, I said soon. And we hope that that's the case," she said, adding that "the facts are on our side" and there was "no collusion" between the Trump campaign and the Russian government.
White House chief of staff John Kelly made the same point on Fox News Monday night. Mueller's investigation, he said, "should wrap up soon."
The comments from Trump officials seem designed to send a message to Mueller's investigators: This Russia thing has gone on long enough.
Trump's legal team insisted Monday that no one in the White House is talking about potentially firing Mueller. But Trump officials appear to be enshrining expectations that cut against the trajectory of the investigation, setting a bar Mueller's team seems unlikely to clear.
Kelly's full explanation to Fox gives the tightest suggestion of how senior White House staff is now thinking about the investigation, or at least would like people to think they're thinking.
"I mean, it would seem that they're towards the end of the witness pile," he said of Mueller's team. "And I don't know how much longer it could possibly go on, but we're in great hopes that it wraps up. It is very distracting to the president, as it would be to any citizen, to be investigated for something while at the same time trying to carry the weight of what being president of the United States means on his shoulders."
White House sources also told BuzzFeed News (and the Washington Post, and Axios, too), that officials were particularly relieved that the bold-name target of Monday's indictments was Manafort, not former national security adviser Michael Flynn, who had a closer relationship with Trump. Flynn, though, has basically no reason to feel relief; he's done some of the same things Manafort was accused of doing in Monday's indictment, including belatedly registering as an agent of a foreign government. And Flynn, like Papadopolous, has allegedly made false statements to federal investigators.
The open question of Flynn's future almost certainly means that the special counsel investigation won't end on the White House's mysterious timeline — and that maybe the timeline is more about getting it into voters heads that this should've been over a long time ago.