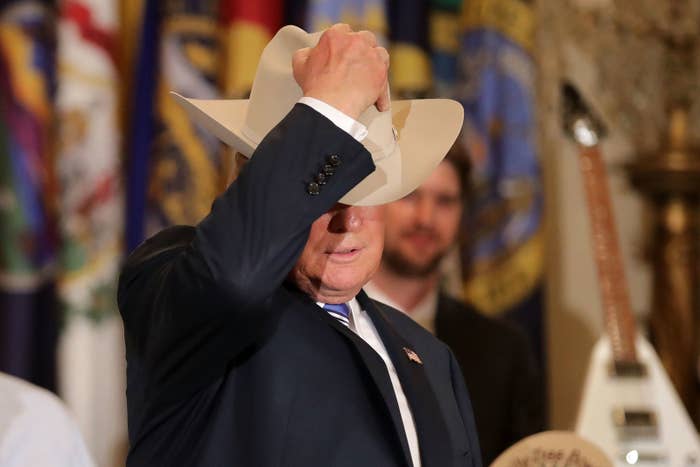 President Donald Trump got to spend a chunk of Monday afternoon doing two things he appears to enjoy deeply — admiring large trucks and crowing about supposed job gains under his watch.
As part of his administration's "Made in America" week, Trump, after touring a selection of US-manufactured trucks and boats, gave remarks at a "Made in America Product Showcase" at the White House, and detailed what he sees as significant economic successes early in his term. One particular claim stuck out.
"We picked up 45,000 mining jobs in a very short period of time," the president said. "And everybody was saying, 'well, you won't get any mining jobs.' Picked up 45,000 jobs, and the miners are very happy with Trump and with Pence."
That number doesn't appear to check out.
There were approximately 50,800 coal mining jobs in the US as of last month, according to the US Bureau of Labor Statistics. The sector has grown since Trump entered the White House, but it hasn't multiplied nearly tenfold. According to BLS, there were 49,700 jobs in the sector last December, good for a rough growth of 1,100 jobs over the course of the first half of this year.
There have been larger gains in the wider mining and logging sector, according to BLS. There were 715,000 jobs in the sector in June, up from 668,000 in December, a gain of 47,000 jobs so far this year. That gain is more in line with the number Trump cited on Monday, but he did not mention logging in his remarks, instead focusing squarely on mining and the opening of a new coal mine in Pennsylvania.
The White House did not immediately return a request for comment about where the president's jobs number came from, or what else he may have been referring to.
It's not the first time someone from the Trump administration has made a claim of massive mining gains. Environmental Protection Agency Administrator Scott Pruitt told NBC's Meet the Press in early June that the US has "added almost 50,000 jobs in the coal sector" since the fourth quarter of 2016, a claim that the Washington Post's fact-checker awarded four Pinocchios.
In that sense, the 45,000 jobs claim resurfacing isn't great news for the president — Trump, in his comments on Monday, noted he does not like Pinocchios.