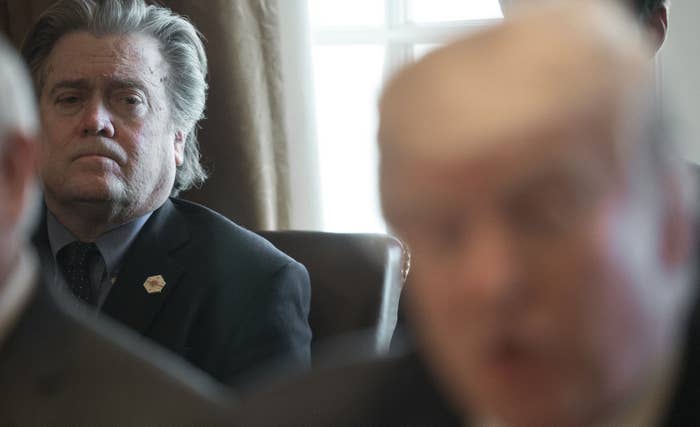 Steve Bannon, who ran the final stage of Donald Trump's presidential campaign and served until last month as his chief strategist in the White House, is speaking more openly now about what he considers to be the significant errors the president and his team have made since the election.
In an interview with Charlie Rose on "60 Minutes" broadcast Sunday night, Bannon pointed to two mistakes in particular: the decision after the election to work with establishment Republicans and the decision to fire then FBI director James Comey after Trump took office.
"In the 48 hours after we won, there's a fundamental decision that was made," Bannon told Rose. "You might call it the original sin of the administration. We embraced the establishment. I mean, we totally embraced the establishment."
Bannon, an architect of Trump's brand of nationalist politics, left the administration in August and returned to his role as chairman of far-right news site Breitbart. The site has regularly attacked establishment Republicans, like House Speaker Paul Ryan and Senate Majority Leader Mitch McConnell, as well as supposed establishment figures within the Trump administration, like economic adviser Gary Cohn.
As Bannon described it, though, there was an early and ultimately misguided calculation that Trump would be better off by siding with mainstream Republicans.
"I think in President Trump's mind, or President-Elect Trump's mind, in Jared [Kushner]'s mind, in the family's mind, I actually agreed with the decision. Because you had to staff a government," Bannon told Rose. "And to be brutally frank, you know, the campaign, look, I'd never been on a campaign in my entire life, right? You know, I'm a former investment banker who's a media guy, running a little website. We were, our whole campaign was a little bit the island of misfit toys. So he looks around and I'm wearing my combat jacket, I haven't shaved, I got, you know, my hair's down to here, and he says, he's thinking, 'Hey, I've gotta put together a government. I've gotta really staff up something. I need to embrace the establishment.'"
In the interview, Bannon particularly lamented how House and Senate Republican leadership attempted to repeal and replace Obamacare, arguing that they did not initially realize the scope of the divide over healthcare policy within their own party.
In an additional clip from the interview published later Sunday on 60 Minutes Overtime, Bannon also suggested Trump's decision to fire Comey was an historic error.
Rose initially asked Bannon if he was in favor of firing Comey, but the former White House strategist would only point to media reports saying he was "adamantly opposed" to the move.
Those reports, published earlier this year, said that Bannon had pushed back against the idea of firing Comey, a decision that the White House initially said was connected to Comey's handling of the investigation into Hillary Clinton's use of her personal email account. The move was later explained by the president as being necessary because Comey was a "grandstander" and his department had been in "turmoil."
In Sunday's interview, Bannon did say he believed that if Comey had not been fired, there would not have been a need to appoint a special counsel to oversee the Justice Department's investigation into Russia's interference in last year's presidential campaign. That special counsel, former FBI director Robert Mueller, is currently conducting a seemingly wide investigation, including looking for potential collusion between the Trump campaign and Russian officials.
"We would not have the Mueller investigation," Bannon said. "We would not have the Mueller investigation and the breadth that, clearly, Mr. Mueller is going for."
Bannon added that he does not believe Mueller should be fired as special counsel. He would not say if conversations to that effect have taken place in the White House, though he claimed he had not heard any discussions himself.
Rose said that "someone" had once told him that Bannon had privately described Comey's firing as "the biggest mistake in political history."
"That would be probably, that probably would be too bombastic even for me," Bannon responded. "But maybe modern political history."

"So the firing of James Comey was the biggest mistake in modern political history?" Rose asked.
"I think, if you're saying that that's associated with me, then I'll leave it at that," Bannon said.
But even as he said Mueller shouldn't be removed from his post, Bannon broadly criticized the investigation into Russian interference in the 2016 presidential campaign.
"There's nothing to the Russia investigation," he said during the initial "60 Minutes" broadcast. "It's a waste of time." The idea that the Russian government colluded with Trump's campaign, he added, is "a farce."
Asked specifically if he believed that the Russian government attempted to influence the election, Bannon would only say that "maybe" Russian officials did "something" at the Democratic National Committee.
"Have you seen the intelligence reports?" he asked Rose, later adding that he has seen them. "I would never devolve classified information on this show," Bannon said. "But let me tell you, I think it's far from conclusive that the Russians had any impact on this election."
"Well, that's not the question," Rose responded. "Did they try to influence the American election? That's what the investigation is about."
Bannon would only say "we'll have to wait" to know that information until the investigation he had just derided as a farce is finished.
Rose also asked Bannon how he felt about his image in popular media, including his depiction on "Saturday Night Live" as the Grim Reaper.
"I don't need the affirmation of the mainstream media," Bannon replied. "I don't care what they say. They can call me an anti-Semite. They can call me racist. They call me nativist. You can call me anything you want. Okay? As long as we're driving this agenda for the working men and women of this country, I'm happy."
Asked why he's now doing that work outside the White House, Bannon said, "I'm not cut out to be a staffer."