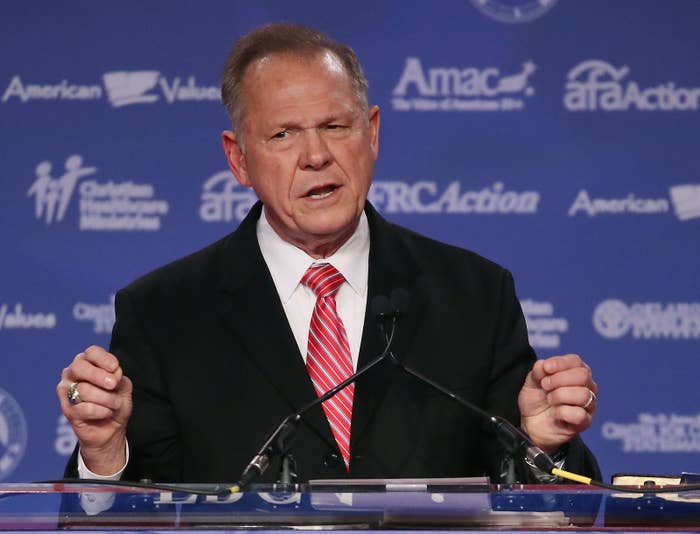 A woman is accusing Roy Moore, the Republican nominee for Senate in Alabama, of initiating sexual conduct with him when she was 14 years old and he was 32, throwing an already explosive Senate race into crisis.
Leigh Corfman told the Washington Post that in 1979, Moore, then an assistant district attorney, took her to his home and kissed her, after first meeting her outside of a courtroom. According to the Post, Corfman told the paper that Moore, on a second trip to his home, "took off her shirt and pants and removed his clothes. He touched her over her bra and underpants, she says, and guided her hand to touch him over his underwear."
"Please just get this over with. Whatever this is, just get it over," Corfman said she remembers thinking at the time. She told the Post she asked Moore to take her home, which he then did.
Three other women told the Washington Post that Moore "pursued them" around the same time, when Moore was in his early thirties and the women were between 16 and 18. Those women did not allege sexual contact. The age of consent in Alabama was and remains 16.
The allegations could complicate a Senate bid that has already overcome initial resistance in Washington. Moore is the Republican nominee for Attorney General Jeff Sessions' former seat and the general election is on Dec. 12.
Moore's Senate campaign called the allegations "yet another baseless political attack" in a statement Thursday afternoon.
"After over 40 years of public service, if any of these allegations were true, they would have been made public long before now," the statement from campaign chair Bill Armistead said. "This garbage is the very definition of fake news and intentional defamation."
And in a series of tweets Thursday night, Moore's senate campaign account called the report part of a "vicious and nasty round of attacks" from "The Obama-Clinton Machine's liberal media lapdogs." He added, "Our children and grandchildren's futures are on the line. So rest assured — I will NEVER GIVE UP the fight!"
"We're gonna see if that old adage is true: that the only way he can lose this race is with a live boy or a dead girl. Alabama's gonna test the specs on that," said David Mowery, an Alabama Republican strategist. "Hold my beer."
A chorus of Republicans said they were seriously troubled by the report Thursday, and agreed that Moore should step aside if the allegations prove true. But with Moore's adamant denial of the report, it's uncertain how that threshold could be met before next month's election.
White House press secretary Sarah Huckabee Sanders, speaking to reporters on Air Force One early Friday morning en route to Vietnam, said, "Like most Americans, the president believes that we cannot allow a mere allegation — in this case, one from many years ago — to destroy a person's life. However, the president also believes that if these allegations are true, Judge Moore will do the right thing and step aside."
"The allegations against Alabama Senate candidate Roy Moore are deeply troubling," National Republican Senatorial Committee Chair Cory Gardner said in a statement. "If these allegations are found to be true, Roy Moore must drop out of the Alabama special Senate election."
Senate Majority Leader Mitch McConnell, leaving the Senate chamber Thursday afternoon, said, "If these allegations are true, Roy Moore should step aside for all the obvious reasons. Very disturbing allegations."
Sen. Jeff Flake, an Arizona Republican who has been critical of Moore, also said Moore should withdraw as the nominee if the allegations are correct. Alaska Republican Sen. Lisa Murkowski said she was "horrified" by the Washington Post report, adding, "If this is true, he needs to step down immediately."
Georgia Republican Sen. David Perdue also said Moore should withdraw if the allegations are true. "I mean, I'm sorry, but this is untenable — if they're true. I have no facts, I just saw the story. But it's very serious." Pennsylvania Republican Sen. Pat Toomey said, "If there's a shred of truth to it, then he needs to step aside." Maine Republican Sen. Susan Collins agreed.
Ohio Republican Sen. Rob Portman added, "I think if what we read is true, and people are on the record so I assume it is, then he should step aside."
Sen. John McCain did not hedge in his own statement.
Sen. Ted Cruz, who had endorsed Moore, didn't respond to questions about the allegations as he walked into the Senate chamber. Sessions, through a spokeswoman, declined to comment on the report.
Alabama Republican Sen. Luther Strange, whom Moore defeated in a primary in September, called the report "very, very disturbing," and said he would have more to say on it later.

When asked about the Post story, Alabama Sen. Richard Shelby said, almost as an aside, "I was on the other side of that race," in reference to his endorsement of Strange over Moore. Asked whether Strange should run now as a write-in candidate, Shelby said, "Luther Strange is a good senator and he's my friend, and I️ support him ... I️ don't know what he's going to do."

Alabama Republican Gov. Kay Ivey, who earlier this week said she would vote for but not endorse Moore, called the allegations in The Washington Post "deeply disturbing." She added she would "hold judgement until we know the facts. The people of Alabama deserve to know the truth and will make their own decision."
No one has yet said what would qualify as "the facts," or what it would take for them to believe the allegations to be true. The Washington Post story includes four women on the record describing how they say Moore treated them when they were teenagers, and also includes women on the record confirming that they heard about the women's accounts years ago.
Moore has a long history of anti-LGBT and anti-Muslim political opinions, which partially explains why Republicans were initially wary of his campaign, in addition to his infamous removal twice from the Alabama state Supreme Court. Moore, in 2006, argued in an op-ed that Democratic Rep. Keith Ellison should not be allowed to sit in Congress as a representative of a Minnesota district because of his Muslim faith. And earlier Thursday, CNN reported Moore was removed from a court case when he was a circuit judge in the '90s after he would not let a lesbian woman visit her children unsupervised because of the woman's "lifestyle."

Moore gained national fame as the chief justice of the state Supreme Court when he installed a statue of the Ten Commandments in the Alabama Judicial Building, an act that drew an ACLU lawsuit and court orders to take the monument down. Moore refused, however, and was removed from office shortly thereafter.
One GOP strategist said Thursday the new allegations undermine Moore's authenticity as the moral guy who defends the Ten Commandments.
Republicans may not have many options now though, should they want to remove Moore from December's contest. It's too late for the party to replace Moore on the ballot under Alabama state law, but the state does allow write-in votes for other candidates.
A GOP strategist familiar with the effort said Republicans in Alabama and DC are actively researching legal options to get Moore off the ballot.
President Donald Trump and McConnell and his affiliated political group the Senate Leadership Fund initially backed Strange against Moore in the Alabama primary this fall. The decision put the president at odds with his former strategist Steve Bannon, who endorsed Moore and held a rally with the candidate that also featured former Alaska gov. Sarah Palin and former White House aide Sebastian Gorka.
But after Moore won the primary runoff in late September, Trump quickly came out in support of his candidacy in the race against Democrat Doug Jones, calling Moore a "really great guy."
In a statement after Moore won, McConnell congratulated Moore and said he "ran a spirited campaign centered around a dissatisfaction with the progress made in Washington." He added that "Senate Republicans will be as committed to keeping Alabama's Senate seat in Republican hands with Roy Moore as we were with Luther Strange." McConnell also spoke with Moore after the primary.
"If there's even a shred of evidence to these accusations, Gov. Ivey and the Alabama Republican Party need to do everything in their power to remove Judge Moore from the ballot," Steven Law, the president of the Senate Leadership Fund, said Thursday. "There is no place in our party for sexual predators."
The group has continued polling on the Alabama race, and last week found Moore with a 17-point lead over Jones.
Breitbart had crowed over Moore's win. "Roy Moore Win Makes Steve Bannon, Breitbart News Take Center Stage," read a headline on the site after the primary win. Moore's victory, Joel Pollak wrote in the story, "proved the enduring power and reach of Breitbart News."
Breitbart took a lead role in defending Moore after the Washington Post report came out Thursday. The site published a rebuttal to the allegations in the Washington Post before the paper published its story, and an editor for the site downplayed their legal significance on MSNBC Thursday afternoon.
Senate Majority Whip John Cornyn, asked in late October about Moore's statements about Ellison, maintained his own support for Moore.
"I have disagreement within my own family, doesn't mean I care for them any less, so I support the nominee of my party," he said at the time.
Cornyn, though, said Thursday he is "deeply disturbed" by the allegations in the Washington Post. "The next steps are up to the governor and the people of Alabama," he told reporters.
It's still early to know exactly how this will play out in the race. Even Jones, Moore's opponent, took a relatively muted stance, only saying in a statement that Moore "needs to answer these serious charges." In Alabama, one state official backing Moore brushed off the allegations. "Even if you accept the Washington Post's report as being completely true, it's much ado about very little," Alabama State Auditor Jim Zeigler told the Montgomery Advertiser.
Representatives from the Alabama Republican Party did not immediately return request for comment.
Henry J. Gomez and Lissandra Villa contributed additional reporting to this story.